Jardin At The Hugh, Cape May, NJ: A Restaurant Review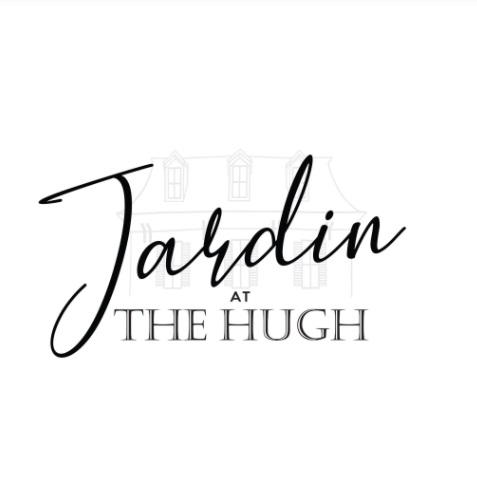 Jardin at the Hugh: Restaurant Highlights 

Fare: French - New American
Price: Very Expensive

Food Quality: A well-executed, creative, artfully presented, humanely, sustainably sourced menu prepared with local farms and organic products as much as possible.
Service: Professional, friendly, knowledgeable, attentive without being intrusive. 

Ambiance: Charming, comfortable dinner-party seating. Located in a restored historic 1883 French Second Empire house. --- the setting is upscale.
Overall Rating: 3 1/2 Stars --- Rated as one the best restaurants in the south Jersey/Cape May County region--- Classified as an upscale "Chef-Inspired Fine Dining" restaurant. (* Note - See below restaurant classification for details)

Note: Four-star Rating System from 1/2 star = poor to Four stars = Best in Class
Recommended For: For the adventurous diner who enjoys a unique dining experience with a well-executed menu prepared with humanely, sustainably sourced products, and are willing to pay more for it. 
Not Recommended For: Budget conscious diners who prefer a traditional American menu in a casual setting.

Recommended dishes: Choices are not available. The serve single nine-course prix-fixe menu that has at least one item which changes weekly. However, they can accommodate almost any dietary request, including a complete vegan, plant-based experience with a week's notice.
Liquor: BYOB, Local Cape May wines from Hawk Haven Winery are available

 Restaurant Review 

Jardin fits in perfectly with the high-end Cape May dining scene. In a town that does not lack for good dining venues, Jardin's has earned the status as one of the best amongst them ---- if not the best!
However, Jardin is not for everyone. This is a restaurant for the adventurous, eco-friendly, non-carnivore-oriented diner who welcomes a unique dining experience and are willing to pay more for it.
The Jardin is co-owned by partners John and Sandy Vizzone, who also run the Hugh Bed and Breakfast in the same building, and famed Chef Michael Schultz who runs the restaurant, The Jardin.
Chef Michael Schultz has an exceptional culinary career. Early on he developed his culinary skills at Le Bec Fin in Philadelphia, training under world-renowned chef Georges Perrier. Chef Schultz has continued honing his culinary skills at some of the world's best restaurants, including Lecriox, Charlie Palmer's Aureole 2, Daniel NYC, Alinea in Chicago, The French Laundry in California, Michael Mina San Fran, and Astrid Y Gaston in Lima, Peru. As a restaurateur, Schultz's first venture was Fin (opened in 2009), in Key West which he sold in in 2012. Chef Schultz has also appeared on national cooking programs, including on Food Network, Cooking Channel and NBC, and in national publications including The Daily Meal and The New York Times website.
Chef Schultz, a vegan, having a passion for sustainable, organic cuisine that is locally sourced and earth friendly, more recently worked as the executive chef at Florida's first and only Relais and Chateaux property, Chanson in Deerfield Beach, specializing in modern, sustainable organic cooking.
Chef Schultz' nine course prixe fix dinner is well executed, inspiring, artfully presented, and paced perfectly. The menu is prepared using high quality, humanely, sustainable, 95% dairy free, organic products, as much as possible. They are committed to partnering with ethical purveyors within a 500-mile radius of Cape May.
The menu features dishes with plant-based items, local chicken or duck, seafood (typically scallops and mussels), artisanal breads baked from ancient grains, spread with cashew cheeses and plant-based butter cream. You won't find any red meat or pork at Jardin.
They can accommodate almost any dietary request, including a complete vegan, plant-based experience with a week's notice.
The Jardin at Hugh is set in a charming in a restored historic 1883 French Second Empire house.
The service is professional, warm, knowledgeable, and attentive without being intrusive. Chef Schultz comes out to greet each guest during the evening and occasionally the Vizzones will join in for a friendly for a chat to ensure the dining experience is on target.
Jardin has a single-seating format: All the food for the evening is plated on a prep table, without use of heat lamps, for the entire 14 seat dining room. From there the service team serves the dishes two at a time.
Jardin is open year-round, with seasonal hours. Tickets for dinner must be purchased in advance online @ $121 / per person, plus taxes and gratuity, by calling 609-435-5458. Since Jardin is a no waste restaurant, there are no refunds for cancellations, gift certificates will be offered for future use.
Not recommended for kids.
* Description of Restaurant Classification - Chef-Inspired Fine Dining:
"Old World" with sophisticated and romantic décor.
Priced higher than other upscale restaurants to cover the cost of the added amenities.
They are chef driven by chefs with impressive credentials including formal culinary education and skills honed at award winning restaurants.
Committed to high quality food ingredients such as imported items not available in the supermarket, with emphasis on local seasonal farm-to-table produce, wild caught seafood, & meats without the use of antibiotics and growth hormones.
The wait staff is rigorously trained --- professional, knowledgeable, and attentive. Has an alcohol menu with high end wines and specialty cocktails and with a staff knowledgeable in wine pairings.
Additional amenities include linen and fine China table settings, carpeted flooring, chandeliers, and complimentary sorbets, dessert chocolates, etc.
Patrons tend to be older, more formally dressed, with high incomes.

The most popular upscale restaurants in New Jersey, classified into three categories; Chef-Inspired Fine Dining, Chef-Inspired Casual Dining, and Contemporary Casual.
Learn more about the three types of upscale restaurants and how reviews are created.

(Updated: May 2023)