Lucky Bones Backwater Grille,
Cape May, NJ: A  Restaurant Review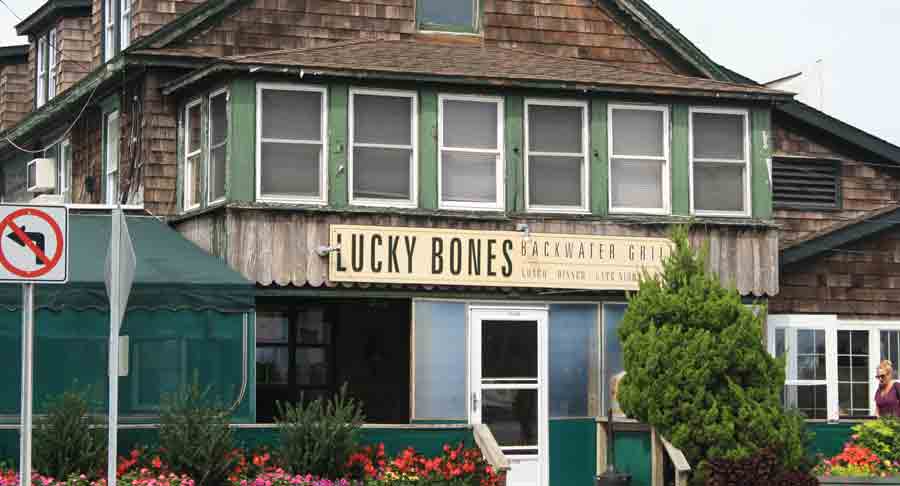 Lucky Bones Backwater Grille
1200 Route 109 South
Cape May, NJ
609-884-2663
Website
Restaurant Highlights

Fare:  Eclectic - American

Price:  Moderate

Value:  Excellent

Noise Level:  Moderate - High

One of the top family, casual restaurants in Cape May


Does not take reservations. Can be a long wait during the peak Summer season

Recommended For:  Diners who enjoy fresh, healthy, low fat food served in a casual family setting.

Not Recommended For:  Diners who prefer more complex eclectic dishes with a more upscale, trendy ambiance.

Recommended Dishes:  When available,The Lucky Bones Burger, grilled with 10 oz. choice ground beef, bacon, mushrooms, and onions The Cuban Spiced Rubbed Pork Chop with Whipped sweet potato and red wine jus; and Lil's Three Cheese Mediterranean Seafood Pasta with Italian Artisan penne pasta, Shrimp,scallops, kalamata olives, sun-dried tomatoes, capers, Feta, Jack & parmesan and fresh herbs.

Alcohol : Full service bar. Bar scene is vibrant.

Restaurant Review

Few restaurants wear the Jersey Shore's casual new spirit as well as Lucky Bone's Backwater Grille.

This very popular family restaurant, owned by Michael and David Craig, a popular Cape May restaurant family, is a departure from the many pricey Cape May fine dining restaurants as they specialize in serving up good quality, innovative dishes, that are well prepared with fresh ingredients ----- at a very modest price.

It's one of the the best, casual family restaurants in Cape May; serving up quality food that appeals to all ages at a reasonable price.

The decor is attractive with rustic styling, and the atmosphere is energetic and often noisy.

The restaurant is known for serving up healthy dishes with 0 trans fat, with their soups, sauces, and desserts made on the premises to preserve the flavor and control over the unhealthy fat content.

Some of the popular dishes include grilled Cuban-rubbed pork chop, crab and shrimp cakes, crusted brick oven thin pizza, baby back ribs, filet mignon and the Cape May Flatfish.

They are open for lunch with a lighter fare and features a variety of burgers and sandwiches; grilled veggie burger with herb mayonnaise, as well as a number of tasty salads. The shrimp salad sandwich is the best in Cape May.

It is family and child friendly.

During the peak hours the restaurant can be noisy.

Lucky Bones is open year round for Lunch & Dinner

(updated: June, 2018)


How Do We Review (analyze) Restaurants?
New Jersey Leisure Guide strives to provide analytic restaurant reviews .
The methodology used is research, analysis driven --- as opposed to that of a single restaurant critic or a viewer comment posting board.

Data is gathered from our viewers e-mail restaurant comments, Internet research, and professional restaurant critics. The data is sorted, (weeding out the obvious biased, "bone to pick",  and out of consensus comments), analyzed, and the review is created.

Learn More
---