Fins Bar and Grille, Cape May, NJ:
A Restaurant Review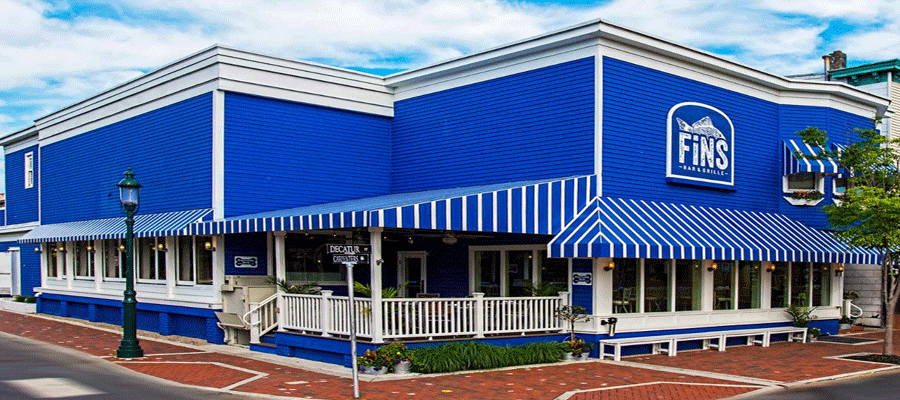 Fins Bar and Grille

142 Decatur St
Cape May, NJ 08204
(609) 884-3449
Website
Fins Bar and Grille: Restaurant Highlights
Fare:  Seafood

Price: Expensive

Food Quality: Above average for a Jersey Shore seafood restaurant. Serves fresh seafood fresh ingredients from local sources. 

Service: Friendly, attentive
Ambiance/Decor: Trendy, Open and modern with a bar area featuring an attractive blue wave glass lit bar with an impressive saltwater fish tank and the high back chairs.

Overall Rating: 2 1/2 Stars

Note: Four star Rating System from 1/2 Star = poor to Four stars = Best in Class

Noise Level:  Moderate

Dress:  Casual

Recommended For:  Diners who enjoy well prepared, high end food in an attractive, modern setting with a vibrant bar scene.

Not Recommended For:  Limited budget diners who prefer a low key, BYOB setting, or large groups of eight or more.

Recommended dishes: When available, The lobster Cobb salad; The Local Day Boat Scallops, and The Shrimp and Crab Penne.

Liquor:  Bar scene is vibrant. Good selection of over 20 craft beers including beers from Cape May Brewing, Glasstown Brewing, River Horse, and Flying Fish , along with wines and specialty cocktails.

Restaurant Review

Located at the site of the former Pilot House at the Washington Street Mall, Fins Bar & Grille is an upgrade and one of the better restaurants in Cape May.
Fins Bar and Grille isn't your typical 'historic' Cape May type of eatery. Neither is it a typical Cape may area tavern. Don't let the "Bar and Grille" in their name mislead you, this is not your typical tavern menu -- they serve some quality dishes.

The limited seasonal menu specializes in seafood and includes flat breads, appetizers, entrees, and desserts.

During the warmer seasonal months there is outdoor dining & live entertainment

The decor is trendy: Open and modern with a bar area featuring an attractive blue wave glass lit bar with an impressive saltwater fish tank and high back chairs.

The dining area features a fireplace. When visiting Fins Bar during the cooler off season months, ask to be seated near the fireplace or by the window across from the fireplace, especially if you are there for a romantic dining experience.

Fins Bar and Grille can best accommodate parties of 2 - 6 people. Groups of 8 or more are not easily accommodated during the summer peak season.

Does not take reservations. During the summer months dinner times, be prepared to wait at least 45 minutes to an hour for a table.

They also serve a Kids "Lil' Fins" menu

Fins Bar and Grille is open year-round with seasonal days/hours. Open seven days/week during summer season, for Lunch & Dinner

They are also open on New Years Eve.

(Updated May 2023)

How Do We Review (analyze) Restaurants?
New Jersey Leisure Guide strives to provide analytic restaurant reviews.
The methodology used is research, analysis driven --- as opposed to that of a single restaurant critic or a social media platform, viewer comment posting board.

---