Ugly Mug, Cape May, NJ:
A Restaurant Review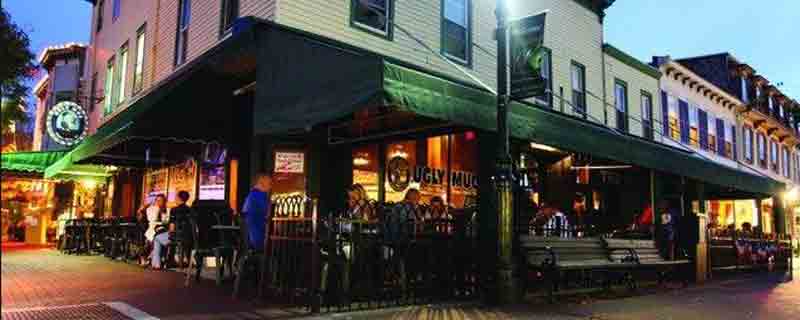 Ugly Mug

426 Washington St.
Cape May, NJ
609-884-34590
Website
Ugly Mug: Restaurant Highlights

Fare:  American Tavern food

Price:  In-expensive

Noise Level:  Moderate - High

Alcohol: Full service, vibrant bar scene. Good selection of cold draught beers

Recommended For:  Budget conscious diners who enjoy good tavern food in a friendly, energetic setting

Not Recommended For:  Diners who prefer more complex eclectic dishes with a more upscale, trendy ambiance.

Recommended Dishes:  Chili, cheese steaks, burgers, and lobster roll.

Restaurant Review

The Ugly Mug, a popular gathering place in Cape May, serves up good American pub, tavern food. 
It's very casual, T-shirts and shorts are the norm. 
They are located right on the Washington Street Mall. Like many of the restaurants on the mall, they offer outside seating.
Inside is a bar area and a large dining room. Outside there are about a dozen tables. 

The atmosphere is friendly and energetic. The service is friendly and attentive.

The chili is exceptionally good, one of the best in the area. It's light on beans and heavy on the good stuff --- big chunks of ground meat, peppers and onion, kidney beans with a tasty "kick".

The Ugly Mug is family and kids friendly.

The Ugly Mug is open year-round with winter seasonal hours.

(Updated: May 2023)

How Do We Review (analyze) Restaurants?
New Jersey Leisure Guide strives to provide analytic restaurant reviews.
The methodology used is research, analysis driven --- as opposed to that of a single restaurant critic or a social media platform, viewer comment posting board.