Exit Zero Filling Station, Cape May, NJ:
A Restaurant Review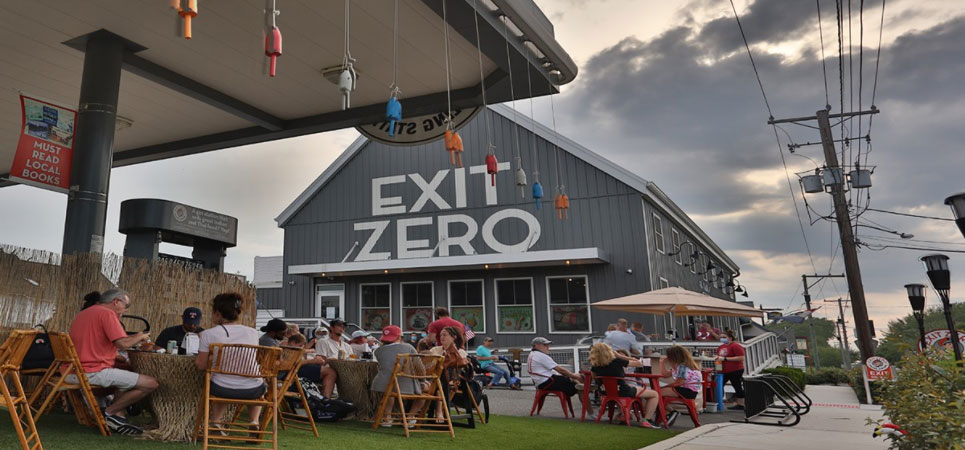 Exit Zero Filling Station
110 Sunset Blvd
Cape May, NJ 08204
609-770-8479
Website
Exit Zero Filling Station: Restaurant Highlights

Fare: American Fusion with Indian and Scottish influences

Price: Moderate

Food Quality: Well-executed, artfully prepared menu

Service: Wait staff are friendly, willing to please, and attentive.

Ambiance/Decor: Fun, festive with a unique gas station, casual vibe.

Overall Rating: 3 Stars - In its class of affordably priced casual restaurants

Note: Four-star Rating System from 1/2 Star = Poor to 4 stars = Best in Class

Noise Level: Moderate

Dress: Casual

Recommended For: Diners who enjoy a fun, festive, casual dining experience with bar service.

Not Recommended For: Diners who enjoy a traditional fine dining experience.

Recommended dishes: When available, The Indian Curries; The Build your Own Burger with waffle fries; and the weekend brunch Scottish Breakfast.

Liquor: Full bar Service with specialty cocktails, wines, draft, and canned beers.

Restaurant Review
Exit Zero Filling Station is one of Cape May's latest success stories. It's a fun place to come for a well-executed, creatively prepared casual style menu with bar service, in a welcoming, friendly atmosphere.
Exit Zero Filling Station is a restaurant with a bar, a gift shop selling Cape May souvenir shirts and sweatshirts, and a gas station.
The restaurant is owned by Jack Wright, a native Scotsman who emigrated to America 20+ years ago. As owner of the Exit Zero publishing company, he later purchased property across the street, built a new metal framed barn to house his business, the restaurant, a retail shop, and has acquired a liquor license and the next-door gas station to form what is now the Exit Zero Filling Station. 

The indoor dining area, housed under a new metal barn, has an attractive modern decor with a fun and festive ambiance. It features a roaring fireplace, a small bar, walls adorned with entertaining writings and slogans, a high-pitched exposed ceiling with fans and hanging lights. The tables are spaced for socially distanced dining.

Their menu features well executed dishes of seafood, meats, chicken, Indian curries, burgers, and sandwiches. Vegan and Vegetarian options are available. 

Jack Wright, who grew up on curries, has a soft spot for Indian curries. The Indian/Thai Mashup Curry is a signature dish with a heat index tailored to your level of tolerance. 

Another favorite of Jack Wright is the traditional Scottish Breakfast served on weekend brunch. The dish includes bacon, fried eggs, sausage, white pudding, bacon-cheddar-chive colossal tots, mushrooms, tomatoes and baked beans. 

During the summer months, diners can be seated amongst the gas pumps, under the gas station canopy, listening to live music! 

Outdoor winter dining is a real treat. --- They have converted seven tents into cozy outdoor private dining spaces that can hold up to 5-6 people. 

Their outdoor dining has been expanded with the addition of the heated 1956 Airstream Bubble. For a special treat, book the Airstream Bubble for a unique private dining experience. Enjoy hit 50's and 60's music from a record player with vinyl records, while you privately dine. The Bubble is available for dinner at 3pm, 5pm, and 7pm, daily. And on Saturday and Sunday at 11am and 1pm for brunch.

Reservations must be made in advance with a rental fee of $25 for a couple and $50 for a party of 3 to 6. 

They are child friendly with a kid's menu.

Exit Zero is open year-round, seven days/week for outdoor dining and limited indoor dining

(Updated September 2021)

How Do We Review (analyze) Restaurants?
New Jersey Leisure Guide strives to provide analytic restaurant reviews.
The methodology used is research, analysis driven --- as opposed to that of a single restaurant critic or a social media platform, viewer comment posting board.