New Jersey Museums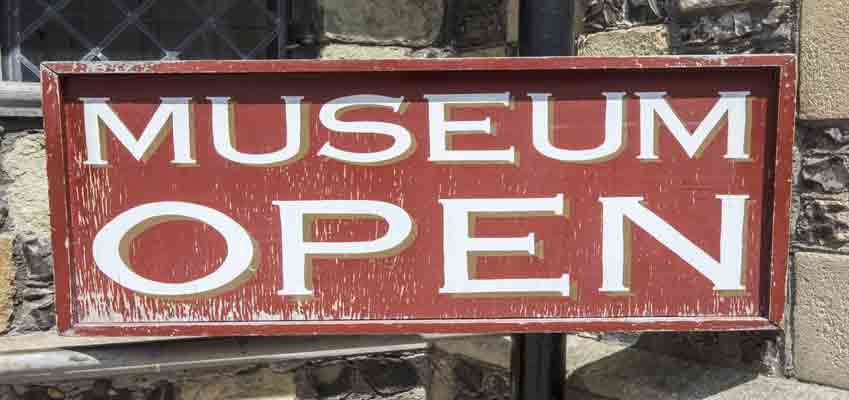 For Discovery, Education, fun, and adventuresome
arts and natural science programs

New Jersey's treasured museums are great places to visit for a one day trip, or an attraction to complement your weekend getaway

Museums are great places for people of all ages and run the gamut from treasures of art, a real floating battleship, historic buildings, and hands-on interactive science programs, educational exhibits.
Northern New Jersey Museums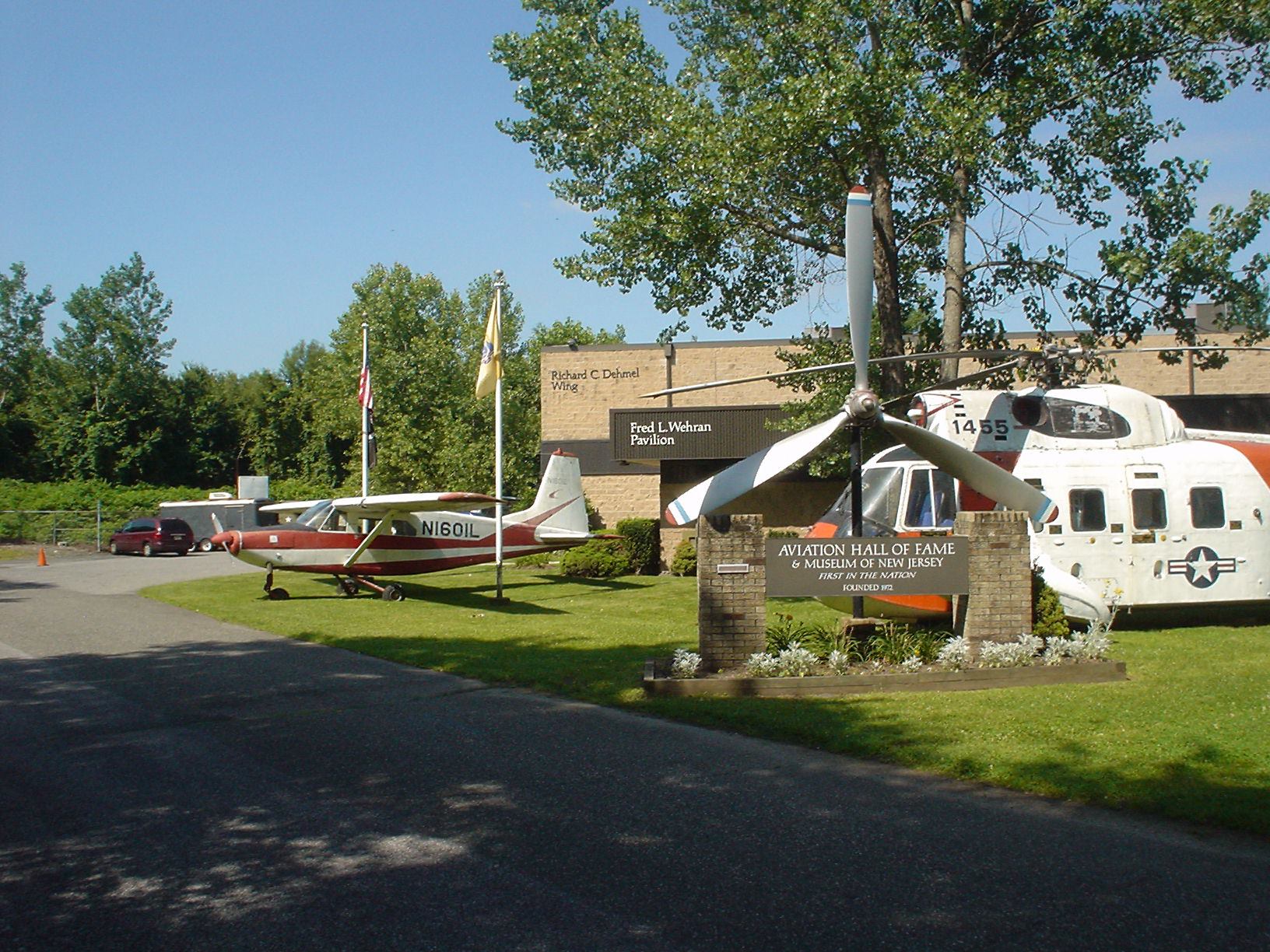 The Aviation Hall of Fame and Museum

400 Fred Wehran Drive
Teterboro Airport
Teterboro, NJ
201-288-6344
Website
The museum offers visitors an opportunity to view historic air and space equipment and artifacts, photographs, fine art and an extensive model collection. The Library has more than 4000 volumes and hundreds of aviation video tapes.
---
Dr. William Robinson Plantation & Museum
593 Madison Hill Road
Clark, NJ
The Dr. William Robinson Plantation Museum circa 1690, one of oldest houses in New Jersey, is listed on the New Jersey and National Registers of Historic Places as a rare showing of late 17th century frame construction.
Visitors can view the hearth that is still in use today, the doctor's office, herb garden, the basement with farm tools on display, and a gift shop. The site is ADA accessible.
More info

---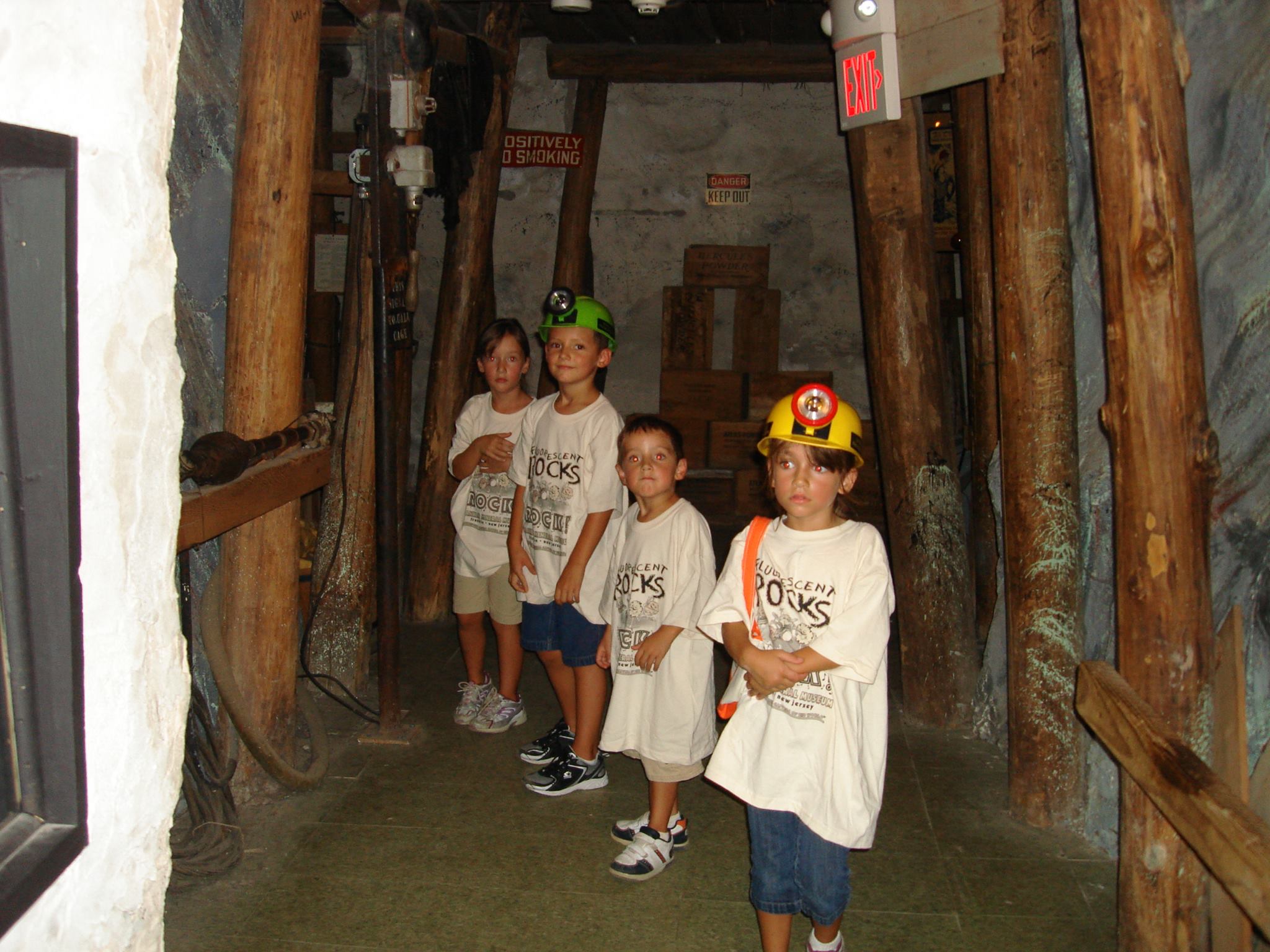 Franklin Mineral Museum
2 Evans Street
Franklin, NJ
973-827-3481
Website
This is a zinc mine with a display of mineral fluorescence, (glowing rocks) and variety of rare species.  They have thousands of mineral specimens on display with a huge fluorescent presentation of brilliant and glowing colorful minerals.
The museum also has demonstrations and examples of the mining methods used during that period of operation. The museum welcomes teachers and school tours and can create a curriculum to fit your schools educational interest.
---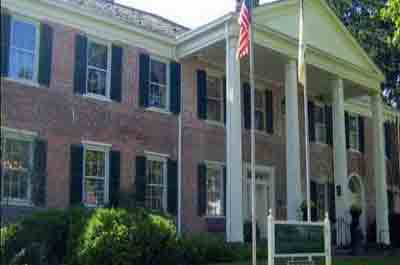 Macculloch Hall Historical Museum

45 Macculloch Avenue
Morristown, NJ
Website
An 1810 Federal-style mansion with ten period rooms, four exhibit galleries and the oldest gardens in Morris County. During tours of the gorgeous historic home visitors will view a variety of decorative art pieces as well as the Museum's collection of original artwork by caricaturist Thomas Nast. The museum is renowned for the world's largest collection of works by Nast. Visitors can also visit the changing exhibits in the three galleries at the Museum or can enjoy the galleries before or after their room tours. The Museum gift shop is also open during touring hours and visitors can find a selection of Thomas Nast items, as well as a wide range of local history books and other gifts. Macculloch Hall preserves the history of the Macculloch-Miller families, the Morris area community, and the legacy of its founder W. Parsons Todd through its historic site, collections, exhibits, and educational and cultural programs.
---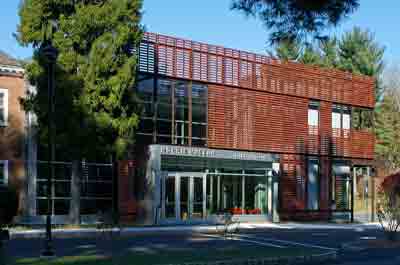 The Morris Museum
6 Normandy Heights Road
Morristown, NJ
973-971-3700
Website
Offers special events for all ages and all interests -- from young children to seniors, from hands-on art and science workshops to discussions of significant historical events, and theatrical and other performances.
The museum contains a collection of more than 40,000 objects ranging from rocks and minerals to model trains, as well as one of the country's largest collections of mechanical musical instruments and automata.
---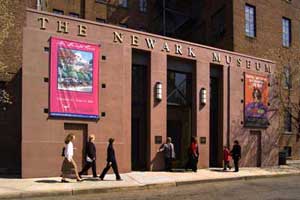 The Newark Museum

49 Washington Street
Newark, NJ
973-596-6550
Website
New Jersey's largest museum offers experiences in the arts and natural sciences, for children and adults,studio programs for kids 3- 13 to create and explore the world of science, experienced family travel programs,and educational programs for teachers.
---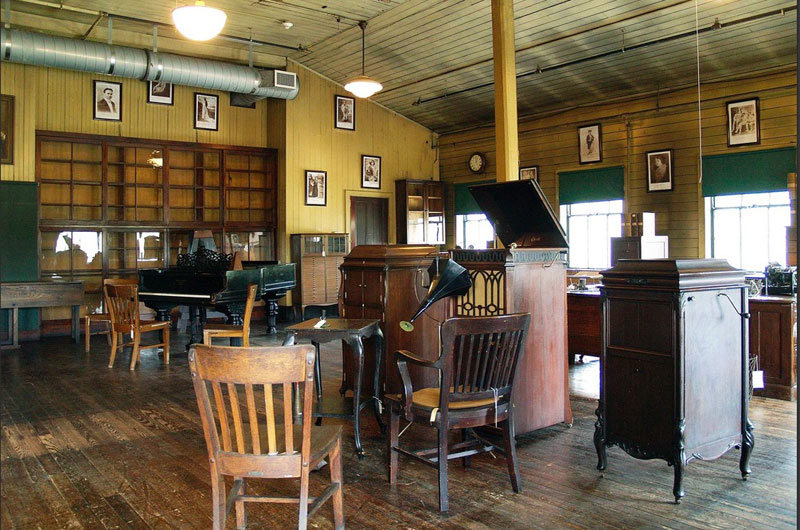 Thomas Edison National Park
211 Main Street
West Orange
973-736-0550
The Thomas Edison National Historical Park in West Orange is a great opportunity to acquire an insight into life without music, motion pictures, radio, and light itself.
More info

---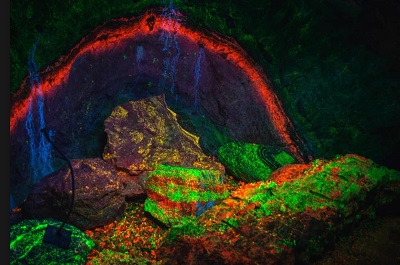 Sterling Hill Mine Tour and Museum

30 Plant Street
Ogdensburg, NJ
973-209-7212
Website
"Step Into Earth Science" The mining museum features a 1,300-ft underground walking tour through the mine where visitors can discover the equipment used while the mine was in operation and exhibits on the mining process including the 5,000 sq./ft. Zobel Exhibit Hall with over 20,000 mining related items, the miners lamp room, the shaft station, mine galleries dating to the 1830's. Also, for children the Rock & Fossil Discovery Center with fluorescent mineral displays, fossils, gemstones, carvings, and everyday objects, and more. They also offer educational group tours for school classes, scout groups, summer camps, vacation tour groups, snack bar and gift shop, etc.
---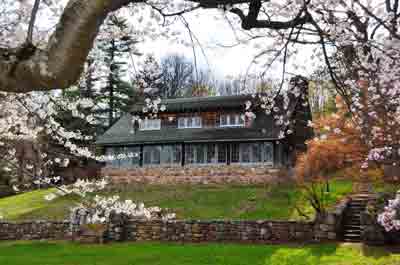 The Stickley Museum at Craftsman Farms
2352 Rt. 10-West
Morris Plains, NJ
(973) 540-0311
Website
Craftsman Farms is Gustav Stickley's early 20th century country estate. The 30 park-like acres of this unique National Historic Landmark await you. Step back in time to 1911 and learn about the Arts and Crafts movement and Stickley's utopian vision. The Museum's growing collection includes numerous Stickley furnishings, many which are original to the Log House, plus textiles, pottery, metalwork, and archival materials. In addition to these priceless objects on view in the Log House, an original Stickley bungalow has been furnished with touchable Arts and Crafts furnishings. A visit to this bungalow, known as North Cottage, allows visitors the opportunity sit in the chairs and fully experience Arts and Crafts living. Tours of North Cottage must be booked in advance.
---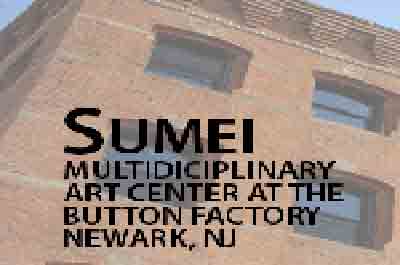 Sumei Multidisciplinary Arts Center at The Button Factory

85 Hamilton Street
corner New Jersey Railroad Avenue
Newark, NJ
973-589-5525
Website
The Sumei Center hosts national and international exhibits, workshops for children and adults, lectures, cultural education, artist workshops, presentations, and programs and music from the many different cultures that make up our diverse country.
---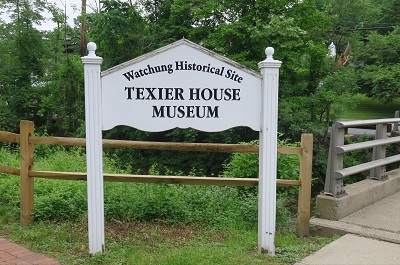 Texier House Museum
10 Mountain Blvd
Watchung, NJ 07069
(908) 765-0080 Ext 232
Facebook
Free Admission -- Donations are always greatly appreciated!
The Texier House Museum is Watchung's central location for history, photos, fun facts, and artifacts. Visit and investigate each of the 6 rooms independently or speak with their tour guide.
The museum is open the 1st & 3rd Sunday of each month from 2pm to 4pm.
There is plenty of convenient parking.
Central New Jersey Museums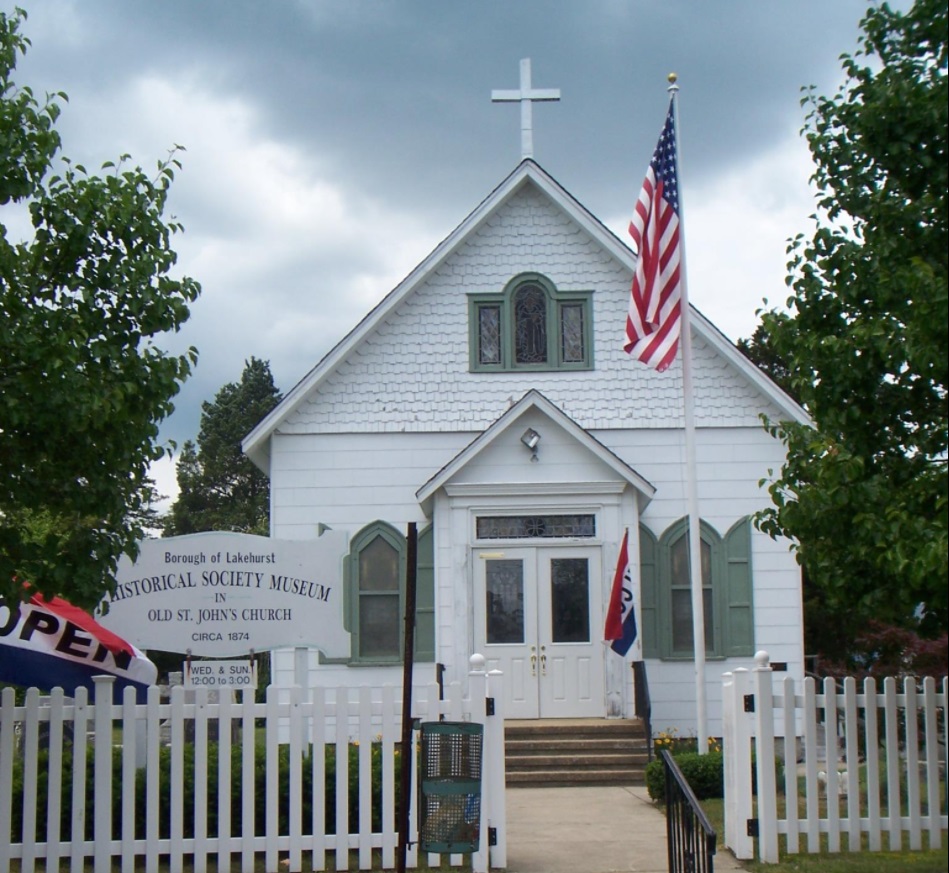 Lakehurst Historical Museum
300 Center St
Lakehurst, NJ 08733
732-657-8864
Website
Lakehurst was once widely known as the "Airship Capital of the World" and for the dirigible Hindenburg, which crashed here in 1937. The charred remnants of the dirigible Hindenburg, and items from the Navy's rigid airship program are always popular items to see when one visits the Society's Museum.
The museum is housed in The Old St. John's Church, the oldest Roman Catholic Church in Ocean County. Built in 1874 by Irish Railroad workers. Items from the original church are on display. The main exhibits include: · items from the Navy's rigid airship program, and few items from the Hindenburg disaster · an old jail cell · fire department memorabilia · items from the Pine Tree Inn · a 19th century music box · original paintings · items relating to Lakehurst's past as a winter resort; early industrial community.
---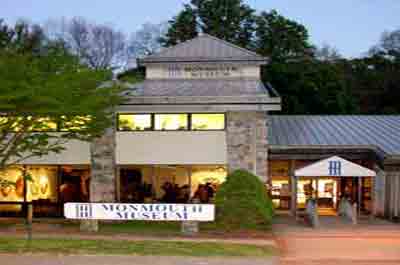 Monmouth Museum
On the Brookdale Community
College campus
765 Newman Springs Road
Lincroft, NJ
(732) 747-2266
Website
It's a museum that appeals to all ages. It's for children, adult's, and is a great place for a family day trip. The Monmouth Museum, one of the top five museums in New Jersey, is a center for education and culture. The Museum features changing exhibitions and programs.
Monmouth Museum is believed to have the largest Sewing Bird Collection in the United States.
---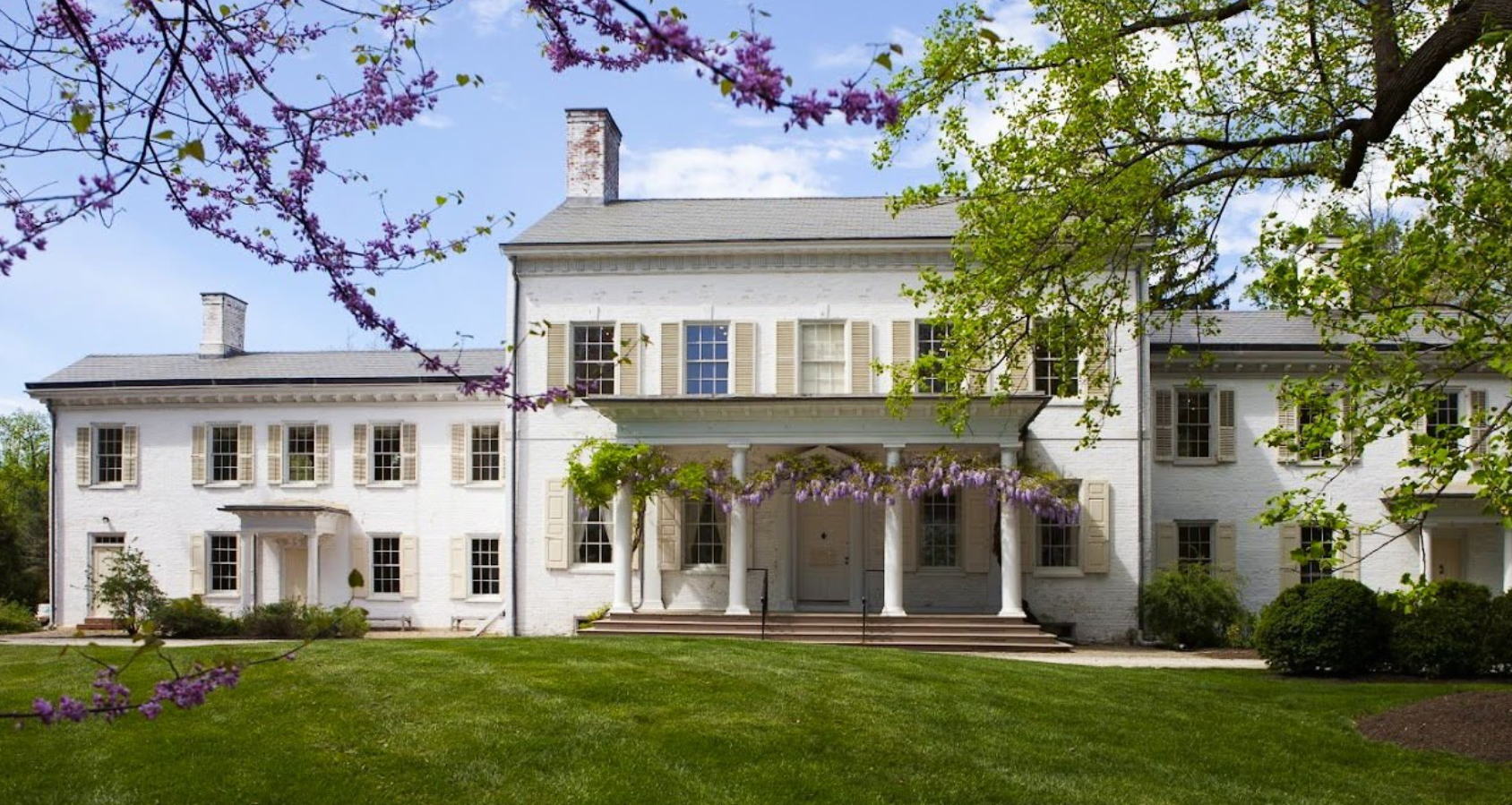 Morven Museum & Garden
55 Stockton Street
Princeton, New Jersey 08540
609.924.8144
Website
A National Historic Landmark situated on five pristine acres in the heart of Princeton, New Jersey, showcases the rich cultural heritage of the Garden State through regular exhibitions, educational programs and special events. This was the Home to one of the signers of the Declaration of Independence and to five New Jersey governors, Morven has played a role in the history of New Jersey and the nation for more than 250 years
---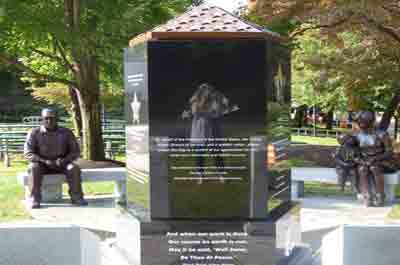 New Jersey Vietnam Veterans' Memorial and the Vietnam Era Museum and Educational Center
Exit 116, Garden State Parkway (on the grounds of the PNC Bank Arts Center) Holmdel, NJ
732-335-0033
Website
Visitors can learn about the history that produced the conflict abroad and the dissension at home. With materials and exhibits, visitors can understand the significance of the Memorial, the reality of the conflict, and the social, political and cultural complexities of the war years. Guided tours of the New Jersey Vietnam Veterans' Memorial and Vietnam Era Museum and Educational Center in Holmdel are available to any group of 15 or more people. Tours are led by Vietnam Veteran volunteers who share their personal experiences. Please call in advance to schedule a tour.
---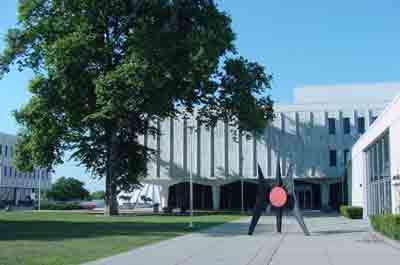 The New Jersey State Museum
205 West State Street Trenton, NJ
(609) 292-6464
Website
This is four Museums in One and includes:
Archaeology and Ethnology with a collection of over 2 million prehistoric and historic specimens from nearly 100 years of excavation and over 2,000 ethnographic objects. Cultural History with objects that document the lives of people who have lived in New Jersey from the 17th century to the present. The Cultural History Collection includes over 13,000 artifacts documenting New Jersey's cultural, economic, military, political, and social history, as well as aspects of its decorative arts.
Fine Art with a collection of over 12,000 works of art including paintings, prints, drawings, sculpture and photographs. Hi-Def Planetarium featuring precision projection of more than 6000 stars. The largest planetarium in New Jersey.
---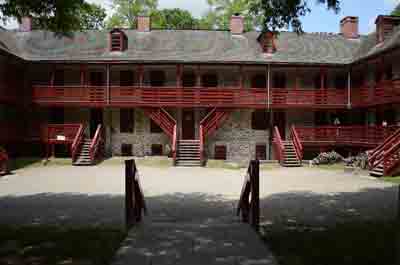 Old Barracks Museum
Barrack Street
Trenton, NJ
(609) 396-1776 during normal business hours;
(609) 777-3599 on weekends
Website
The Old Barracks is a State and National Landmark located in Trenton, New Jersey. Built in 1758 by the Colony of New Jersey during the French and Indian War, the Old Barracks was a witness in 1776 to the Battle of Trenton, the turning point of the American Revolution. It is an educational center for Colonial and American history, and stands as the last remaining structure of its kind. The Old Barracks staff provides daily tours and interpretations of American colonial life. The building offers a museum of artifacts and weapons, as well as a gift shop.
---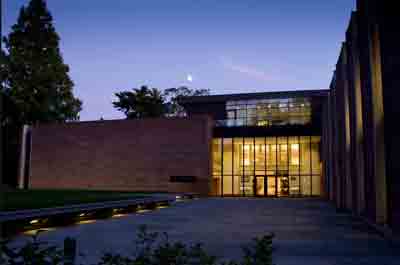 Princeton University Art Museum
McCormick Hall in the middle of the Princeton University campus
Princeton, NJ
609-258-3788
Website
It is one of the richest cultural resources in the state of New Jersey, the museum also has a clear commitment to serve the local community, the region, and beyond. Through direct and sustained access to original works of art, and by collaborating with faculty, students, and staff from the Department of Art and Archaeology and many other disciplines, the museum contributes to the development of critical thinking and visual literacy at Princeton
---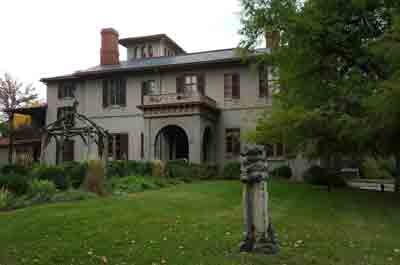 The Trenton City Museum
at Ellarslie Mansion
Cadwalader Park
Trenton, NJ
(609) 989-3632
Website

Trenton was one of the two major pottery centers in the United States and the Museum houses a fine collection of art and artifacts related to Trenton's historical and cultural past and present. Permanently on display in the second-floor galleries is a highly regarded collection of tableware, sanitary ware and art ware produced in the 19th and 20th centuries by Trenton's prolific ceramics industry
Southern New Jersey Museums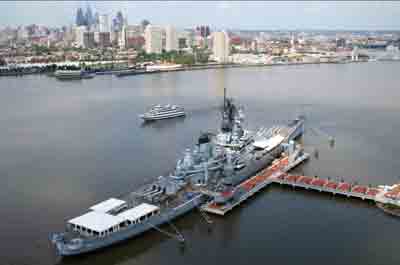 Battleship New Jersey Museum and Memorial
62 Battleship Place
Camden, NJ
866-877-6262
Website
America's most decorated Battleship is now the area's most exciting museum, open for tours, events and overnight encampments. Exploring "BB62" is experiencing history in a whole new way. Not only do you see exhibits of artifacts from the ship's past, but you are put into the exhibit as you go through the tour route. Sit in the chair from which Admiral Halsey commanded the fleet. Stretch out on the bunks where the sailors slept. Climb into the 16" gun turret and learn how the projectiles were loaded. A great attraction for a class trip or group tour! Provide a lifetime of memories for your group with an Overnight Encampment. On board classes, veteran speakers, scavenger hunts and more are available to make this educational and fun experience unforgettable!
---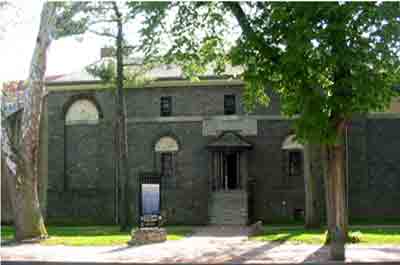 Burlington County Prison Museum

128 High Street
Mount Holly
609-265-5476
Website
This National Landmark was built in 1811 and was the oldest continually used prison until it closed in 1965. It is now a New Jersey museum and is where you can see the dungeons, gallows and old cells decorated with manequins and artifacts.
---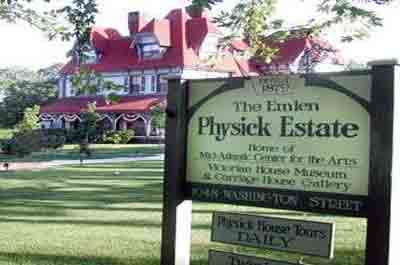 Emlen Physick Estate
1048 Washington St.
Cape May, NJ
(609) 884-5404
Website
A Victorian house museum that provides a look back at the Victorian past of the area. Here you will see the architecture, decorative arts, customs and the lives of the Physicks as showcased in the home they lived. No matter what time of year it is, you can take a tour of this 18 room mansion designed by renowned architect Frank Furness. Built in 1879, it's considered by some to be one of the finest examples of Victorian "Stick Style" architecture in America. A new addition to the grounds is a Victorian herb garden. In season, there is a garden exhibit of old time garden implements.
---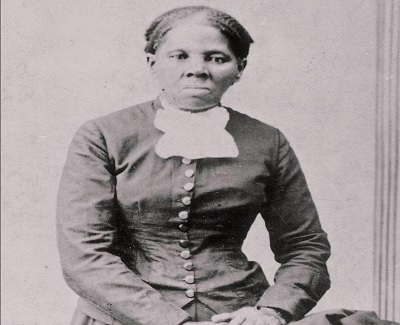 Harriet Tubman Museum of New Jersey

632 Lafayette Street
Cape May, NJ 08204
Website
[email protected]
Admission to the Museum is by timed entry on the hour, $10 for adults, plus applicable ticket processing fees, $5 for children 10 and under, plus applicable ticket processing fees.
Harriet Tubman lived in Cape May in the early 1850s, working to help fund her missions to guide enslaved people to freedom.
The Harriet Tubman Museum building is located on a block that anti-slavery activists called home in Cape May. Lafayette Street and Franklin Street became a center of abolitionist activity centered around three important buildings developed in 1846
---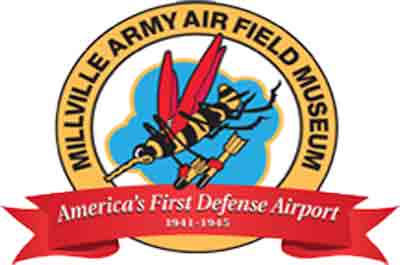 Millville Army Air Field Museum
Millville, NJ
Website
The Museum preserves U.S. military aviation history, including the recent Middle East conflict. Museum programs and tours focus on education about Millville's vital role in aviation history and the history of the P-47 Thunderbolt.
---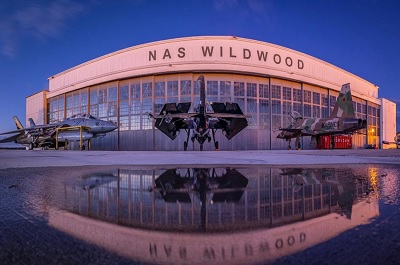 NAS Wildwood Aviation Museum

500 Forrestal Road
Cape May, NJ 08204
609-886-8787
Website
Located in a historic World War II-era hangar, they feature over 25 historic airplanes, jets, and helicopters.
Visitors can explore aviation and military history through hands-on exhibits and fun activities designed for the whole family.
---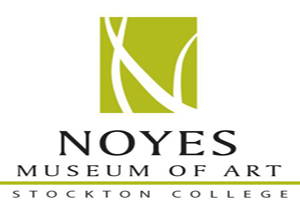 The Noyes Museum Of Art
733 Lily Lake Road
Oceanville, NJ
609-652-8848
Website
The Noyes Museum of Art the only fine arts museum in southern New Jersey, is filled with treasures of American art, especially folk art and crafts. The Noyes Museum is a good attraction for out-of-state visitors or New Jersey residents who are inspired by art and culture and appreciate its beautiful natural setting. The Museum hosts many exhibitions, public programs and gallery lectures designed to appeal to a wide audience. The Museum's children's programming ranges from hands-on creative art classes and special appearances by children's book authors and illustrators to concerts and seasonal festival
---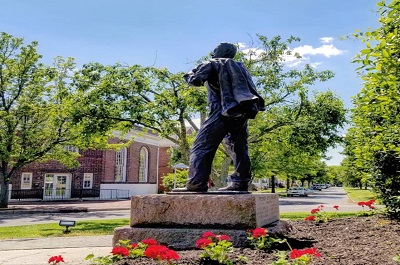 Roebling Museum
100 2nd Avenue
Roebling, NJ
(609) 499-7200
Website
Here you can learn about the town that helped build some of America's most famous bridges! Roebling Museum tells the story of the origins and growth of Roebling, NJ, a company town built by John A. Roebling's Sons Company. Some of the most important technological achievements of the industrial age such as big bridges, telegraphs and telephones, electrification, deep mines, big ships, elevators and airplanes as well as everyday objects were built in Roebling. The Museum offers a dynamic slate of programs, exhibits, and tours that emphasize and celebrate the experiences of those who lived in Roebling and worked for the John A. Roebling's Sons Company.
---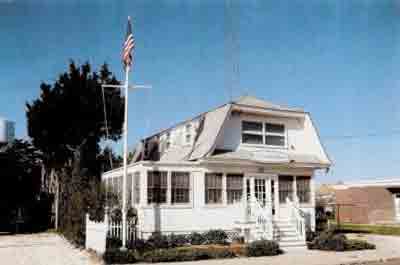 Stone Harbor Museum
235 93rd Street
Stone Harbor, NJ 08247 Â 
609 368-7500
Website
Preserves and displays archives and artifacts relevant to the development of the communities cultural heritage to educate the present and future generations about the story of Stone Harbor, New Jersey. The museum's Maritime Annex houses models and memorabilia of the history of sailing in Stone Harbor.
Admission is free!
---