Ebbitt Room At The Virginia Hotel, Cape May, NJ:
A Restaurant Review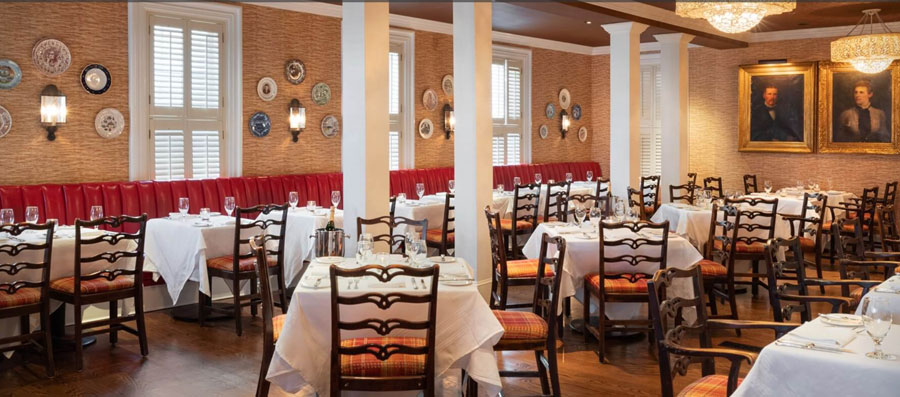 Ebbitt Room Restaurant
25 Jackson St.
Cape May, NJ
609-884-5700
Website
Restaurant Highlights

Food Quality: Three Stars

Service:  Two Stars

Decor:  Three Stars

Overall Rating: Three Stars

Note: Four star Rating System from 1/2 star = poor to Four stars = Best in Class


One of the top restaurants in the Cape May area


Uses organic, farm-fresh to table seasonal ingredients from the hotels' nearby 62 acre Beach Plum Farm.


A good choice for celebrating a romantic occasion.


During peak season evenings, quiet conversation can be difficult. Some tables are placed too close together and noise level can be high

Fare:  New American

Price:  Very Expensive

Value:  Given the quality, though prices are high, the value is good

Noise Level:  Moderate. High during peak times

Dress: Upscale casual

Recommended For:  Diners who enjoy excellent food in a more formal, trendy setting.

Not Recommended For:  Diners who prefer simpler food, lower prices, and a more family casual setting.

Recommended dishes:  When available; Sea Water Poached Arctic Char;  Pan Roasted Branzino;  and Pomegranate Braised Short Rib.

Liquor:  Extensive wine list, specialty cocktails. Bar scene is vibrant.

Restaurant Review

The Ebbitt Room is one of the top Cape May restaurants offering a fine dining, romantic experience in a charming bed and breakfast hotel.

Located in the Virginia Hotel, built in 1879, you can enjoy your dining in the stylish restored dining area, done up in soft earth toned bamboo papered walls, dark hard wood flooring, dimly lit chandeliers, and candle lit tables set with white table linens.

The Ebbitt Room is committed to using organic, farm-fresh to table ingredients sourced from the restaurants nearby 62 acre Beach Plum Farm.

The restaurant also has a well stocked bar, where you can enjoy a cocktail or after dinner drink in the fireplace lounge while listening to live piano music.

During the warmer summers you can eat out on the porch or on the garden patio for a much more casual feeling.

They have live piano music on  Fridays and Saturdays from 6:30pm-10:30pm, an added touch to an elegant atmosphere for a romantic dinner.

To complete the romantic experience, book a room and have breakfast on the porch in the morning.

They also has a lovely private dining room called the Richmond Room suitable for a business or family occasion.

During the peak summers season, The Ebbitt Room is open seven/days/week:
Sunday - Thursday: 5:00 pm - 9:30 pm
Friday & Saturday: 5:00 pm - 10:00 pm
An Early Dining Menu is available Sunday through Friday from 5:00 pm until 6:30 pm

Social Hour every Monday through Friday from 4:00 pm to 6:00 pm serving half priced beer and wine by the glass

During the off-peak season, The Ebbitt Room is open from November - December: 6 days per week : 5:30pm - 9pm, and is closed on Tuesdays.

There is an "Early Seating Menu" Sunday- Friday, from 5pm-6:30pm

They are open 7 days per week between Christmas and New Year's Eve, and on Sundays the weekends of Martin Luther King Day, President's Day and Valentine's Day. In January, February and March they are open on Fridays and Saturdays.

Reservations are recommended and there is valet parking during the summer peak months. A note of caution: On busy weekends they tend to over book and even with a reservation, you may experience a wait of 1/2 - 1 hour.

(updated: June, 2018)

How Do We Review (analyze) Restaurants?
New Jersey Leisure Guide strives to provide analytic restaurant reviews .
The methodology used is research, analysis driven --- as opposed to that of a single restaurant critic or a viewer comment posting board.

Data is gathered from our viewers e-mail restaurant comments, Internet research, and professional restaurant critics. The data is sorted, (weeding out the obvious biased, "bone to pick",  and out of consensus comments), analyzed, and the review is created.

Learn More
---