e.m. Hemingway's Restaurant,  Cape May, NJ: 
A Dining  Review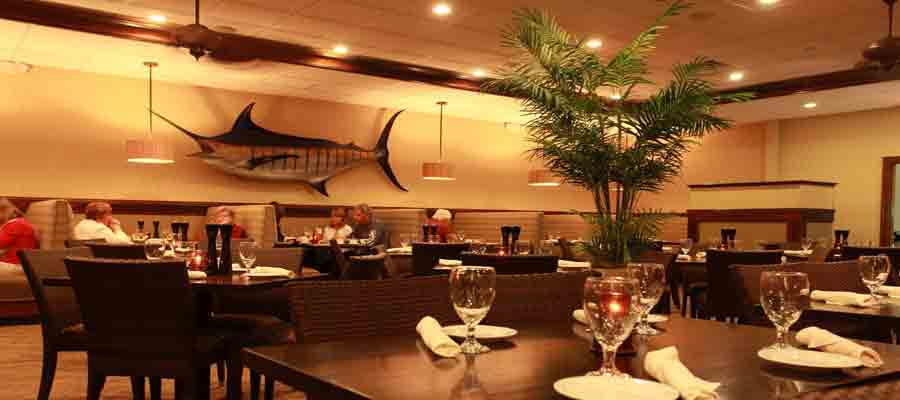 e.m. Hemingway's Restaurant at the Grand Hotel

1045 Beach Avenue
Cape May, NJ 08204
609) 884-5611
Website
Restaurant Highlights

Fare:  Traditional American

Price:  Expensive

Food Quality: 1 and 1/2 Stars

Service: 1 and 1/2 Stars

Decor: 2 Stars

Overall Rating: 1 and 1/2 Stars

Note: Four star Rating System from 1/2 star = poor to Four stars = Best in Class


A full service bar and attractive waterfront views.


The menu does not introduce any creative, or highly skilled cooking  techniques to distinguish itself from other Cape May restaurants


Value:  Good

Noise Level:  Moderate - except on Friday and Saturday evenings when the music is loud.

Dress:  Casual

Recommended For:  Diners who enjoy traditional steaks and seafood served in generous portions, a full service bar, and waterfront views.

Not Recommended For:  Gourmet steak and seafood foodies who seek out a high level of skilled cooking techniques and creative food preparation.
Recommended dishes:  When available, The Prime Sirloin of Beef; The Pan-Seared Scottish Salmon; and the Char-Grilled Rib Eye.

Liquor:  Decent selection of reasonably priced wines and specialty cocktails. Beer selection is limited. Bar scene is busy.

Restaurant Review

e.m. Hemingway's Restaurant, located in the Grand Hotel across the street from the beach, is popular with guests who enjoy steaks, drinks, and attractive island themed ambiance, especially when seated at a table with an ocean front view.

Recognizing that Cape May is known as one of the top Jersey Shore destinations for gourmet dining with a good variety of restaurants serving creative, inspirational, food preparation techniques, and for it's locally sourced, fresh farm to table produce, and local wild caught seafood, --- when compared to other Cape May restaurants ---- e.m. Hemingway's fails to rise above the level of comparable fine dining restaurants in their price range

The Hemingway's menu offers many traditional American dishes ----- the typical steaks, seafood, and pastas --- with preparation that falls short on creativity, inspiration, and presentation.

On a positive note, they serve a very good breakfast buffet. and their Wednesday Prime Rib Night, from 5pm-9pm, is well prepared and affordably priced.

the Bar at Hemingway's is a popular spot for sorts fans, especially Philly fans, with six large display TV's, and programming from NFL Sunday Ticket, MLB Extra Innings, Big Ten Network, Comcast Sportsnet Philadelphia, and others.

They have live entertainment Wednesday & Thursday nights, and DJ and dancing on Friday and Saturday nights.

Hemingway's Restaurant is open year round for Breakfast, Lunch & Dinner.
Breakfast Buffet from 8:00am - 11:30am; For Lunch 11:30am - 4pm; and for Dinner 4pm-8pm (until 10pm on weekends). On Friday and Saturday evenings they offer Sunset Dining (early bird) specials from 4:00pm - 5:30pm.

(updated: June, 2018)


How Do We Review (analyze) Restaurants?
New Jersey Leisure Guide strives to provide analytic restaurant reviews .
The methodology used is research, analysis driven --- as opposed to that of a single restaurant critic or a viewer comment posting board.

Data is gathered from our viewers e-mail restaurant comments, Internet research, and professional restaurant critics. The data is sorted, (weeding out the obvious biased, "bone to pick",  and out of consensus comments), analyzed, and the review is created.

Learn More
---