Freda's Cafe & Deli
A Cape May, NJ Restaurant Review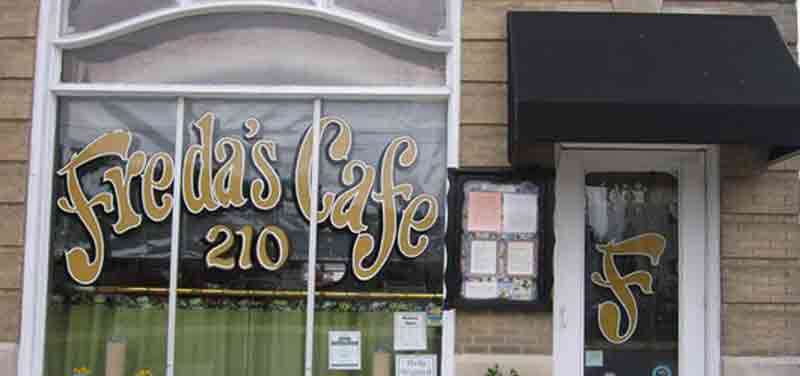 Freda's Cafe & Deli
210 Ocean St.
Cape May, NJ
(609) 884-7887
Face book
Restaurant Highlights

Fare:  International

Price:  Moderate - Expensive

Food Quality: 2 Stars

Service:  2 Stars

Decor: 1 and 1/2 Stars

Overall Rating:  2 Stars

Note: Four star Rating System from no stars = poor to Four stars = Best in Class


Offers a well prepared menu with some vegetarian dishes


Tables are placed too close for quiet conversation


Rest room access is inconvenient. You need to get a key, and walk outside the building to a side door,

Value:  Good

Noise Level:  High during peak times

Dress:  Casual

Recommended For:  Diners who enjoy well prepared food at a reasonable price.

Not Recommended For:  Diners who prefer a larger venue with less crowded seating, and families looking for a more casual menu.

Recommended dishes:  When available, Shrimp and Scallop Pesto; Chilean Sea Bass; and Crab Cakes with a mango sauce over mashed potatoes.

Alcohol:  BYOB

Restaurant Review

Freda's Cafe is a small, 12 table, eclectic restaurant with a traditional bistrro vibe offering a cosmopolitan alternative to the Victorian surroundings of Cape May.

Chef Steve Howard and his wife, pastry chef Carol Howard, both with prior stints at the Plaza Hotel in New York, present artfully prepared food that tastes as wonderful as it looks. They serve a well prepared seasonal menu.

Fresh seafood is always popular choice with gourmet sides that include a delicious portobello rice pilaf or garlic mashed potatoes.

The cafe also has a takeout deli on Carpenter's Lane where you can grab a salad, wrap or sandwich to go.

Freda's Cafe is open year round with seasonal hours.

(updated: June, 2018)


How Do We Review (analyze) Restaurants?
New Jersey Leisure Guide strives to provide analytic restaurant reviews .
The methodology used is research, analysis driven --- as opposed to that of a single restaurant critic or a viewer comment posting board.

Data is gathered from our viewers e-mail restaurant comments, Internet research, and professional restaurant critics. The data is sorted, (weeding out the obvious biased, "bone to pick",  and out of consensus comments), analyzed, and the review is created.

Learn More
---