Historic Restaurants of New Jersey
The  Oldest, Historic Restaurants, Many With a Rich Colonial History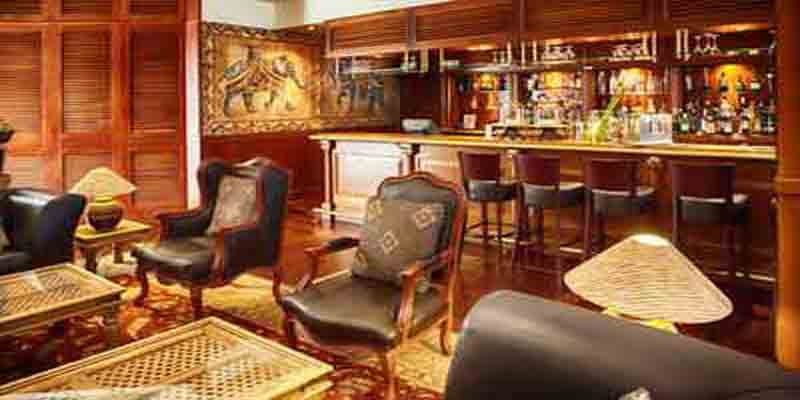 New Jersey's top Historic Restaurants offer a unique dining experience that combines delicious food with a rich history. These restaurants have stood the test of time, with some dating back as early as 1706. Many of them have connections to the Revolutionary War and other significant historical events, making them a must-visit for history enthusiasts.
One notable feature of these historic restaurants is that many remain open on Thanksgiving. This tradition allows visitors to enjoy a special holiday meal while immersing themselves in the historical ambiance. Whether you're craving a traditional Thanksgiving feast or a unique twist on classic dishes, these restaurants have something to satisfy every palate.
Imagine sitting down to a Thanksgiving dinner in a restaurant that has witnessed centuries of history unfold. The walls are adorned with artifacts and photographs that tell the story of the past. As you savor each bite, you can't help but feel a sense of connection to the generations that came before.
Northern NJ Historic Restaurants


---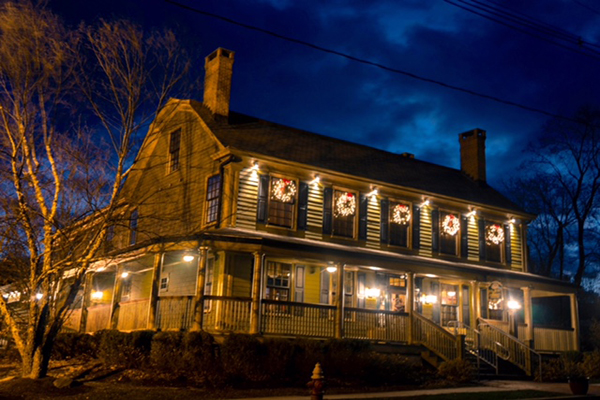 The Fox and Hound Tavern
Lebanon, NJ
Website
The Fox and Hound Tavern at the Lebanon Hotel (formerly the Cokesbury Inn) is an historic restaurant dating back to the 1800's when it served as a stagecoach Inn..
The front exterior of the historic building remains from the original hotel and has a circa 1850's section that connects the two older structures. The interior is rustic, upscale with the original brick and beam walls, fireplaces, restored wide-plank pumpkin pine floors, a copper-top bar, and a courtyard.
Open on holidays for Thanksgiving and Christmas Eve.
The ambiance, especially during the winter holiday season is very warm and welcoming with fireplaces and holiday decorations. .
Restaurant Review
---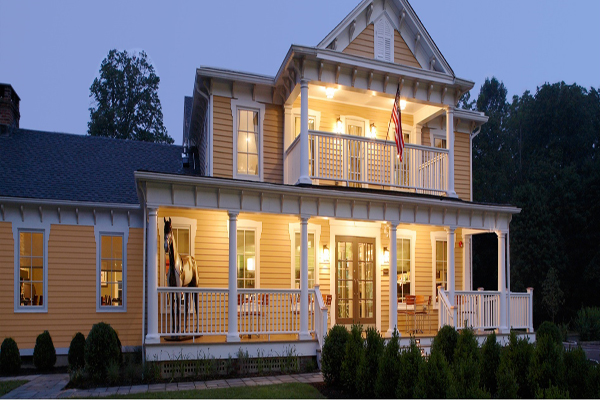 Gladstone Tavern
Gladstone, NJ
Website
An upscale yet casual landmark restaurant housed in an attractively restored 1847 farmhouse, serving a well-executed menu..
While the tavern has renovated and updated its decor from the original 1847 farmhouse, it none the less maintained it's country casual charm with an equestrian style ambiance, a wide front porch with a life-size horse statue on the porch, and three fireplaces.
Open Thanksgiving, Christmas Eve & New Year's Eve
Restaurant Review
---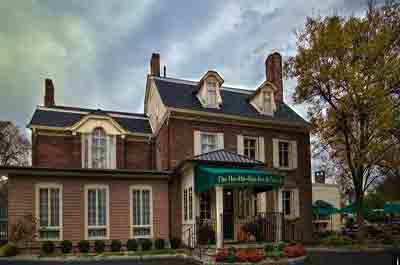 The Ho-Ho-Kus Inn and Tavern
Ho-Ho-Kus, NJ
Website
The Ho-Ho-Kus Inn and Tavern is an historic Circa 1796 restaurant listed on the National Register of Historic Places. They serve a well-executed menu.
While renovations have updated the uptairs dining areas with a more formal elegant ambiance, The downstairs tavern area and bar are more vibrant, rustic, yet noisy, with a casual bar scene and less expensive, moderately priced pub fare, a fireplace, and wooden floors highlight the tavern's rustic decor.
Open Thanksgiving, Christmas Eve, and New Year's Eve.
Restaurant review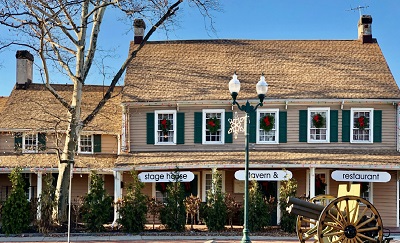 Stage House Tavern
Scotch Plains, NJ
Website
Dating back to 1737, the Stage House Tavern is listed on the National Register of Historic Places. During the Revolutionary War the Stage House Tavern was a meeting place for troops, and reported that George Washington was an honored guest. While expansion and renovations have since occured, the ambiance of an historical Revolutionary War-era tavern has been maintained with original fireplaces, woodwork, and beams.
Open Thanksgiving serving a special Turkey 3 course dinner.
---
Central NJ Historic Restaurants


---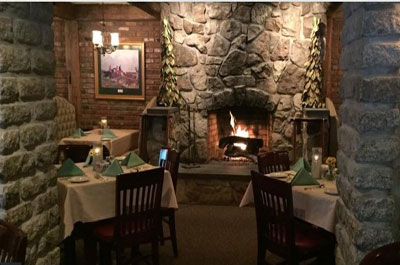 Clinton House
Clinton, NJ
Website
This historic restaurant circa 1743, located in the heart of the Historical Community of Clinton, serves up traditional American food in a rustic country setting. It remains as the most iconic restaurant in Clinton.
It is set in what was once an inn and public house. The bedrooms are no longer for rent, but the old-school dining room is still open for diners
It has recently been renovated to restore its 18th century atmosphere.The ambiance is warm, cozy with old, beamed ceilings, and a fireplace.
The restaurant is popular with diners who enjoy traditional American food in a warm, cozy historic setting.
Open on Thanksgiving with a special Thanksgiving menu.
Restaurant review
---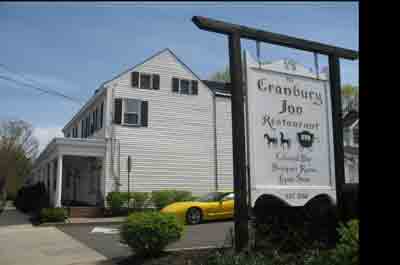 The Cranbury Inn

Cranbury, NJ
Website
The Cranbury Inn is a landmark restaurant with a historic past that dates back to the mid 1700s.
Under new management, It has recently been renovated while maintaining and preserving the site's rich, historical heritage.The menu has also been updated and upgraded. A definite improvement both in quality and menu additions.
They are open on Thanksgiving serving a special 4 course Thanksgiving menu, and on Christmas Eve, and New Year's Eve for both a New Year's Eve Dinner & a New Year's Eve Party.
Restaurant review
---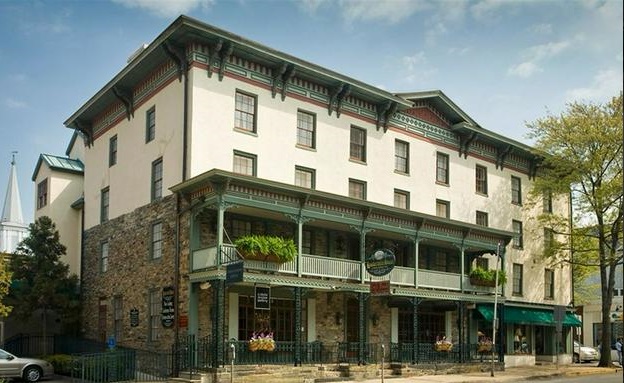 Lambertville House

Lambertville, NJ
Website
Built in 1812, this building is on the National Register of Historic Places. A popular stagecoach stop between New York and Philadelphia, Presidents Andrew Johnson and Ulysses S. Grant have stayed here. In 1994, a change of ownership occurred and the task of renovating the hotel finally began. By 1997, restored to its 19th-Century glory, the Lambertville House Hotel reopened. Today the restaurant is enjoyed by diners who come to enjoy a seasonally prepared menu that features small plates, Cheese & Fine Charcuterie.
Not open on major holidays. <
---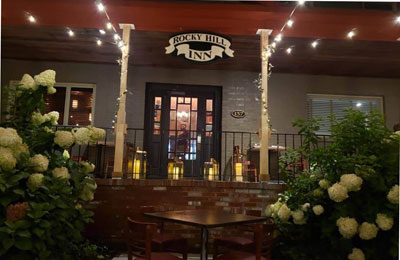 Rocky Hill Inn
Rocky Hill, NJ
Website
Located 10 minutes from downtown Princeton, The Rocky Hill Inn is a historic Tavern/Restaurant (circa 1745), and is one of the oldest restaurants in the United States. This historic pub in New Jersey first received its tavern license in 1745 and operated as an inn and public house.
Serves well executed pub food and exceptional burgers.
They are open seven days/week except on some major holidays.
Call 609-683-8930 for Holiday openings.
Restaurant Review
---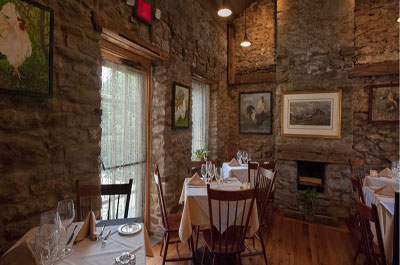 The Sergeantsville Inn
Sergeantsville, NJ
Website
The Sergeantsville Inn began as a private residence in the early 1700's in a small city called Skunktown. When the United States Post Office came to town, they would not legitimize the name of Skunktown and it was renamed Sergeantsville, after the well known Sergeant family. With the addition of the two wings in the 1830's it became a grain and feed store. Before the restaurant opened in the early 1900's, the building was also used as a grocery store, ice cream parlor, and a pelt trading center. Although the building has gone through several owners, the original structure and additions have been preserved. Three of the dining rooms, the Library, Ice House and the Wyeth Room still use the original fireplaces. In 1983, the ice house then joined to the main building and now serves as one of the Inn's four elegant dining areas.
Not open on major Holidays, though you can pre-order on-line a specially prepared Thanksgiving dinner for pickup.
Restaurant review
Southern NJ Historic Restaurants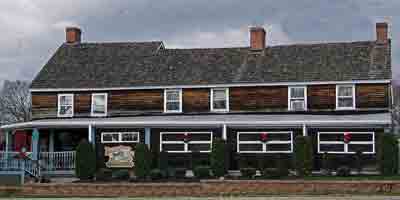 Barnsboro Inn

Sewell, NJ
Website
At nearly 300 years of age it is one is the oldest taverns in NJ.
The historic Barnsboro Inn was established as a log cabin in the early 1700s, initially as a rest stops along the road. The tavern itself has undergone name changes during its nearly 300-year history. It was known as the Spread Eagle, the Crooked Billet Inn, and the Barnsboro Hotel before its present designation as the Barnsboro Inn.
Today it is a popular place for casual dining --- comfort food, with a limited entree menu with nightly live music, boasts a solid outdoor terrace.
Open on Thanksgiving.
No Online reservations, Call 856 468 3557 for reservations
---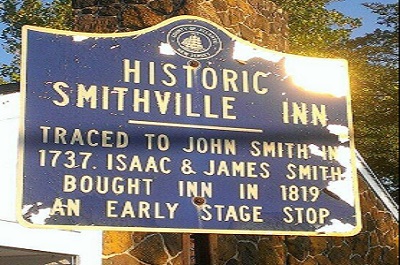 Smithville Inn
Absecon, NJ
Website
The Smithville Inn is the featured restaurant in Historic Smithville village with 60 over shoppes.
The Historic Smithville Inn has been designated as a Historic site by the United States Government.
They offer a  scenic view dining areas looking out on Lake Meone, and dining rooms with a fireplace.
The Smithville Inn serves a well prepared menu in a charming, elegant setting,
Not open on major Holidays.
Resturant review
---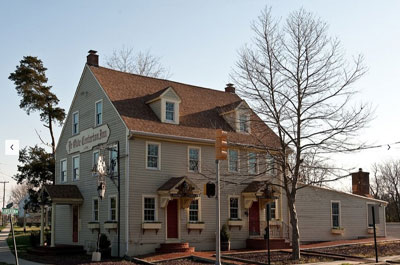 Ye Olde Centerton Inn
Pittsgrove, NJ
Website
This historic inn dates back to 1706 when it was a former stage coach stop between Philadelphia and Greenwich, NJ. The vibe remains historic, though it can use a freshening up.
Serves good reasonably priced food.
Open Thanksgiving, Christmas Eve, New Year's Eve and New Year's Day.
Restaurant review
---