The Jersey Diner: A must for a true Jersey experience

But don't wait too long, the classic Jersey Diner is vanishing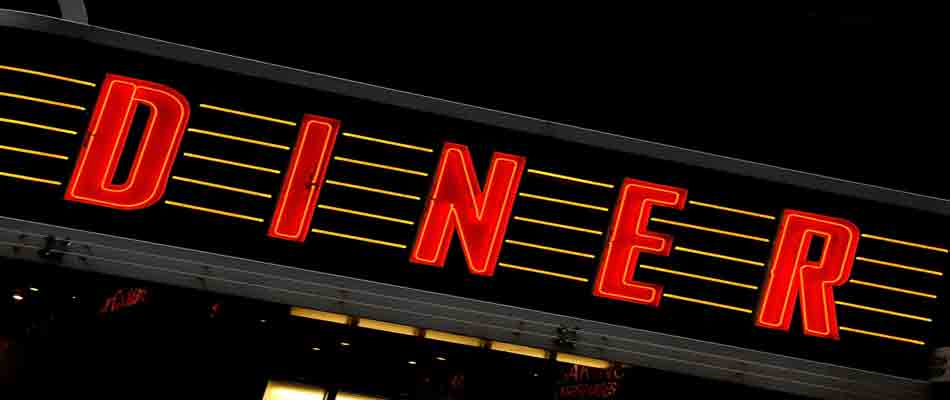 The Jersey Diner is going the way of many traditional institutions with changes to keep pace with the times. If you have not yet eaten at a Jersey diner, do it now before it becomes a lost opportunity.
New Jersey, often referred to as the "diner capital of the world", with more than 500 diners, has the largest concentration of diners in the United States.
For a true New Jersey experience, eating at a diner is a must. They have a beloved "Joizy" ambiance, family friendly, in-expensive, offer a huge variety of food, and are usually open when other eateries are closed.

The Jersey Diner is Changing

The early railcar-style diners popped up in New Jersey in the early 1900s with shiny chrome rail-like cars with neon signs and lighting, and now to the more modern stonewalled structures that are replacing the rail-like car, brightly lit buildings.
Many of the original diners were long and narrow, with stainless steel exteriors, one room eateries with a long counter and booths with juke boxes on the tables.
New Jersey has not only been the capital of diners in the United States, but it was also where most of those diners were manufactured.
However, in recent years, there have been a trend to the new wave of Jersey diners: Big, bold, and brassy, with an alcohol menu.
Today they are giving way to multi-room structures with multiple dining areas with some large enough to host a private party or banquet.
Another change in the traditional diner is the hours of operation. In the past many diners in New Jersey were open 24 hours a day and now there are no more than a dozen diners in NJ open 24 hours a day.
That being said, New Jersey still has some olde time small classic railroad car style diners with as few as eight seats at a counter. These diners have survived as a result offering a limited menu of exceptional signature items such as burgers, hot dogs, etc.

Favorite Northern New Jersey Diners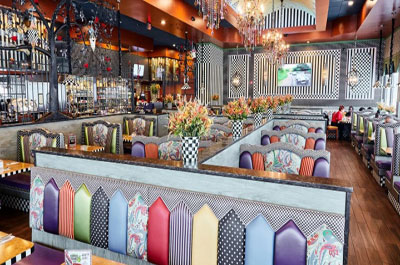 Chit Chat Diner

West Orange, NJ
The Chit Chat Diner is an example of the new wave of Jersey diners: Big, bold, and brassy, with an alcohol menu.
Compared to the older, classic new jersey diners, Chit Chat isn't a diner. It's an entertaining dining experience. You could as easily find yourself dining theme park. They are family friendly and a great place to take kids.
Restaurant review
---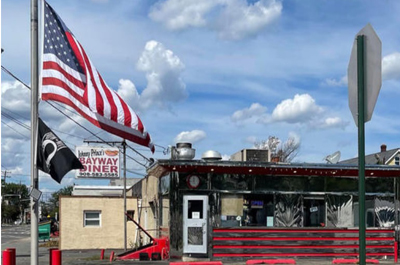 Johnny Prince's Bayway Diner
Linden, NJ
Johnny Prince's Bayway Diner is a landmark Linden community diner with character, old time diner atmosphere, friendly, and good food. Their
chili dog and
Monster Burger, are memorable.
---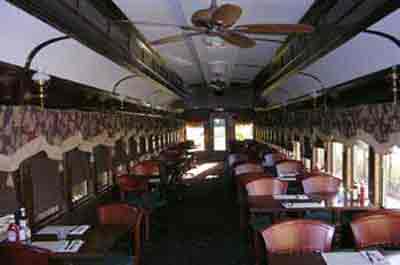 Clinton Station Diner
Clinton, NJ
The Clinton Station Diner is a popular place for families with kids. The diner sets itself apart from other modern American diners with it's throwback circa 1927, railroad car attached to the main building for an olde time dining experience. Kids will get to enjoy the model railroad running along the tracks suspended from the ceiling and the large tropical fish tank.
---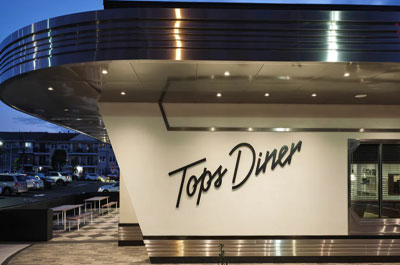 Tops Diner
Harrison, NJ
Tops diner is a high end diner, a departure from the classic pre-70's, small railroad car size classic New Jersey diner. However, the atmosphere complete with a bright lit, shiny chrome exterior, still maintains a tinge of a charming, art deco past era. This is a destination dining experience that many will bypass their local neighborhood diner to travel to Tops Diner.
---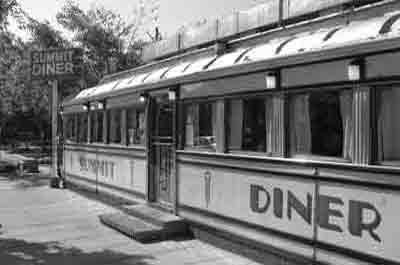 Summit Diner

Summit, NJ
An old time Jersey diner that was a converted railroad car, with authentic, classic Jersey diner atmosphere to match. It's one of NJ's oldest diners, with it's metal exterior, a curved roof, wood paneling, padded booths and a grill behind the counter
---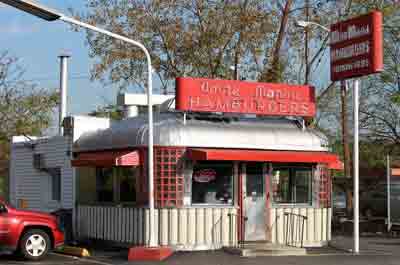 White Manna
Hackensack, NJ
White Manna's has become a legend in New Jersey for tasty hamburgers. You don't come to this diner for their decor (it's grimy, basic, and old time diner style) or their large selection of deli sandwiches, and certainly not for the diet conscious. You come here for their burgers and fries, and for their back in time vibe from a past era!

Favorite  Central New Jersey Diners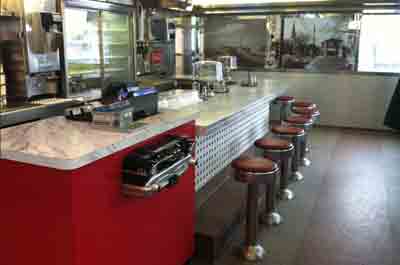 Broad Street Diner
Keyport, NJ
The circa-1952 diner is a classic, stainless steel diner that has old world diner ambiance with a modern touch. It's appeal is with 50's style, small town vibe with a menu that hard to top --- it easily ranks as one of the best prepared Diner menus in NJ.
---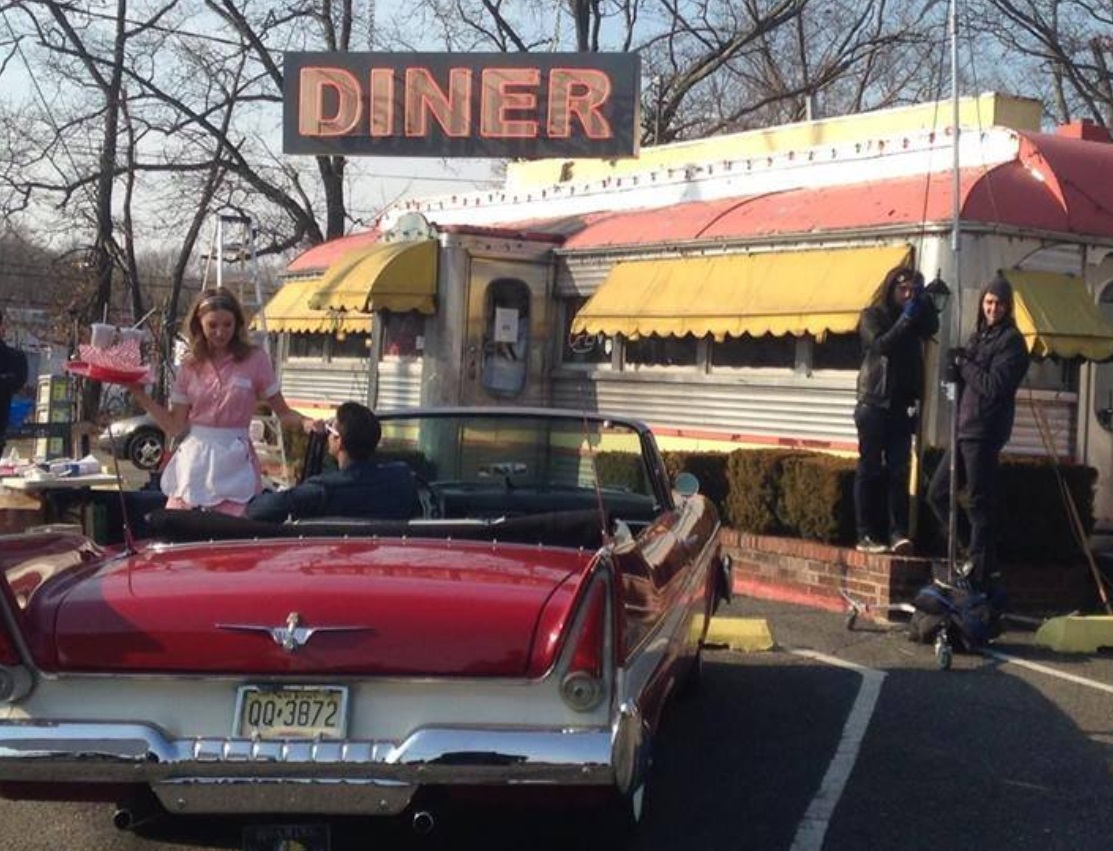 Roadside Diner
Wall, NJ
This classic, old style diner, built circa 1932, has a vibe like stepping back in time with its railroad car-style roof, yellow awnings, and stainless steel exterior. The interior has classic counter top seating sit up straight style booths
---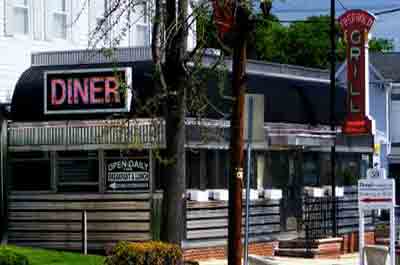 Roberto's Freehold Grill
Downtown, Freehold, NJ
A 50's style classic metal sided railroad car diner built in 1947. With "Olde Jersey diner" ambiance, diner has preserved it's original look. The interior with it's 50's look still has white Formica tables, and upholstered orange booths.
Favorite Southern New Jersey Diners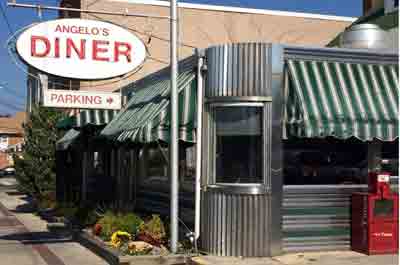 Angelo's Glassboro Diner
Glassboro, NJ
A classic 50's small town diner with a stainless steel exterior, a dozen stools, half dozen tables, and friendly waitresses. Opened in 1946 and little has changed other than some modern menu enhancements with a modest price increase, yet it remains an excellent value. A good place to try some Philly scrapple.
---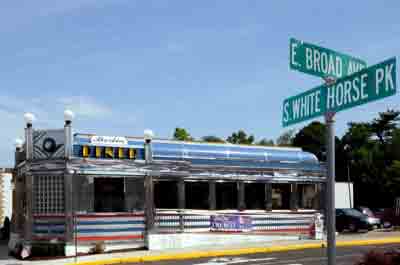 New Berlin Dinner
Berlin, NJ
The New Berlin Diner, bu has maintained it's classic diner charm with a 50's Jersey diner atmosphere, standing out with an exterior of chrome and red vinyl, characteristic of that era.
---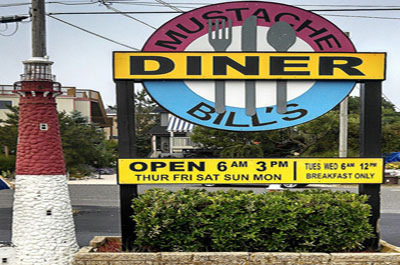 Mustache Bills Diner
Barnegat Light, NJ
A 50s era diner that opened in 1959 is located on the north end of Long Beach Island, a few blocks from the famous Barnegat Lighthouse.
This authentic Jersey diner has been the life of owner Bill Smith who started as a teenager washing dishes and later took over ownership in 1972. If you spend any time in the Long Beach Island area and are looking for a good place to have breakfast or lunch, visit Mustache Bill's, it's a must