Fireside Grill & Bar
A Marlboro, NJ Dining Review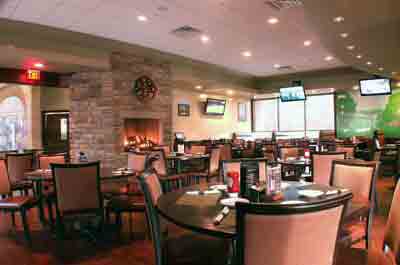 Fireside Grill & Bar
133 S Main St
Marlboro, NJ 07746
(732) 780-7900
Website
Fare: Sports Tavern
Price: Moderate
Overall Rating: N/A= A casual dining eatery, not rated as a fine dining restaurant 
---

Attractive & energetic ambiance.

Beers and food reasonably priced

Has PPV TV events

Service is inconsistent; friendly ---- though tends be less than attentive especially on busy evenings
Value: Excellent

Noise Level: Moderate

Dress: Very Casual

Recommended For: Budget conscious diners who enjoy a casual and active bar scene with large screen TV's and affordably priced food and drinks.

Not Recommended For: For people who prefer more fine dining amenities with better food options and preparation.
Recommended dishes: When available, NY Strip Steak, Philly Cheese Steak; and the Half Pound Burgers.

Liquor: Vibrant full service bar with a good selection of domestic beers, frozen margaritas, martinis, mojitos, sangria and mixed drinks
Restaurant Review
The Fireside Grill & Bar is a popular Marlboro sports bar, especially during major sporting events. It's a great place to meet up with friends and family for drinks and food.
The interior has a modern attractive decor. a huge bar with flat Screen TV's, and walls adorned with sports murals.
The dining area is very large and a good place to eat away from the crowds in the bar area.
The drinks are excellent and the large screen TV's are great for sporting events and PPV.
The food is typical, reasonably priced, bar food ---- basic with inexpensive ingredients and lots of comfort food.
In the warmer summer months, there is outside dining on the patio.
Open seven days/week from 11am - 2am with the kitchen open 11am - 11pm.

The Fireside Grill is child friendly
(update May, 2015)
How Do We Rate and Review Restaurants? 
New Jersey Leisure Guide contains the largest source of extensive and unbiased New Jersey restaurant reviews. Data is gathered from our viewers e-mail restaurant comments, Internet and print research, and professional restaurant critics. The data is analyzed and a review created. Staff personal visits are sometimes made to corroborate and/or tweak results.

Other New Jersey Resources