Metropolitan Cafe, Freehold, NJ:
A Restaurant Review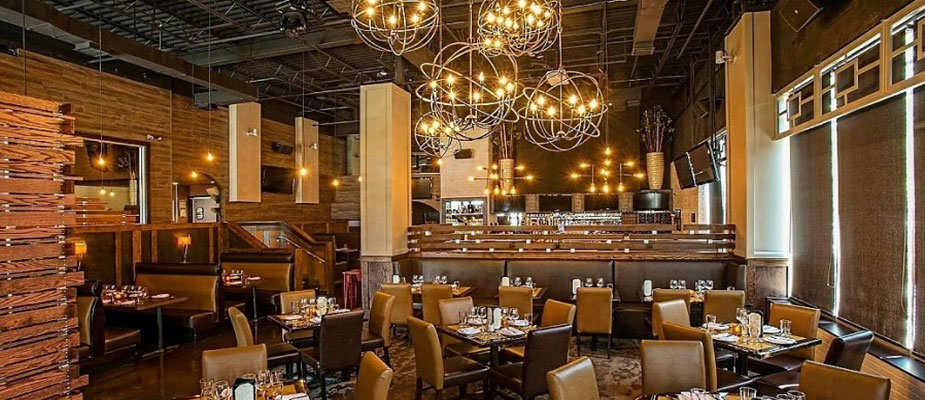 Metropolitan Cafe
8 East Main St.
Freehold, NJ
(732) 780-9400
Website
 Metropolitan Cafe: Restaurant Highlights

Fare: New American with Pacific Rim influences

Price: Moderate -Expensive

Food Quality: Well executed menu with inspirational, creatively prepared dishes, using fresh ingredients.

Service: Friendly & attentive

Decor: Upscale, casual. Done up with mahogany wood and soft earth tones. Lighting is soft, dimly lit.

Overall Rating: 3 Stars --- Classified as "Contempoary Casual Dining" -- (* Note - See below restaurant classification for details)

Note: Four star Rating System from 1/2 Star = Poor to 4 stars = Best in Class

Noise Level: Moderate - High

Dress: Casual

Recommended For: Diners who enjoy an eclectic New American menu with trendy, upscale, casual, ambiance.

Not Recommended For: Diners who prefer simple, traditional American, casual style comfort food.

Recommended dishes: When available, The Short Rib Pot Roast; The Ahi Tuna Pepper crusted, vegetable lo mein, grilled scallion, mango, kabayaki sauce; and The Halibut Miso glaze, stir-fried cous cous, haricot verts, honey-mango drizzle

Liquor: Full-Service Bar. Bar scene is vibrant, Especially popular with millennials. Features a Wine Spectator Award Winning list

Restaurant Review

The Metropolitan Cafe, located in downtown Freehold, is a casual, upscale, energetic restaurant with a New York feel. A popular spot for a date night out, or to meet up with others for drinks and a bite to eat.

The Metropolitan Cafe is owned and operated by Great Restaurants NJ partners Robert Kash, Joseph Mosco, and Dennis Tafuri. The group also owns and manages Nonnas Citi Cucina and Rosalitas Roadside Cantina in Marlboro, and TRE in Freehold.

As soon as you enter Metropolitan Cafe , you can feel the energy, and if you're there for the food and there is a wait for a table, you can wait either in the attractive side room with sofas or at the bar.

The ambiance is chic and attractively done up with mahogany wood and soft earth tones. Lighting is soft, dimly lit.

The Menu is New American - Asian fusion food with a Pacific Rim flair that comes alive with inspirational, creatively prepared dishes, using fresh ingredients.

They also have an excellent Sushi menu; Gluten free and vegetarian options are also available

Service is friendly and attentive.

During the warmer months there is outside dining on the sidewalk patio --- great for people watching.

A popular bar spot for 30+ singles people looking to network or meet up with others.

The Metropolitan Café is open for lunch and dinner 7 days a week, including Sunday

Sunday - Wednesday 12:00PM - 9:30PM & Thursday - Saturday 12:00PM - 10:00PM

The Metropolitan Cafe offers private rooms for private parties.

Parking is available in the Market Yard lot in the rear of the restaurant.

* Description of Restaurant Classification - Contemporary Casual:

Ambiance is trendy, chic with Instagram-worthy decor.
Chic, trendy ambiance with a casual atmosphere and a casual dress code.
Has an approachable, more casual menu.
Not intended to be chef driven. Chefs credentials are less than other upscale Chef-Inspired Fine and Casual Dining restaurants.
Menu items are priced lower than other upscale restaurants.
Uses lower priced ingredients with less or no emphasis on local seasonal farm-to-table produce, wild caught seafood, & organic products.
Has a large alcohol menu with a large variety of lower – medium priced specialty cocktails, imported and craft beers, and wines.
Centerpiece is often an attractive bar and lounge setting with a vibrant crowd.
Table service tends to be less professional, with a limited knowledge of menu items, though friendly and attentive.
Patrons tend to be Millennials and post-Millennial Gen Z.

The most popular upscale restaurants in New Jersey, classified into three categories; Chef-Inspired Fine Dining, Chef-Inspired Casual Dining, and Contemporary Casual.
learn more about these restaurants and how reviews are created.

(updated: January 2021)