il Nido Restaurant, Marlboro, NJ: A Dining Review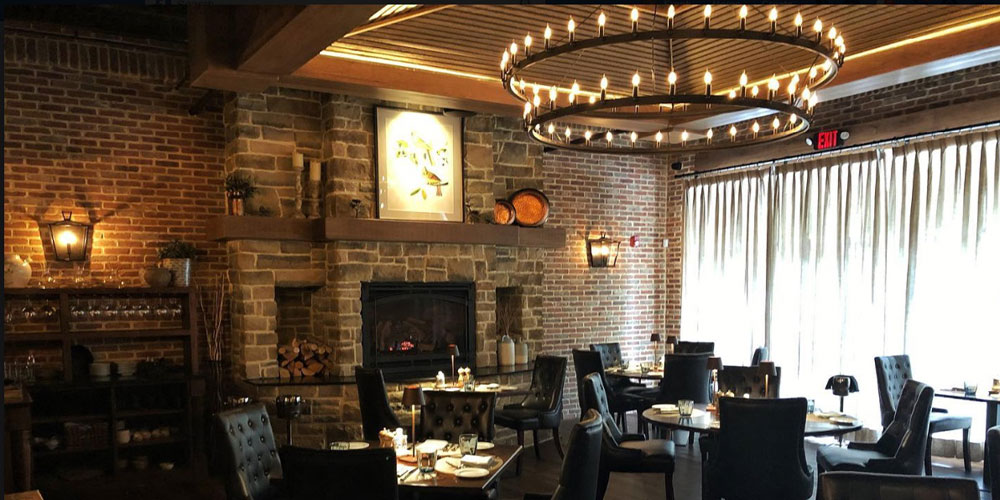 il Nido is a destination restaurant with an extraordinary dining experience serving high end, healthy food with stunning ambiance

il Nido: Restaurant Summary
Fare: Modern Italian

Price: Expensive - Very Expensive

Food Quality: An inspirational modern Italian menu creatively prepared using healthy, high quality, organic, and sustainably raised ingredients from local sources, supplemented by importing dry ingredients from Italy.

Service: Knowledgeable, friendly well trained, attentive staff without being intrusive or pretentious.

Decor/Ambiance: Beautifully renovated. Cozy, elegant, rustic Italian farmhouse decor.

Overall Rating: 3.5 Stars --- Rated the best Italian Restaurant in Monmouth County --- Classified as an upscale Chef-Inspired Casual Dining restaurant (* Note - See below restaurant classification for details)

Note: Four star Rating System from 1/2 Star = Poor to 4 stars = Best in Class

Noise Level: Low - Moderate

Dress: Upscale Casual

Recommended For: Diners who enjoy upscale dining in a beautiful setting with an artfully presented, creative menu of regional Italian dishes and American favorites, prepared with high quality, mostly organic, sustainable ingredients.

Not Recommended For: Cost conscious diners who enjoy a traditional "Old World" Italian red sauce menu served in huge portions.

Recommended dishes: When available, The Mugnaia pasta with Toasted Garlic, Pepperoncino Cruschi & Pecorino; The Whole Grilled Bronzino, wild caught from Portugal; and the 45-day dry aged Porterhouse

Liquor: Full Bar service.

Restaurant Review

il Nido, opened in March 2019, has achieved success as one of the best
il Nido, opened in March 2019, has achieved success as one of the best Italian restaurants in Central Jersey. This is a destination restaurant that is not for just a night out for dinner --- Il Nido is an excellent upscale, Chef-Inspired Casual dining experience.
Unlike many old school traditional, red sauce Italian restaurants in Central Jersey, il Nido (translated as "The Nest") sets itself apart with serving an inspirational modern Italian menu with authentic regional specialties.
Il Nido originated as a vision by owner Joe Folgore, a successful local business entrepreneur who emigrated from Sicily.
His vision became a reality when he secured the location of two former Italian restaurants, Brioso and L'Antica Trattoria, along with an adjacent storefront location, and proceeded to create a restaurant unlike many any of the other low to mid-range traditional, Old World, red sauce Italian restaurants that dot the Central New Jersey landscape.
Joe Folgore passed away in early 2022. The restaurant is now owned and managed by his wife Sandy Folgore, with the kitchen run by Executive Chef Jordan Petriello.
Chef Petriello honed his culinary skills at the age 18 when he began as a dish washer at Trump National Golf Club in Bedminster and after five years, worked his way up to sous chef.
He later worked in the Kitchen as a line cook advancing to sous chef at the highly regarded Jockey Hollow Bar & Kitchen in Morristown, NJ. Before joining il Nido, he worked in the kitchens of two high end restaurants in NYC, at Benno, a Michelin starred restaurant, and Rezdôra.
He joined Il Nido in January 2022 as a line cook and after several months was promoted to sous chef. In August 2022, Chef Petriello was promoted to Executive Chef.
Chef Petriello has continued the il Nido tradition of serving a well-executed, inspirational, seasonally changing menu with a commitment to using locally sourced, sustainably, and organically produced ingredients. Exceptions to local sourcing are made to preserve the authenticity of the dishes. Many of the dry ingredients are imported from Italy, including the flour imported from Sicily used in the homemade pasta dishes.
The seafood is sourced from Local 130 Seafood in Asbury Park specializing in locally caught, sustainable seafood. No farm raised seafood here. The meat products are sourced from Four Story Hill Farm in Pennsylvania that raises all-natural, apple-fed pigs, pastured chickens, and veal. No antibiotics, hormones, or unnatural supplements of any kind are used on the animals. The produce is sourced from Cherry Valley Cooperative in Montgomery, NJ, a collaboration of farmers, chefs, innovators, students, artists, and wellness professionals specializing in growing high diversity vegetables, berries, fruit, flowers, mushrooms, herbs, and pasture raised eggs, lamb, and pork.
The menu also offers several popular, high quality American favorites including a variety of grass-fed aged Wagyu beef and meats with no antibiotics, hormones, or unnatural supplements, and wild caught seafood.
This is a place to come for excellent, unique Coastal Italian Homemade pasta dishes, not easily found in other Italian Restaurants. This is not your traditional red sauce Italian restaurant. You will not find Chicken Parmigiana on the menu. Instead you will find inspiring, mouthwatering dishes such as Gramigna w/Veal Bolognese & Grand Padano; and Mugnia an authentic Abruzzo, Italian favorite made with long strands of pasta with a light sauce featuring cruschi peppers imported from Abruzzo.
Daily specials tend to be higher priced, using quality, imported ingredients. Be sure to ask the staff about the prices and the food preparation to ensure that both price and taste meet your expectations.
The ambiance at Il Nido is cozy, rustic Italian farmhouse, yet elegant. The 115-seat restaurant includes four dining areas; Two main dining rooms, one of them has an attractive stone fireplace, a smaller, quieter Cave room, and the chefs table dining area with two booths overlooking the open kitchen.
The interior is beautifully done up with red brick walls adorned with attractive paintings of Portofino and other Italian Riviera coastal towns, open exposed ceilings painted in black, wooden tables set with attractive, softly lit table lamps, surrounded by comfortable soft cushioned chairs. The Tables are spaced comfortably apart for quiet conversation.
il Nido is not recommended for children
il Nido is open for dinner 5 days/week: They are closed on Monday & Tuesday.
Reservations are highly recommended.

*Description of Restaurant Classification - Chef-Inspired Casual Dining:

The current trend of upscale, high quality food focused restaurants.
They are chef driven by chefs with impressive credentials including formal culinary education and skills honed at award winning restaurants.
Serves an approachable, more casual menu with creative food preparation.
Uses higher quality food ingredients such as imported items not available in the supermarket, with emphasis on local seasonal farm-to-table produce, wild caught seafood, & meats without the use of antibiotics and growth hormones.
Chic, trendy ambiance with a casual atmosphere and a casual dress code.
The wait staff is professional, knowledgeable, and attentive.
Can be BYOB or have an alcohol menu with a variety of wines, specialty cocktails, and beers.
Patrons are of all generations with medium to high incomes.


The most popular upscale restaurants in New Jersey, classified into three categories: Chef-Inspired Fine Dining, Chef-Inspired Casual Dining, and Contemporary Casual.
learn more about the three types of upscale restaurants and how reviews are created.

(updated February 2023)