Turning Point:  A NJ Breakfast and
Brunch Restaurant Review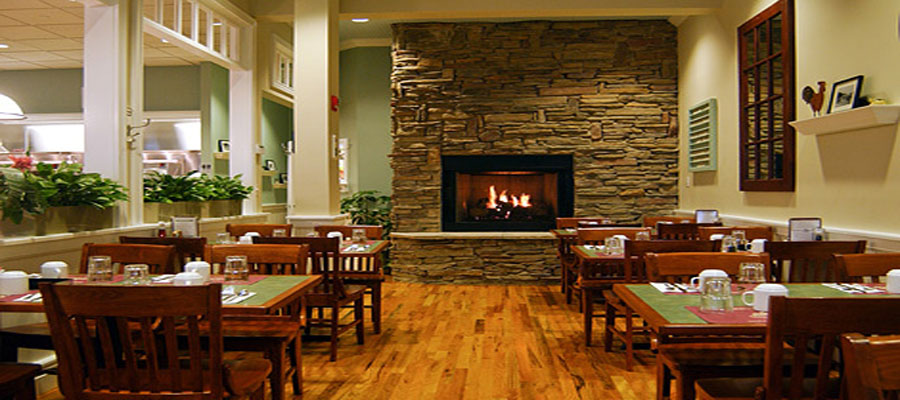 The Turning Point Restaurant
Website
Thirteen locations:
Brick, NJ
Cherry Hill, NJ
Hoboken, NJ
Holmdel, NJ
Lawrenceville, NJ

Little Silver, NJ
Long Branch, NJ
Manalapan, NJ
Marlton, NJ

Moorestown, NJ
Princeton, NJ
Sea Girt, NJ
Westfield, NJ

---
Restaurant Highlights

Fare: New American Breakfast/Lunch

Price: In-expensive


Well prepared and creative new American breakfast and lunch menu items using fresh, healthy ingredients


Decor is attractive with a clean and crisp look.

Value: Excellent

Noise Level: Moderate

Dress: Very casual

Recommended For: Breakfast & Lunch Diners who enjoy well prepared, trendy food in a modern, clean setting.

Not Recommended For: Diners who prefer simply prepared food, with a traditional style menu.

Recommended Dishes: When available, The Pancake of the month; The Hall of Fame Omelets; and The Crepes.

Restaurant Review

Turning Point, a chain restaurant, has eleven new Jersey locations that provide an exceptional breakfast and lunch with creative new American fare.

The ambiance is fresh and upscale with decor done up in a light airy, bright look.

The food is well prepared and attractively presented. Its a refreshing departure to the many Jersey diners.

The menu is exciting and contains fresh ingredients, some items include organic dishes.. This restaurant has caught on big so be prepared to place your name on a list and wait your turn.

Despite the crowd waiting in line, the staff is very energetic, friendly and efficient, and once seated, you will be attentively accommodated.

The Turning Point is exceptional for people looking for a fresh, creative, and tasty breakfast or lunch.

They are open seven days a week beginning at 8:00 am for breakfast and lunch.

(updated: February, 2018)


How Do We Review (analyze) Restaurants?
New Jersey Leisure Guide strives to provide analytic restaurant reviews .
The methodology used is research, analysis driven --- as opposed to that of a single restaurant critic or a viewer comment posting board.

Data is gathered from our viewers e-mail restaurant comments, Internet research, and professional restaurant critics. The data is sorted, (weeding out the obvious biased, "bone to pick",  and out of consensus comments), analyzed, and the review is created.

Learn More
---