Terrace Bagels & Cafe, Freehold, NJ:
A Restaurant Review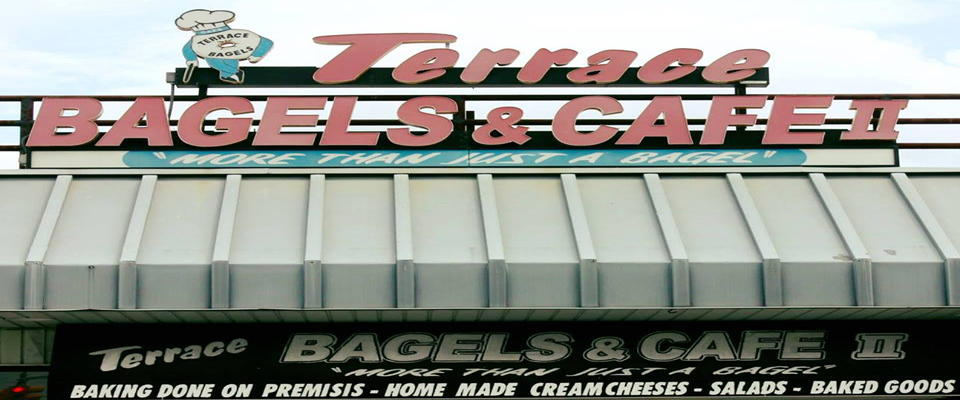 Terrace Bagels & Cafe
3475 U.S. 9
Freehold, NJ
(732) 761-2288
Face book
---
Restaurant Highlights

Fare: Breakfast-Lunch

Price:  In expensive - Moderate

Value: Excellent

Noise Level: Moderate

An excellent place for bagels, breakfast & Lunch in Freehold for

Sit down dining area is attractive, with amenities for family style dining.

Recommended For: Diners who enjoy excellent bagels, and creatively prepared, overstuffed sandwiches.

Not Recommended For: Diners who prefer eclectic breakfast & lunches in a trendy setting.

Recommended dishes: When available, The Cousin Vinny sandwich with Prosciutto, Soppressata, Provolone Cheese, Fried Eggplant and Red Roasted Peppers with Balsamic Vinegar; The South Brooklyn sandwich with Grilled Turkey, Melted Provolone Cheese, Grilled Onions and Mushrooms; and The Bagel Delight with Turkey and Roast Beef, Swiss Cheese and Russian Dressing

Restaurant Review

Terrace bagels is a popular place for bagels, breakfast & Lunch in Freehold. Initially operated out of a small take out store, they have taken over the space next door previously occupied by Fredo's.

There menu offers a large variety of excellent bagels with traditional breakfast entrees including omelets, egg platters, pancakes & sandwiches. For lunch they offer salads, soups, over stuffed sandwiches, hot dogs, veggie burgers, and an outstanding specialty sandwich menu of mostly NYC favorites.

During the mornings hours, the counter area is very crowded with take out bagel patrons.

During the lunch hour they open up the former Fredo's dining area for sit down diners. The old Fredo's ambiance has been preserved including the large screen TV's that show Three Stooges, I Love Lucy, and Godfather movies.

Terrace Bagels is open seven days/week Mondays    - Fridays from 6:00 am - 4:00 pm;    Saturday    from 7:00 am - 4:00 pm; & Sunday    from 7:00 am - 3:00 pm   

(updated: December, 2016)


How Do We Review (analyze) Restaurants?
New Jersey Leisure Guide strives to provide objective restaurant reviews .
The methodology used is research, analysis driven --- as opposed to that of a single restaurant critic or a viewer comment posting board.

Data is gathered from our viewers e-mail restaurant comments, Internet research, and professional restaurant critics. The data is sorted, (weeding out the obvious biased, "bone to pick",  and out of consensus comments), analyzed, and the review is created.

Learn More
---