The Edge Restaurant, Jackson, NJ: A Dining Review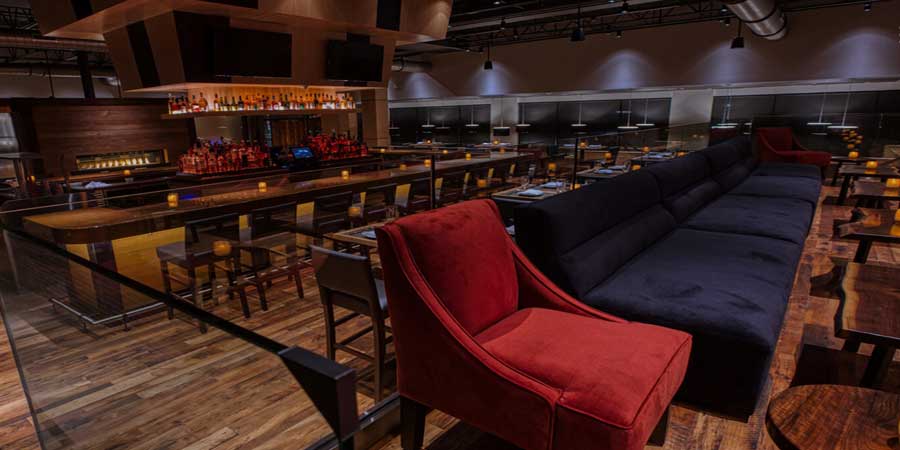 The Edge Restaurant
109 N County Line Rd
Jackson Township, NJ 08527
(732) 408-3343
Website
The Edge Restaurant:
Rated the best upscale restaurant in northwestern Ocean County

Edge Restaurant:  Highlights
Fare: New American
Price: Expensive
Food Quality: The menu is well executed and above average in quality and inspiration compared to other western Ocean County restaurants.
Service: Mixed, with most of the wait staff friendly, professional, and knowledgeable.
Decor/Ambiance: Unrivaled, upscale, stunning, contemporary chic, with an air of romance - not found in neighboring communities
Overall Rating: 3 Stars -
The best upscale restaurant in northwestern Ocean County, driven by stunning decor,  ambiance, and a recently upgraded menu.
* Category - Upscale Contemporary Casual

Note: Four star Rating System from 1/2 Star = Poor to Four stars = Best in Class

Noise Level: Moderate to loud

Dress: Upscale Casual

Recommended For: Millennial diners who enjoy upscale dining in an attractive, chic setting with an extensive bar menu.

Not Recommended For: Cost conscious diners who enjoy a casual family style, low key setting, with a tradional menu served in huge quantities.

Recommended dishes: When available, The 16 oz Cowboy Dry Aged Steak with duck fat fingerlings potatoes, chef vegetable; The Grilled Pork Tenderloin with sofrito, coconut rice, fried plantains; and The Edge Pasta with linguine, jumbo shrimp, chicken, chorizo, scallions, peppers, & spicy coconut chili sauce.

Liquor: Vibrant, full-service bar, with a large variety of popular specialty cocktails, an extensive wine list, single malts, blended, whiskies, and beers on tap.
Edge Restaurant Review
The Edge Restaurant, opened in October 2019, is a welcome addition to the northwestern Ocean County dining scene. It's a popular spot with upscale dining patrons who value stunning ambiance and decor, with an excellent specialty bar menu, and live music. The setting is ideal for meeting up with friends, or a date for drinks and a bite to eat.
The setting is so magical that even if the food was terrible (which it isn't), you'd still tell all your friends to go.
The Edge Restaurant, with its unrivaled decor and ambiance, stands apart amongst the mostly lackluster, low key restaurants in northwestern Ocean County.
The restaurant is set in a newly constructed stand-alone building with high exposed ceilings. It's an ideal setting for a stunning spacious multi-level interior that combines reclaimed timber that pre-dates the 1930s, with brick walls, steel, leather, and light-colored hardwood flooring.
The centerpiece is the custom built, large rectangular bar constructed with polished Latin American hardwood resting on an elevated platform with a grouping of large screen TVs suspended from the ceiling and centered over the bar. There is seating for 16 at the bar with additional seating in plush lounge chairs and high-top tables.
The main 125-seat dining room surrounds the bar area and features a large cascading waterfall, a fireplace, and an attractive stone communal table. Wooden tables are set sans linen, surrounded by black, comfortable chairs.
The Edge Restaurant is owned and operated by Phil and Louise Cornick and supported by General Manager Jose Acosta-Leon, Executive Chef Glenn Lakatos, and Assistant Manager Karolis Sukys (Karl).
The menu has undergone a significant upgrade with the recent hiring of Executive Chef Glenn Lakatos.

Chef Lakatos has a B.S degree in restaurant management from New York University and received his formal culinary training with an associate degree in culinary arts from Johnson and Wales. Chef Lakatos later honed his culinary skills at some of the areas top restaurants including 618 Restaurant in Freehold, and Chris Michaels Steakhouse in Woodbridge.
The Kitchen serves a seasonally changing New American menu with Latin and Asian influences. Compared to other neighboring western Ocean County restaurants, the Edge Restaurant dishes are well executed and above average in quality and inspiration.

Ingredients are sourced from top purveyors including Pat LaFrieda in North Bergen, NJ, known for their natural, organic, pasture-raised, grass-fed, dry aged, American Angus steaks and burgers, and locally sourced seafood from Atlantic Fishery in Point Pleasant, NJ.
In addition to their ala carte selections, they offer a variety of multi-course prix fixe options, and special Wednesday night Burger and Thursday night Pasta specials.
The attractive custom built, bar area serves a large variety of popular handcrafted specialty cocktails, an extensive wine list, single malts, blended, whiskies, and beers on tap. The area includes a dance floor, and live entertainment, enjoyed by more active patrons, who are looking for more than an alcoholic beverage to accompany their dinner.
Not recommended for children.
The Edge also has a semi-private dining area for up to 50 people, that can accommodate sit down dinners or cocktail parties.
They are open for dinner 5 nights/week. Closed on Monday & Tuesday.
Updated September 2023
* Description of Restaurant Classification - Upscale Contemporary Casual:

Ambiance is trendy, chic with Instagram-worthy decor.
Upscale, yet with a casual atmosphere and a casual dress code.
Has an approachable, more casual menu.
Not regarded as chef driven. Chefs credentials, though competent, tend not to be highly acclaimed or trend setters. 
Has a large alcohol menu with a large variety of lower – medium priced specialty cocktails, imported and craft beers, and wines. Centerpiece is often an attractive bar and lounge setting with a vibrant crowd.

Table service tends to be less professional than other upscale restaurants with staff having a limited knowledge of menu items, though friendly and attentive.
Patrons tend to be Millennials and post-Millennial Gen Z.

The most popular upscale restaurants in New Jersey, classified into three categories; Chef-Inspired Fine Dining, Chef-Inspired Casual Dining, and Contemporary Casual.
learn more about these restaurants and how reviews are created.