Via 45, Red Bank NJ:
A Restaurant Review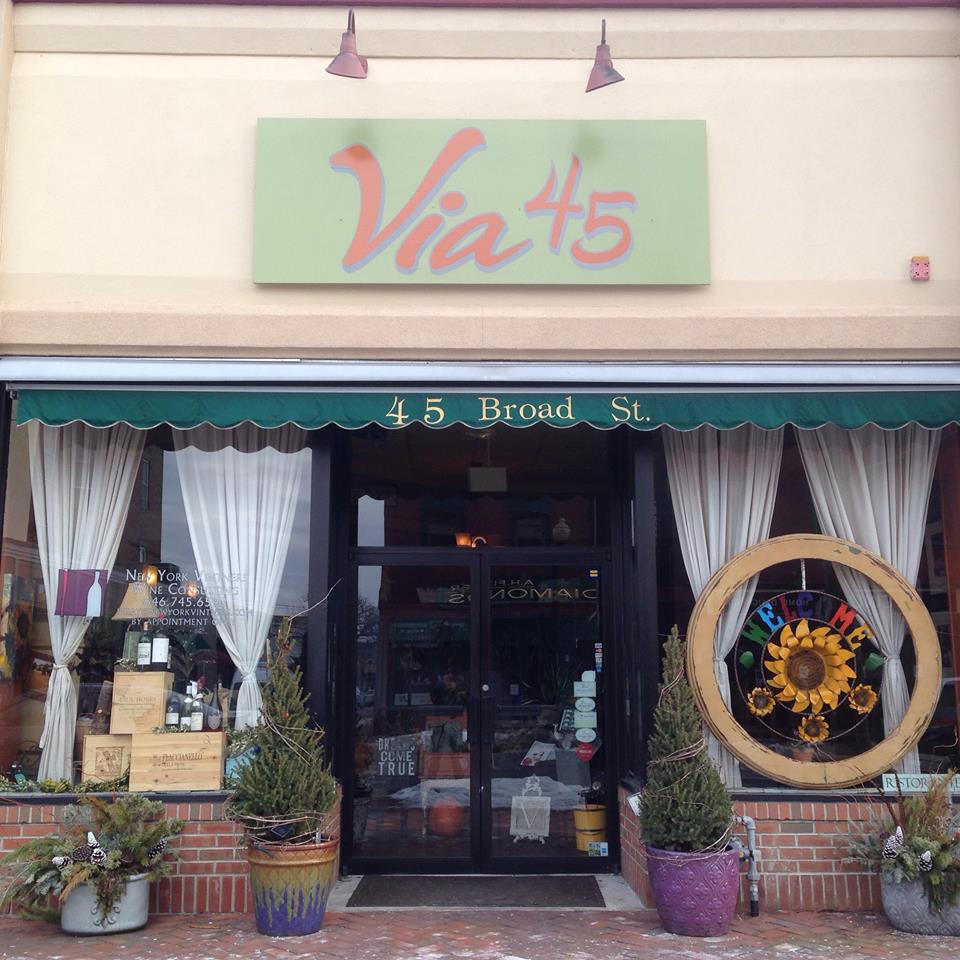 Via 45

45 Broad St
Red Bank, NJ 07701
(732) 450-9945
Website
---
Restaurant Highlights

Fare:  Creative Italian

Price:  Moderate - Expensive

Food Quality:  3 Stars

Service:  2 Stars

Decor:  2 Stars

Overall Rating:  2 1/2 Stars

Note:  Four star Rating System from 1/2 Star = poor to Four stars = Best in Class


Food is well prepared, innovative, using fresh local ingredients.


Special requests for altering ingredients and food preparation are welcomed

On busy nights, the noise level can be high, but not unbearable.

Value:  Good

Noise Level:  Moderate - High

Dress:  Casual

Recommended For:  Diners who enjoy affordably priced , creative dishes using local, fresh ingredients in a smaller, welcoming setting.

Not Recommended For:  Diners who prefer more fine dining amenities with old world charm.

Recommended dishes:  When available, The clams bianco and eggplant ravioli; The squash ravioli with butter sage sauce; The Roasted Lobster accompanied by zucchini and eggplant; or The Mako shark with broccoli rabe.

Liquor:  BYOB

Restaurant Review

Via 45 is a creative Italian BYOB that offers a unique, homelike approach to dining and in the preparation of food.

Chef/owners Claudette Herring and Lauren Phillips have adopted the European approach to serving dinner --- shopping each morning, and based on their selection of foods, create the evening menu.

The style of cooking is mostly creative northern Italian with new-age vegetarian and American influences.

They offer a limited menu based on 16 dishes made up of four appetizers, four pastas, four fish choices, four meats, with an abundance of fresh vegetables. A vegetarian dish is always included on the menu and generally can be made up as a gluten-free or vegan serving.

The hand written menu changes every day, and can accommodate special requests to alter ingredients and food preparation.

Via 45 supports the slow food movement and local markets with produce and ingredients obtained from Sickles Market and Delicious Orchards, and fish from the Lusty Lobster.

The restaurant is small with an intimate dining room giving off a feeling of having dinner at a friend's house.

Diners eating here should be prepared for a casual, conversational dinner lasting up to 2 hours, and sometimes longer with groups of 4 or more. This is mostly due to the chef's approach to food preparation slowing down the output of the kitchen.

On busy evenings, the noise level can be high, but not unbearable.

Save room for desserts, they are made on the premises. When available try: The Flour less Brownie with caramel and sea salt; The Ricotta Walnut Cake served moist, warm and with homemade lemon cream; or The Banana and Chocolate Frangipane baked inside a puff pastry.

Open for dinner Tuesday - Friday starting @5pm, Saturday & Sunday starting at 5:30pm

Dinner reservations are a must as they often get booked up a week in advance.

(updated: October, 2016)


How Do We Review (analyze) Restaurants?
New Jersey Leisure Guide strives to provide analytic restaurant reviews .
The methodology used is research, analysis driven --- as opposed to that of a single restaurant critic or a viewer comment posting board.

Data is gathered from our viewers e-mail restaurant comments, Internet research, and professional restaurant critics. The data is sorted, (weeding out the obvious biased, "bone to pick",  and out of consensus comments), analyzed, and the review is created.

Learn More
---