Undici Taverna Rustica
A Rumson, NJ Restaurant Review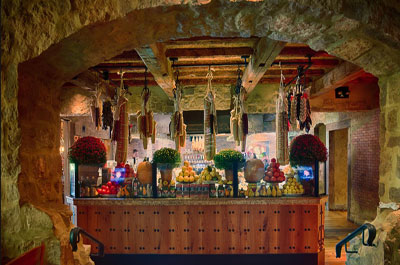 Undici Taverna Rustica
11 W River Rd
Rumson, NJ
(732) 842-3880
Website





Restaurant Highlights

Fare: Italian

Price: Expensive
---
Food Quality:  3 Stars

Service:  2 1/2 Stars

Decor:  3 Stars

Overall Rating: 3 Stars

Note: Four star Rating System from
"Half Star" = poor to Four Stars = Best in Class

A well prepared, seasonal menu using quality, imported Italian ingredients.


One of the largest selections of Italian wines in New Jersey


Attractive rustic Italian ambiance


The acoustics are poor, and on busy weekend nights and depending on patrons seated near you, you are apt to have to shout above the roar of the crowd to be heard.


Value:  Good

Noise Level: High during peak hours

Dress: Casual

Recommended For: Diners who enjoy non-traditional Italian/American food preparation using quality, imported ingredients.

Not Recommended For: Budget conscious diners who prefer traditional, heavy sauce Italian dishes served in huge portions.

Recommended dishes: When available, Pizza favorite Originale with San Marzano tomato sauce, buffalo mozzarella, fresh basil, Pecorino-Romano cheese, and extra virgin olive oil.
The Gnocchi Toscani Fresca house ricotta and spinach gnocchi with fresca sauce; the Papalina house made "chitarra" guitar string pasta, Prosciutto di Parma, cremini mushroom, fresh peas, light cream and Parmigiano sauce; and
The Agro Dolce, a center cut pork chop with house made sweet and hot vinegar peppers, roasted potato, olive oil, garlic and red wine vinegar.

Liquor:  Full service bar. Excellent Italian wine list, specialty cocktails. Bar scene is vibrant.

Restaurant Review

Undici Taverna Rustica is as close to it gets to having an Italian, Tuscan fine dining experience without having to travel to Italy.

Undici Taverna Rustica is owned by successful restaurateur Victor Rallo who also owns Birravino in Red Bank, and is the host of the television series called Eat! Drink! Italy!

The decor is attractively done up to resemble a Tuscan farmhouse with aging brick, stone columns, and a sitting area with a blazing fireplace to create a cozy setting. The softly lit interior creates a rustic, romantic ambiance.

On the first floor there are two large connected rooms, seating about 100 diners, with an attractive, large rectangular bar adorned with hung with industrial-size salamis and cheeses. The wood beams are massive, rugged and dark, the floors are antique, wide planked, connecting archways an Italian rustic looking custom-made wooden tables and walls treated with plasters and aged brick. The upstairs dining room, with seating for 60, is not as attractive as the first floor.

The wine list at Undici is impressive with over 500 Italian wines carefully selected by Victor Rallo.

The kitchen is run under the direction of Victor Rallo who works closely with Head Chef Giovanni Atzori, a native of Rome, Italy, to create seasonal menus and new recipes.

Mr. Rallo is a frequent visitor to Italy with close relationships with the food, restaurant & wine industry in Italy to import quality ingredients and to maintain that authentic Italian dining experience. When available, fresh farm to table, locally sourced ingredients are also used. Pastas are fresh and made daily in house.

The wood burning oven pizza, fired at 800 degrees, is one of the best in New Jersey. The thin crust pizza is outstanding ---- chewy, crunchy, and bread like tasty in Neapolitan style.

The bar scene is energetic and trendy, and a great place to meet your arriving party or to have a pre-dinner drink while waiting for your table. The bar/lounge area also includes a warm, cozy fire place with soft seating to enjoy your pre-dinner drink.

Save room for dessert; Try the Biscotto with fresh cannoli cream.

The service at Undici is young, well trained, friendly and attentive.

During the warm sumer months there is outdoor dining on the patio with live entertainment every Friday & Saturday 7-10pm

Undici also has a private party room that can accommodate up to 70 people.

 Parking is available on the street and in a lot behind the restaurant.

Undici is open seven days/week. Monday Through Friday at 4 PM, and Saturday & Sunday: beginning at Noon.

(updated: August, 2016)


How Do We Review (analyze) Restaurants?
New Jersey Leisure Guide strives to provide analytic restaurant reviews .
The methodology used is research, analysis driven --- as opposed to that of a single restaurant critic or a viewer comment posting board.

Data is gathered from our viewers e-mail restaurant comments, Internet research, and professional restaurant critics. The data is sorted, (weeding out the obvious biased, "bone to pick",  and out of consensus comments), analyzed, and the review is created.

Learn More
---