Good Karma Vegan Cafe, Red Bank, NJ:
A Restaurant Review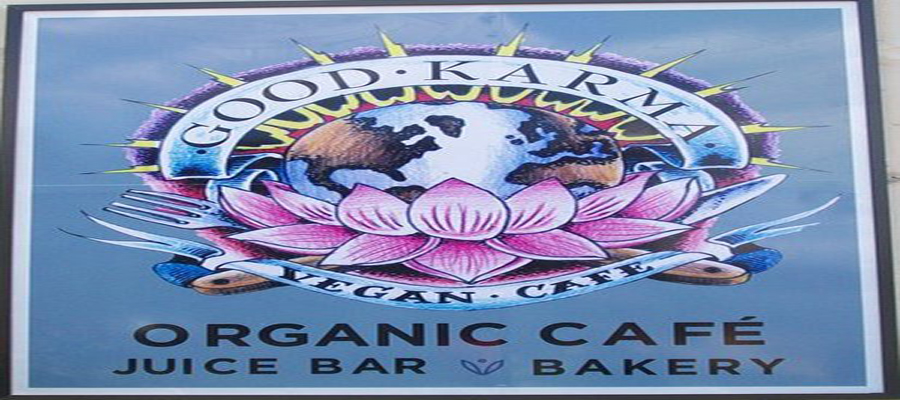 Good Karma Vegan Cafe
17 East Front Street
Red Bank, New Jersey
732-450-8344
Website
Restaurant Highlights

Fare: Vegan

Price:  In expensive - moderate

Value:  Excellent

Noise Level:  Moderate

Dress:  Very casual

The best vegan restaurant in Monmouth County and one of the best in New jersey.


Uses organic produce and ingredients that are free of pesticides and irradiation.


Expect a long wait for a table on peak evenings and weekends

Recommended For:  Diners who enjoy tasty vegan food with a funky, hipster atmosphere.

Not Recommended For:  Diners who prefer non-vegan food served in an upscale, trendy ambiance with full bar service.

Recommended dishes:  When available, The Spicy Peanut Satay Seitan kabobs served with brown rice and seasonal vegetable mix and topped with their spicy peanut sauce; The Sweet Chili Tofu grilled tofu topped with a sweet and spicy chili sauce.; and The Philly Seitan Cheese steak with savory Seitan, sautéed greens and caramelized onions topped with nutro cheese on a semolina roll.

Liquor: BYOB

Restaurant Review

Good Karma Vegan Cafe is a destination restaurant that stands out as the best vegan restaurant in Monmouth County and one of the best in New Jersey.

The restaurant is co-owned and operated by Gail Doherty and Tiffany Betts.

Gail Doherty is a graduate of The Natural Gourmet Institute in NYC, a co- author of "You Won't Believe It's Vegan!", and was a co- owner of Down to Earth restaurant.

The dining area has a bright, funky vibe, is very small, best enjoyed with small groups of no more than four people. It's open with a view of the kitchen. The walls are adorned with bright colored artwork, Tables are set with lime green patterned table cloths under glass. The ladies room is hot pink with walls adorned with local artwork from kids.

The menu is Asian-inspired with dishes prepared in generous portions using mostly organic produce and ingredients that are free of all toxins, animals, pesticides and irradiation. .

The menu options include soups, salads, munchies, entrees, wraps, live foods, juices, smoothies, and desserts.

Note: "live foods" are close to raw, not cooked to more than 110 degrees Fahrenheit. Each item on the menu contains a listing of ingredients.

Good Karma Vegan Cafe distinguishes itself from the the mediocre vegan restaurants with it's tasty menu, imaginatively created with a flavorful blend of spices, protein, and sauces. The tastiness can be a delightful experience enjoyed by most vegetarians, and even some carnivores who are willing to venture outside their comfort zone..

The wait staff is friendly and helpful. They are willing to make changes to dishes to accommodate different food allergies, etc.

Metered street parking is available, and free after 6 PM

They are child friendly with a kids menu.

Good Karma Vegan Cafe is open seven days/week; Monday - Saturday 9am - 9pm; Sunday 5pm- 9pm; Breakfast Served Monday - Saturday 9 am - 12 pm

(updated: November, 2018)

How Do We Review (analyze) Restaurants?
New Jersey Leisure Guide strives to provide analytic restaurant reviews.
The methodology used is research, analysis driven --- as opposed to that of a single restaurant critic or a social media platform, viewer comment posting board.