B2Bistro and Bar, Red Bank, NJ:
A Restaurant Review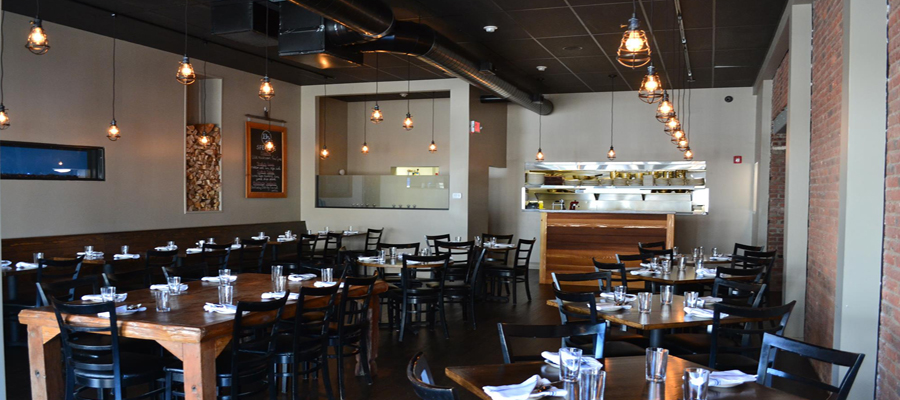 B2Bistro and Bar
141 Shrewsbury Avenue
Red Bank, NJ
(732) 268-8555
Website
---
Restaurant Highlights

Fare:  Mediterranean influenced -Bistro Style Menu

Price:  Moderate - Expensive

Food Quality:  3 Stars

Service:  2 1/2 Stars

Decor:   3 Stars

Overall Rating:  3 Stars

Note:  Four star Rating System from 1/2 Star = poor to Four stars = Best in Class


 A well prepared, Bistro Style seasonal menu using quality ingredients.


Attractive, industrial industrial chic ambiance

Value:  Good

Noise Level:  Moderate

Dress:  Casual

Recommended For:  Diners who enjoy a casual, bistro style menu, with a vibrant bar scene.

Not Recommended For:  Diners who prefer a traditional American tavern menu with "Old World" style dining amenities

Recommended dishes:  When available, The Half Roasted Duck with vegetables, stuffing, duckjus; The Slow Cooked Pig with lentils, tiny vegetables, chorizo, piquillo: and The Brick Oven Wood Fired pizzas.

Liquor:  Full service bar. Excellent craft beer selections and specialty cocktails. Bar scene is vibrant.

Restaurant Review

B2Bistro and Bar is a trendy restaurant in Red bank that is a popular spot with millennials and boomers who come to enjoy a bistro style menu, with industrial chic ambiance and a vibrant bar scene.

The Bistro, with the backing of silent partners, is the creation of General Manager Andrew Rasizer and Executive Chef Cesare "Chez" De Chellis.

Both Rasizer and De Chellis, attended the Culinary Institute of America.

After graduating CIA, Chef De Chellis honed his culinary skills through his international travels to Morocco, Spain, Italy, Greece and the south of France, and at a number of NYC restaurants including Valentino's on the Green, and Tolani Wine Restaurant.

After CIA, General Manager Rasizer honed his skills along the Jersey Shore working at Restaurant Nicholas in Red Bank, and Piccola Italia in Ocean Township as a general manager.

Bistro style cooking, now becoming popular in the United States, has long been popular in Europe and other international destinations. Many of the European Bistros feature wood burning oven in the preparation of the dishes, pizzas in particular.

As a result of his international travels, Chef De Chellis' has employed the wood burning brick overn in his dish preparations; B2 Bistro uses an Italian Forno Bravo oven, with a mix of woods to create unique flavors.

For their pizza pies, they use imported Caputo 00 flour, the highest quality flour for his Neapolitan style pies.

The interior of B2 is upscale, casual industrial chic. The attractive, vibrant area has four large screen display TV's, high top tables for dining and acoustically comfortable using cork soundproofing.

The main dining area is casual, rustic chic with high, exposed ceiling, an exposed brick wall, hardwood flooring, wood tables set with linen napkins, and subtle lighting. There is a large 15-foot, long built in aquarium style lighting simulating glowing briquettes and flames.

The open kitchen and wood-fired, brick oven can be seen from the main dining room.

There is also a large and lively bar-room with high tables, and a small private space for groups.

The service at B2Bistro is friendly and knowledgeable, and very responsive in making amends to lapses  in service.

B2Bistro takes an innovative step in offering a program to reward the cooks with six packs purchased by satisfied dining patrons. "Servers earn tips and work in a pleasing atmosphere, while the cooks do the brunt of the work and don't see much in return. So guests can buy them a six-pack to share among each other at the end of the night."

Free parking is available in a lot across the street. A plus for Red Bank.

The B2Bistro is open:
For Happy Hour: Monday - Friday 4 to 6 p.m.
Monday: Tuesday and Wednesday: 4 to 11 p.m. Bar opens at 4, kitchen from 5 to 10 p.m.
Thursday - Saturday: 4 p.m. to 12 am. Bar opens at 4, kitchen from 5 to 10 p.m., late night menu in the bar area from 10 p.m. to 12 a.m.
Sunday: 3 to 10 p.m. Bar opens at 3, kitchen 4 to 9 p.m

(updated: October, 2016)

How Do We Review (analyze) Restaurants?
New Jersey Leisure Guide strives to provide analytic restaurant reviews.
The methodology used is research, analysis driven --- as opposed to that of a single restaurant critic or a social media platform, viewer comment posting board.