Nicholas Barrel & Roost, Red Bank, NJ:
A Restaurant Review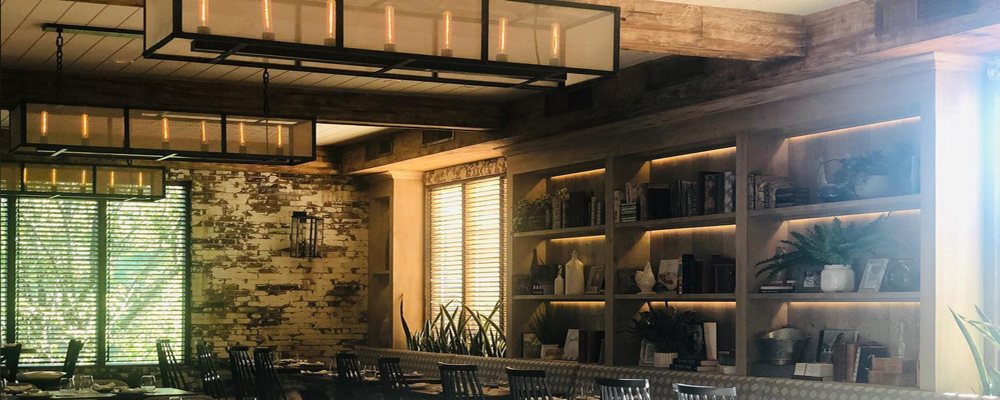 Discover Nicholas Barrel and Roost restaurant, an upscale Chef-Inspired casual dining restaurant with stunning rustic, farmhouse decor and an acclaimed chef


Nicholas Barrel and Roost: Restaurant Highlights

Fare: New American - Comfort Food

Price: Expensive

Food Quality: Exceptional, well executed, artfully presented menu prepared with fresh, quality ingredients.

Service: Outstanding. Professional, and attentive.

Ambiance/Decor: Upscale, casual with a modern farmhouse ambiance

Overall Rating: 3 1/2 Stars - One of the best restaurants in Central Jersey - Classified as Chef-Inspired Casual Dining (* Note - See below restaurant classification for details)

Note: Four star Rating System from 1/2 Star = poor to Four stars = Best in Class

Dress: Casual

Noise level: Moderate - loud - Background music tends to be loud

Recommended For: Diners who enjoy a trendy, upscale, yet casual setting with a well-executed comfort food, and an excellent bar menu

Not Recommended For: Diners who prefer "Old World" fine dining, or a BYOB with a traditional menu served in huge portions

Recommended dishes: When available, The Bourbon Braised Suckling Pig with Parisienne Apples, Toasted Pecans, and Maple Jus: The Butter Poached Nova Scotia Lobster"Etouffe", Charred Shishito Peppers, Corn Bread; and The "Nicholas Burger", Sirloin Short Rib Blend, Wood Grilled, English Cheddar, Butter Toasted Sesame Bun, House Made Pickle, Roost Sauce, Seasoned Chips.

Liquor: Full-service bar. An exceptional selection of wines. Specialty cocktails, bourbons, and craft beers are also available

Restaurant Review
Formerly the highly acclaimed Restaurant Nicholas, located in Red Bank on the border with Middletown. in August 2020 Executive Chef Nicholas Haray and wife Melissa have reopened as Barrel & Roost with a revamped menu and a redesigned interior.
 After an extraordinarily successful run of over twenty years, they have transformed their "Old World" Fine dining restaurant into a trendy, upscale Chef-Inspired Casual Dining restaurant
 The famed Nicholas Haray received his formal Culinary education at The Culinary Institute of America and later honed his culinary and sommelier skills under famed Chef Jean-Georges in NYC. He is also the author of "The Nicholas Cookbook", and a very competent sommelier with weekly articles in the Asbury Park Press. 
 Prior to teaming up with husband Nicholas, Melissa worked at Tabla, as Service Director in New York City, and at several notable wineries in the Napa Valley, CA.
 With "Old World" fine dining, and its stuffy ambiance no longer in vogue, they have latched onto the new trend of upscale chef driven, casual restaurants, increasingly in demand by millennials.
 Barrel & Roost is a popular a go to spot for diners to enjoy great food with family or old friends, or to a grab a drink at the bar for date night.
 This new concept of chef driven dining features an upscale, casual ambiance serving an approachable, more casual menu with creative food preparation using high quality ingredients.
 While retaining several of the most popular dishes from Restaurant Nicholas, the menu now features more comfort food with a twist, including brick-oven pizzas, short-rib burgers, bar snacks, a raw bar featuring oysters from both coasts, soups, sandwiches, and a limited selection of small plate seafood, meat, and pasta dishes.
 Note; While the Lobster Roll is well executed, tasty and prepared with quality ingredients, there is a small amount of lobster, just enough to qualify as a lobster roll. There are no complimentary refills on iced teas. Refills are charged at the same rate of all glasses, $12 per glass.
 The food is well executed, artfully presented, and prepared with fresh quality ingredients. When available Chef Haray uses local seasonal farm-to-table produce, wild caught seafood, & meats raised without the use of antibiotics and growth hormones. 
  The interior of The Barrel & Roost is a stunning with a modern farmhouse vibe. The main dining room is cozy done up with beamed ceilings, rustic candle style chandeliers, banquettes around the sides of the room, and dark wood flooring. 
 The prominently placed bar area features an attractive square shaped bar with an overhead, hanging light fixture of bulbs inside green-tinted gallon jugs, 3 large screen TV's, lined with high top tables.
 For private events, they have a very cozy, rustic, barrel room for small groups.
 During the warmer months there is outdoor dining on the stone patio with tables spaced comfortably apart that connects to the bar area through large folding doors. 
 The wait staff is professional ---- well trained, friendly, and anticipatory, but not intrusive.
 Child friendly with a Kids menu 
 Restaurant Nicholas is open seven days/week:
Lunch: Saturday 12:00 – 2:30 pm, Brunch: Sunday 10:30 am – 2:30 pm
Dinner Monday –Thursday, Sunday 5:30 - 9:30, Friday & Saturday 5:30 - 10:30 

*Description of Restaurant Classification - Chef-Inspired Casual Dining:

The current trend of upscale, high quality food focused restaurants.
They are chef driven by chefs with impressive credentials including formal culinary education and skills honed at award winning restaurants.
Serves an approachable, more casual menu with creative food preparation.
Uses higher quality food ingredients such as imported items not available in the supermarket, with emphasis on local seasonal farm-to-table produce, wild caught seafood, & meats without the use of antibiotics and growth hormones.
Chic, trendy ambiance with a casual atmosphere and a casual dress code.
The wait staff is professional, knowledgeable, and attentive.
Can be BYOB or have an alcohol menu with a variety of wines, specialty cocktails, and beers.
Patrons are of all generations with medium to high incomes.


The most popular upscale restaurants in New Jersey have been classified into three categories; Chef-Inspired Fine Dining, Chef-Inspired Casual Dining, and Contemporary Casual.

learn more about casual upscale restaurants and how reviews are created.

(updated: November, 2020)