Best Organic Restaurants in New Jersey
These popular organic restaurants in New Jersey feature organic food from local organic and sustainable agriculture farms with many embracing the "Slow Food" cooking process
Organic Labels and Descriptions
Antibiotic-free: Animals that have not been treated or raised with antibiotics during their lifetime in compliance with USDA standards

Wild seafood: Fish caught at sea, either by line or net.

Farm-raised: Seafood that has been raised in ponds. i.e., tilapia, shrimp, and ocean penned salmon.

Fresh:  An ingredient that never has been fully frozen

Free-range-free-grazing:  Animals that are free to roam outside cages or barns.

Grass-fed:  Animals with continuous access to pastures of grass or hay during the growing season.

Organic:   Animals raised free of antibiotics and artificial hormones and not be fed animal byproducts. Produce grown without chemical pesticides and fertilizers. Certified by the USDA as organic.

No hormones added:  Animals not treated with synthetic growth hormones.

Natural:  A minimally processed product free of artificial ingredients or color.

"Slow-Food" Cooking Process:   While some of the organic restaurants listed offer non-organic selections on the menu, the restaurants selected have a focus on using food products that are natural and come from local organic growers and farms, and are committed to using minimally processed food.

NJ Restaurants featuring Organic Products
 It sets the pace as a trendy, industrial chic style restaurant serving healthy food using fresh farm to table local ingredients sourced from Certified organic farms.
Read review

An elegant, rustic, farmhouse, featuring  almost 100 percent of the proteins are grown either on-site at Double Brook Farm, or sourced from other local growers, and from Thistle Creek Farm in Central Pennsylvania --- a USDA Certified Organic farm.
Read review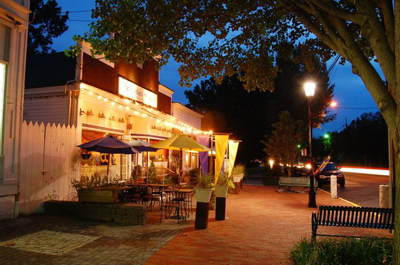 An unpretentious fine-dining restaurant. They  are strong supporters of sustainable farming and in using locally sourced farm to table ingredients  from Certified Organic farms.
Read review

---