Vincentown Diner; Vincentown, NJ:
A Restaurant Review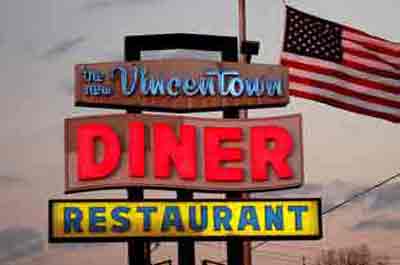 Vincentown Diner

Rte 206
Vincentown, NJ
(609) 267-3033
Website




Restaurant Highlights

Fare:  American Diner

Price:  Inexpensive


Food is prepared with organic ingredients and local farm to table fresh produce


A large menu with many breakfast, lunch, and dinner choices.


Priced higher than other area diners.

Value:  Excellent

Noise Level:  Moderate

Dress:  Very casual

Recommended For:  Diners who enjoy organic, local sustainable food served in large portions.

Not Recommended For:  Diners who prefer a classic New Jersey diner with a traditional American menu.

Restaurant Review

Located in rural southern NJ near McGuire AFB, the Vincentown Diner is typical of most diners open for breakfast, lunch & dinner in offering a very large menu with large portions, friendly, yet unpolished wait staff, and a eating area with booths and laminate tables.

Where they distinguish themselves is with the high quality of menu ingredients that emphasizes local and organic products including organic eggs from free-range chickens, local, grass-fed beef , local farm to table produce, cooking oils that contain no trans fats, and house coffee using premium Arabica Beans roasted locally and ground fresh.

With attractive decor and the serving of local wines and craft beers, they can be considered more a restaurant than a typical "Jersey" diner.

A highlight of the Vincentown Diner is their burgers --- one of the best in south Jersey.

The succulent burger is made with ground in-house organic grass-fed chuck and sirloin from Simply Grazin Organic Farm in Skillman. The bun is a Kaiser roll from Old World Bakery and Cafe in Mount Holly.

(updated: August, 2016)

How Do We Review (analyze) Restaurants?
New Jersey Leisure Guide strives to provide analytic restaurant reviews.
The methodology used is research, analysis driven --- as opposed to that of a single restaurant critic or a social media platform, viewer comment posting board.