Chef Mikes ABG
A Seaside Park, NJ Restaurant Review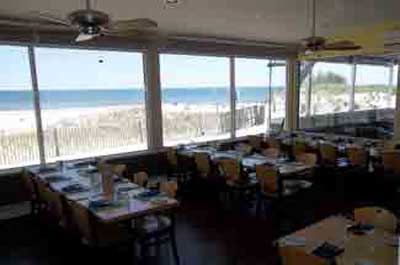 Chef Mikes ABG
24th and Central Ave.
Seaside Park, NJ 08752
732.854.1588
Website
Fare: New American
Price: Expensive
Food Quality:



Service:



Decor:



Overall Rating:



Note: Four star Rating System from no stars = poor to Four stars




= Best in Class
---

One of the top restaurants along the Jersey Shore.


Committed to using fresh ingredients that are sourced locally and uses sustainable farming practices.

Scenic beach-front/dunes views


During the peak summer months, patrons can expect extremely long waits
Value: Good
Noise Level: Moderate
Dress: Casual

Recommended For: Diners who seek a high end destination restaurant with ocean front scenic views and fresh locally sourced ingredients
Not Recommended For: Diners who may prefer simpler, less pricey food in a more family oriented casual setting
Recommended dishes: When available,Chef Mike's Original Onion Crusted Chilean Sea Bass; Jumbo Lump Crab Cakes; and the Grilled New Zealand Rack of Lamb
Liquor: Full service bar with a good selection of wines, beers & cocktails.
Restaurant Review

Formerly the Atlantic Bar and Grill, owner and Executive Chef Mike Jurusz has returned to the restaurant he made famous and reopened it as Chef Mikes ABG.
Located near the border of Island Beach State Park, the restaurant has now returned to it's former glory as a destination restaurant and one of the top restaurants along the Jersey Shore with beautiful dune and ocean views and excellent American Nouveau cuisine
The restaurant sits on the beach about 100 yards from the ocean. One of the few business' on the Jersey Shore to fare reasonably well during Hurricane Sandy, the view of the ocean has improved with the storm surge washing away the 20-foot dune that partially blocked the view of the water while offering protection for the restaurant during storms.
The unrestricted view of the ocean may be temporary though as the dunes will inevitably be restored over the next few years.
Chef Jurusz is a graduate of Johnson and Whales Culinary School and is recognized for his creative cooking skills by his peers having won numerous cooking awards. He also has been featured on TV shows, in cookbooks, and magazines. Jurusz honed his cooking skills at the now closed Bluffs restaurant in Bay Head, served as Executive chef at the the former Atlantic Bar and Grill, and as Executive chef at 709 Point Beach prior to his opening Chef Mike's ABG
Chef Jurusz is committed to using fresh ingredients that are sourced locally and when ever possible uses sustainable farming practices.
Chef Jurusz has completely reworked the menu offering more variety including the addition of 20 tapas selections
During the warmer summer months there is dining on the outside deck along with a Tiki bar close up to the dunes and overlooking the ocean.
Chef Mikes ABG is open 7 days a week, Monday thru Thursday - 5pm to 10pm, Saturday - 5pm to 11pm, Sunday - 5pm to 10pm, During the off season it's open Thursdays through Sundays for dinner-only.
How Do We Rate and Review Restaurants? 
New Jersey Leisure Guide contains the largest source of extensive and unbiased New Jersey restaurant reviews. Data is gathered from our viewers e-mail restaurant comments, Internet and print research, and professional restaurant critics. The data is analyzed and a review created. Staff personal visits are sometimes made to corroborate and/or tweak results.

Other New Jersey Resources