Cafe 2825, Atlantic City, NJ:
A Restaurant Review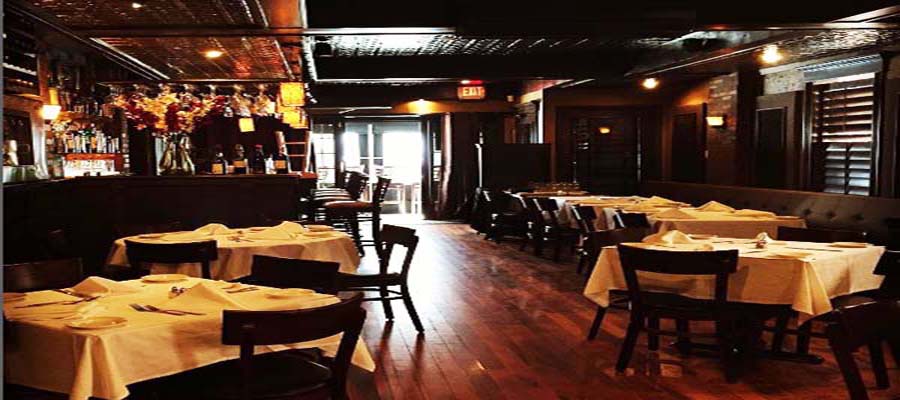 Cafe 2825 with "Old World" charm, serves a well executed menu of traditional Southern Italian dishes using fresh ingredients, many of them brought in from Brooklyn, NY

Cafe 2825 : Restaurant Highlights

Fare:  Traditional Italian, with Sicilian and Piedmontese regional influences.

Price:  Expensive

Food Quality; Excellent, uses fresh ingredients, supplemented by authentic Italian ingredients

Service: Friendly, attentive with Old World, Brooklyn charm

Ambiance/Decor: NYC vibe, with a sense of being in grandma;s dining room

Overall Rating: 3 Stars, One of the top Southern Italian restaurants in South Jersey

Note: Four star Rating System from 1/2 Star = poor to Four stars = Best in Class

Noise Level:  Moderate; High during peak times

Dress:  Upscale Casual

Recommended For:  Diners who enjoy homemade, authentic traditional Italian food and are willing to pay slightly more for it.

Not Recommended For:  Budget conscious diners who prefer a casual family style pizza/pasta restaurant.

Recommended dishes:  When available, For an Appetizer, the Stuffed Artichoke with hard-cooked eggs and onions. For entrees, The "Sunday Gravy" with sausage, meatball and brajole served with a homemade pasta; The Branzino, filleted table-side by the waiter with broccoli and roasted garlic cloves; and The Veal Milanese. For dessert, The Italian Ricotta cheesecake.

Liquor:  Cozy bar with a moderate selection of cocktails and wines, mostly from Italy.

Restaurant Review

Cafe 2825 is an intimate, upscale Italian neighborhood restaurant and an Atlantic City institution.

Located a block from the Tropicana Casino and across from Tony's Baltimore Grill, the restaurant serves authentic, (homemade) traditional Italian cuisine with an upscale, casual, unpretentious ambiance.

A great alternative to the glitzy, high priced, casino restaurant scene. Cafe 2825 is very popular with the locals, especially during the off season

This small 15 table restaurant is owned and operated by Joe and his wife, Ginny Lautato, who originally migrated from the Bensonhurst section of Brooklyn, bringing that deep rooted "New York style old world charm" to the restaurant.

The cuisine has many traditional southern Sicilian red sauce dishes with some of the menu items having a northern Italian Piedmontese

The dishes are well prepared using fresh ingredients. All pasta dishes are homemade and are prepared and served with innovative combinations of meats and seafood.

If you have a craving for an item that's not on the menu, just ask Joe the owner, if the ingredients are available, and he will arrange to have his kitchen staff prepare it. He is always in view, mingling with the diners in a friendly and caring manner to ensure the meal is prepared to your satisfaction.

The restaurant has a NYC ambiance. The small 14 table restaurant has an elegant feel with polished wood, terracotta walls, family pictures, and white linen table settings, The sconces give off soft, warm light, and the ornamental artwork frames look more like they belong in the family's dining room than in a restaurant.

Walking into the restaurant is like entering a family members home. On occasion might see Joe's mother behind the bar, and one of his children as your server.

Cafe 2825 is popular with families having older children, with small groups of six or less, and with older couples celebrating a romantic occasion.

Please be advised not to park in the lot right next to the restaurant on Atlantic Avenue. Signs clearly say you will be towed.

There is a free self parking lot on Brighton Ave a short walk from the cafe (1/2 block)

Valet parking is available at the back of the restaurant on Brighton Avenue

Most major credit cards are accepted, However, gratuities are requested in cash.

Dinner is served Tuesday through Friday from 4:30 to 9:30pm; Saturday from 4 to 10pm. Closed on Sundays & Mondays.
Reservations are a must, and should be made several weeks in advance during the busy summer season.

Reservations for parties of 7 and more are accepted before 6:30 and after 9pm.

(updated: December, 2019)

How Do We Review (analyze) Restaurants?
New Jersey Leisure Guide strives to provide analytic restaurant reviews.
The methodology used is research, analysis driven --- as opposed to that of a single restaurant critic or a social media platform, viewer comment posting board.