Capriccio, Atlantic City, NJ:
A Restaurant Review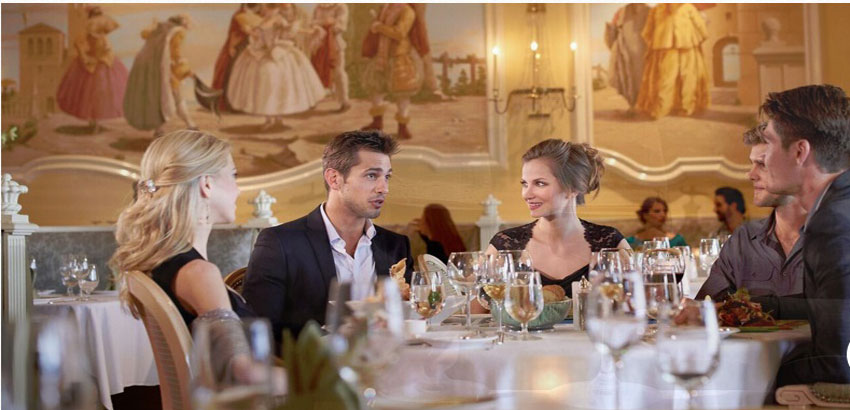 Capriccio Restaurant is an Atlantic City favorite for "Old World" Italian elegance, creatively prepared food, and a fabulous Sunday Champagne Brunch

Capriccio: Restaurant Highlights

Fare: Italian

Price: Very Expensive

Food Quality: Excellent. Serves a good variety of creatively prepared pasta, meat, and fresh sea food.

Service: Professional, knowledgeable, friendly & attentive without being intrusive.

Ambiance/Decor:"Old World" Italian elegance with an ocean view

Overall Rating:3 1/2 Stars Classified as a "Chef-Inspired Fine Dining" restaurant. (* Note - See below restaurant classification for details)

Note: Four-star Rating System from 1/2 Star = poor to 4 stars = Best in Class  

Noise Level: Moderate - High

Dress: Upscale casual

Recommended For: Diners who enjoy excellent Italian food and upscale, "Old World" ambiance, with all the fine dining amenities.

Not Recommended For: Budget conscious diners who prefer traditional food with less formality.

Recommended dishes: When available, The lobster with shiitake mushrooms and sweet peppers served on a baked polenta round; Costolette di Vitello alla Lombardese; and the Ossobuco di Vitello alla Lombardese braised in a red wine and tomato sauce served with saffron risotto.

Liquor: Full-Service Bar, extensive wine list, specialty cocktails.

Restaurant Review

Capriccio is an elegant, landmark Atlantic City Casino Italian restaurant with a high-end menu of well executed eclectic Italian fare, popular with aged 55+ regulars, families, and groups,

It is the longest running casino restaurant in Atlantic City, opening at the same time Resorts became the first Atlantic City casino to open in 1978.

Capriccio is classic chef-inspired fine dining with its "Old World" ambiance, with vaulted ceilings, crystal chandeliers, beautiful murals of old-world Italy adorning the walls, and a spectacular ocean view.

The large restaurant is spread over four areas; Cirlo, a contemporary wine bar and lounge area, the main dining room with a high, vaulted ceiling and murals, the sunlit room with high arched windows with scenic views overlooking the boardwalk and ocean, and the outdoor patio also with scenic views overlooking the boardwalk and ocean.

The menu offers a good variety of creatively prepared pasta, meat, and fresh sea food.

In the warmer months, there is outdoor seating available on the balcony and is especially enjoyable as you can watch the activity along the boardwalk below.

Capriccio is open four days/week for dinner with seasonal hours - (Thursday open only during non-winter months), Friday, Saturday, & Sunday


* Description of Restaurant Classification - Chef-Inspired Fine Dining:

"Old World" with sophisticated and romantic décor.
Priced higher than other upscale restaurants to cover the cost of the added amenities.
They are chef driven by chefs with impressive credentials including formal culinary education and skills honed at award winning restaurants.
Committed to high quality food ingredients such as imported items not available in the supermarket, with emphasis on local seasonal farm-to-table produce, wild caught seafood, & meats without the use of antibiotics and growth hormones.
The wait staff is rigorously trained --- professional, knowledgeable, and attentive.
 Has an alcohol menu with high end wines and specialty cocktails and with a staff knowledgeable in wine pairings.
Additional amenities include linen and fine China table settings, carpeted flooring, chandeliers, and complimentary sorbets, dessert chocolates, etc.
Patrons tend to be older, more formally dressed, with high incomes.


The most popular upscale restaurants in New Jersey, classified into three categories; Chef-Inspired Fine Dining, Chef-Inspired Casual Dining, and Contemporary Casual.
learn more about the three types of upscale restaurants and how reviews are created.

(updated: October 2023)