Jasper Stone Italian Steakhouse, Monroe, NJ:
A Restaurant Review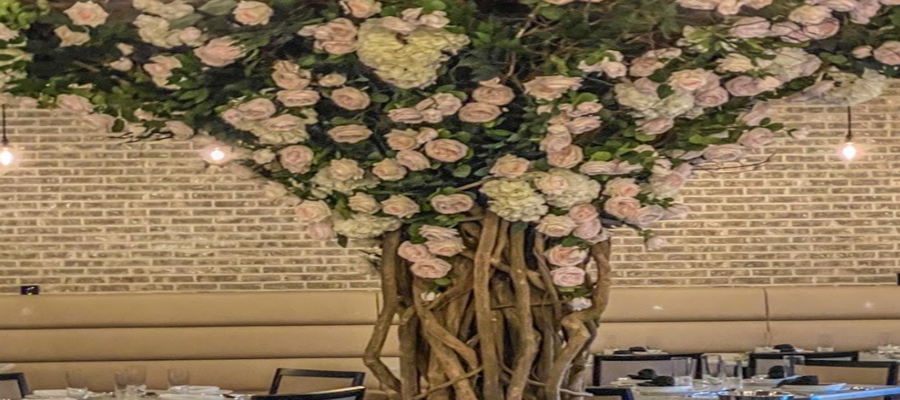 Jasper Stone Italian Steakhouse
399 Spotswood Englishtown Road
Monrie, NJ
732-251-3500
Website
Jasper Stone Italian Steakhouse: Restaurant Summary
Fare: Modern Italian - Steakhouse
Price: Expensive - Very Expensive
Food Quality: An inspirational modern Italian menu creatively prepared using healthy, high quality, organic and sustainably raised ingredients from local sources, supplemented by importing dry ingredients from Italy.
Service: Knowledgeable, friendly well trained, attentive staff without being intrusive or pretentious.
Decor/Ambiance: Beautifully done up with a trendy, elegant, yet casual, romantic ambiance.
Overall Rating: 3 Stars
Note: Four-star Rating System from 1/2 Star =Poor to Four stars = Best in Class
Noise Level: Low - Moderate
Dress: Smart Casual
Recommended For: Diners who enjoy upscale dining in a trendy, romantic setting with an artfully presented, creative menu of regional Italian dishes, American favorites, and USDA prime naturally raised beef, prepared with high quality, mostly organic, sustainable ingredients.
Not Recommended For: Cost conscious diners who enjoy a traditional "Old World" Italian heavy red sauce menu served in huge portions.
Recommended dishes: When available, the home made Pasta Alla Mugnia; The Dry Aged Long Bone Tomahawk Ribeye; and The Glacier Chilean Sea Bass.
Liquor: BYOB
Restaurant Review
Opened in the fall of 2022, Jasper Stone Italian Steakhouse is a hidden gem having quickly achieved success as one of the best Italian restaurants in Central Jersey. This is a destination restaurant that is not for just a night out for dinner, it's an ideal spot for a romantic dining experience.
Unlike many old school traditional, heavy red sauce Italian restaurants in Central Jersey, Jasper Stone Italian Steakhouse sets itself apart with serving an inspirational modern Italian menu with authentic regional specialties, in addition to offering a menu with grass-fed aged Wagyu beef and meats with no antibiotics, hormones, or unnatural supplements, and wild caught seafood.
Jasper Stone Italian Steakhouse is owned and operated by Kim and Victoria Aiello, with the kitchen run by Executive Chef Joe Voller.
Chef Voller comes with impressive credentials. He received his formal culinary training at the Art Institute's Culinary Arts School in Philadelphia, and later honed his culinary skills under famed Philadelphia chefs including Guillermo Pernot at the former Nuevo Latino restaurant, and Jose Garces at Alma de Cuba. He later became Executive Chef of Eno Terra, a high-end Italian restaurant in Kingston, NJ, nun by The Terra Momo Group, and as Executive Chef at both the famed Le Virtu and Brigantessa restaurants in south Philadelphia.
Prior to coming to the Jasper Stone Italian Steakhouse, Chef Voller served as Executive Chef at the highly rated Il-Nido in Marlboro, NJ.
Chef Voller oversees the kitchen that serves a seasonally changing menu with inspired, artfully presented dishes that are creatively prepared using healthy, high quality, mostly organic ingredients.
Many of his menu items are inspired dishes from the Abbruzzo/Puglia regions of Italy that are creatively prepared with organic and sustainably raised ingredients from local sources, supplemented by importing dry ingredients from Italy.
To stay abreast of the trends of authentic Italian dishes, Chef Voller makes annual visits to Italy to engage with acclaimed Italian chefs, mostly from the Abbruzzo/Puglia region, a hotspot for arguably the best food in Italy.
One of his specialty dishes is Pasta Alla Mugnia, an authentic Italian homemade pasta dish that he learned to prepare in one of his visits to the Abbruzzo region of Italy. The homemade pasta features imported Cruschi pepper and Calabrian chile from Italy. You will not find another Chef in Central Jersey that has been able to duplicate the authenticity, execution, and the imported ingredients used in this dish.
The seafood is sourced from Local 130 Seafood in Asbury Park specializing in locally caught, sustainable seafood. No farm raised seafood here. The meat products are sourced from Four Story Hill Farm in Pennsylvania that raises all-natural, apple-fed pigs, pastured chickens, and veal. No antibiotics, hormones, or unnatural supplements of any kind are used on the animals. The produce is sourced from Cherry Valley Cooperative in Montgomery, NJ, a collaboration of farmers, chefs, innovators, students, artists, and wellness professionals specializing in growing high diversity vegetables, berries, fruit, flowers, mushrooms, herbs, and pasture raised eggs, lamb, and pork.
Some of the menu items tend to be higher priced to offset the cost of using high quality USDA Prime Naturally Raised Beef, locally caught sustainable seafood, and imported ingredients. Be sure to ask the staff about the prices and the food preparation to ensure that both price and taste meet your expectations.
The decor at Jasper Stone Italian Steakhouse is trendy, cozy, with romantic ambiance. The interior consists of two beautiful dining rooms done up with exposed ceilings, brick walls (one of the dining areas has walls covered with light, rustic wood). Each of the dining areas are centered with a large artificial tree.
For a romantic touch, the dining areas are dimly lit with candlelit tables and booths. For diners who prefer a well-lit dining experience, small attractive battery-lit table lamps are provided on request. Noise room acoustics and tables spaced comfortable apart allow for quiet conversation.
Service is professional and welcoming. Owners Kim and Victoria Aiello are heavily involved in the dining rooms visiting patrons to ensure the dining experience meets their expectations.
Jasper Stone Italian Steakhouse is not recommended for children.
Complimentary valet parking is available.
They are open for dinner 6 days/week for dinner: They are closed on Tuesday.
Reservations are highly recommended.
(Updated; June 2023)
How Do We Review (analyze) Restaurants?
New Jersey Leisure Guide strives to provide analytic restaurant reviews.
The methodology used is research, analysis driven --- as opposed to that of a single restaurant critic or a social media platform, viewer comment posting board.