The Best Weekend Getaways in New Jersey

New Jersey is fortunate to have a wide variety of destinations with awesome scenic attractions, entertainment centers, historic villages, beach resort towns, mountains, and plenty of things to do. With its relatively small land area, many of these destinations can be experienced as a weekend getaway or short trip of two-three days.

These locations that include historic villages, charming oceanfront towns, rustic farms, and mountain settings, that are ideal for  couples looking for that out of the ordinary romantic weekend getaway.

The Best Weekend Getaway Destinations
Cape May
Cape May is an ideal place to visit for that special scenic seaside and rates a popular choice as one of the best weekend getaways.

Cape May is not just a summer resort, the fall season is very popular with many theme weekends and the water is still warm enough to visit the beach. Not a beach enthusiast? There are many activities that are in full swing right up until New Years Day.

It's charm lies in it's tree-lined, gas lamp streets, it's quaint shops, authentic Victorian homes and Bed and Breakfasts. One of it's claims is that it possesses the largest collection of authentic Victorian homes in the nation.

If relaxing on the beach is not your thing, there are plenty of other activities that can occupy your day time leisure hours. They include; bike riding, with many bike rentals available locally by the hour or day. Cycle down to Sunset Beach or the Cape May Light House built 1859 and listed on the State and National Registers of historic places, or the nearby Bird Observatory operated by the New Jersey Audubon society. There is picnicking, beach walking at sunrise or sunset, where you might see schools of dolphins swimming by, whale and dolphin watching boat trips, kayaking in the salt water marshlands, a salt marsh safari, deep sea fishing, a nautical museum, and an historic World War II coastal defense gun emplacement.

Learn more

Places to Stay in Cape May

Albert Stevens Inn
Located within walking distance of the Cape May Point Lighthouse and the Cape May Bird Observatory. The inn offers a spacious screened in porch for sitting and watching the world to by as well as on-site parking.
Reviews/Booking
Angel of the Sea

An elegant, Victorian B & B in the quieter northern area of Cape May, 1/2 block from the ocean having the most beautiful and least crowded beach in Cape May. All guest rooms have private baths, some with the original claw-foot tubs
Reviews/Booking
Congress Hall
Features resort style amenities. A renovated nineteenth-century venue with a sweeping lawn overlooking the Atlantic Ocean. It has a vibrant atmosphere, a full-service spa, and an on-site restaurant and a cocktail lounge .
Reviews/Booking
The Mason Cottage
A charming Victorian B & B is centrally located just one block from the beach and 2 blocks from many fine shops and restaurants. They offer antique appointed rooms with private baths, and luxurious Rocco bath amenities. Most suites have a Jacuzzi tub and a fireplace,
Reviews/Booking
The Queen Victoria
Centrally located one block from the beach and near restaurants, and shopping. The facility consist of two restored 1880's homes and an 1876 gambling parlor with picturesque porches, rocking chairs, wicker swings, and comfortable parlors with fireplaces. Some rooms have a gas-log fireplace.
Reviews/Booking
Wilbraham Mansion and Inn
Overlooking Wilbraham Park, this 1840, charming, romantic Victorian B & B is a 10 minute walk to the beach and an 8 minute walk to the Washington Street Mall. It has a 20 x 40 foot indoor heated pool and rooms with hot tubs, two-person showers, and cozy gas fireplaces.
Reviews/Booking
The Delaware Water Gap Area
The Delaware River is the most popular river in New Jersey for recreational use. A great weekend getaway for active, adventuresome travelers. The clean, clear waters of the River and it's cold tributary streams support a landscape rich in fish and wildlife and the scenic vistas of the Delaware Water Gap. Popular recreational activities include: kayaking, canoeing, rafting, fishing, camping, and hiking.
Things to do in The Delaware Water Gap Area

Take a Delaware river trip on a canoe, kayak or raft
Kittatinny Canoes
Dingmans Base
2130 State Route 739
Dingmans Ferry, PA 18328
800-356-2852
Website
Hike Mt. Tammany - Delaware Water Gap
Worthington State Forest
Kittatinny Point Visitor center
908-496-4458
Website
Difficulty: Moderate to Difficult. One of the most popular trails in New Jersey. It traverses the Appalachian Trail and offers great panoramic views of the Delaware Water Gap and Mt. Minsi across the Delaware River in Pennsylvania. The Red Dot Trail is the more steeper at 1.2 miles to the summit. The Blue Dot Trail is more gradual and a little longer at 1.4 miles. At the top of the summit you will reach Indian head be rewarded with an awesome, much photographed panoramic view of the Gap.
Parking/Trail head:
Begin your journey by first stopping at the Kittatinny Point Visitor center. In early fall it's open only 3 days a week. Take Route 80 west to Exit 1 and bear left 1/4 mile. On the right there is a sign for Dunnfield Creek Natural Area. There is a parking lot on the right, then a large main lot in the center.
Places to Stay in The Delaware Water Gap Area
Belvidere Hotel
Belvidere, NJ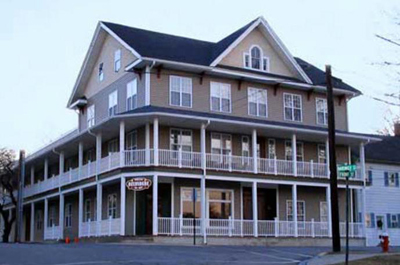 The scenic town of Belvidere is a charming Victorian town located on the banks of the Delaware and Pequest Rivers. This 34 room restored hotel from the early 1800's comes with old world charm.
Reviews/booking
The RoseMary Inn
Columbia, NJ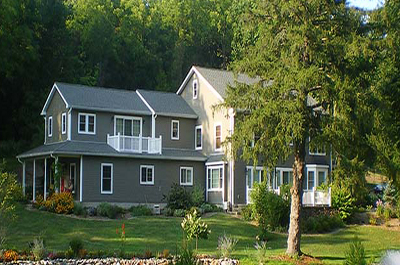 Located on 17 acres , this B&B offers lodging near the Delaware River National Recreation Area, the Appalachian Trail, the Lakota Wolf Preserve, and the Paulinskill Valley Trail.
Reviews/booking
Western Hunterdon County

Hunterdon County is a special scenic destination with rolling farmlands, historic sites, and charming towns and is a another popular choice as one of the best weekend getaways. Featured here are the towns of Clinton, Frenchtown, Lambertville, Stockton,  and Sergeantsville. All are small charming towns with surrounding rural scenic beauty that easily be seen in a weekend. 

Clinton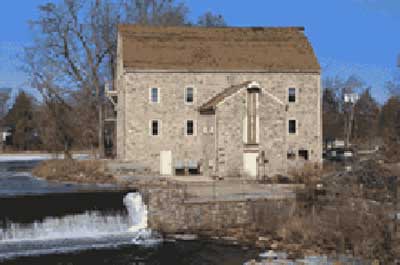 Clinton is nestled in the hills, is a classic American small town that has attracted photographers, movie makers, and visitors here for its scenic and historic beauty. It's a charming historic village with shops and cherry tree lined streets, a river with a 200 foot wide waterfall winding through it, and lined with old grist mills. It's certainly a popular favorite as one of the best weekend getaways in NJ
Learn more
Places to Stay in Clinton

Riverside Victorian Bed Breakfast
A 6 room 1882 historic inn located in the heart of Clinton, one block from the village shops, major attractions, and casual restaurants.
Reviews/Booking
Main Street Manor
Located in the Village of Flemington, Guest room amenities include: Queen-sized feather-beds, , wireless Internet, ceiling fan, and fresh flowers. The Bay Laurel Room has an electric fireplace.
Reviews/Booking
Frenchtown

Frenchtown is an undiscovered secret that is attracting visitors with its many three story multi-colored Victorian homes, art galleries, antique shops, clothing boutiques, and restaurants, all surrounded by rural scenic rolling hills, a river and historic sites, is another great selection as one of the best weekend getaways.

If you chose to make Frenchtown your overnight base for exploring Hunterdon County, rent a bike at Freeman's bike shop and ride south along the D & R Canal towpath, stopping in at Stockton, then continue on to Lambertville. Return to Frenchtown by way of Route 29. Check out Alexandria Balloon Flights - 908-479-4878. View Frenchtown's romantic sunsets from a hot air balloon. See fantastic views of the river, the riverbanks, and the rolling hills. If its summer, rent an inner tube at Delaware Tubing, 908-996-5386, for a leisurely float along the Delaware River. Check out the Sand Castle Winery for tasting and tours

Places to Stay in Frenchtown
The National Hotel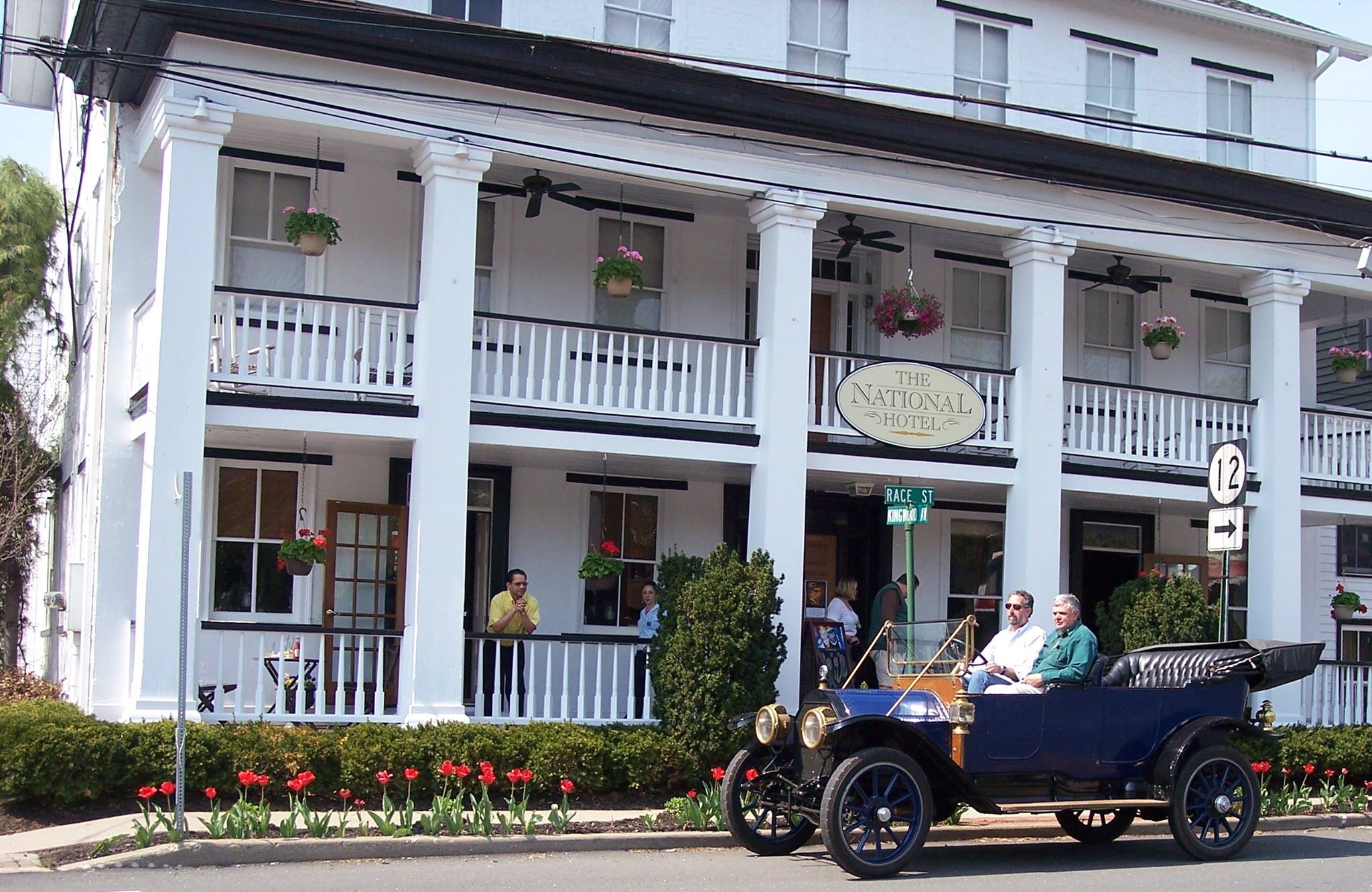 A boutique hotel with guest rooms featuring a whirlpool tub,With dark wood beams, and beds draped in mosquito netting.
Reviews/Booking
The Widow McCrea House
This charming 1878 Victorian B & B located a few minutes walk from the Delaware River and the shops and restaurants in the village of Frenchtown. A great place for a romantic getaway with working fireplaces and Jacuzzis.
Reviews/Booking

Lambertville

Lambertville is Hunterdon County's only city and is popular with visitors attracted to its quaint town with tree lined streets, Victorian homes, antique shops, clothing boutiques, art galleries, and restaurants. Its five block downtown area along the Delaware River attracts window shoppers and browsers.
Learn more

Attractions and Things to do in Lambertville

If you chose to make Lambertville your overnight base for exploring Hunterdon County, and you have your own bike, or enjoy hiking, head North to Frenchtown on Route 29, and return south along the D & R Canal towpath, stopping in at Stockton.

Lambertville Historical Society – The Marshall House with 1834 furnishings, a Shad history display, and quilts.

Magic Glass Studio - Create your very own one of a kind glass piece at their unique studio.

The Museum At Holcombe-Jimison Farmstead - Here you can see old farming equipment, a country kitchen, a rural post office, Dr. Leaver's doctor/dentist office, a blacksmith shop, a print shop, a carpentry shop, and a period herb garden.

Places to Stay in Lambertville
Stockton

located along the Delaware River north of Lambertville, is a small village that has recaptured he charm that it had in the eighteenth century. It is home to the Stockton Inn, established in 1710, and was immortalized by Richard Rodgers in the song "There's a small hotel with a wishing well", sung in the Broadway play "On Your Toes". The inn was first built as a private residence and it is believed to have been converted in 1832.

Stockton is also the home of the oldest three room school house in New Jersey. Established in 1872, it is still in operation today. Stockton School is well known for its small classes that give individual attention to each student and is compared frequently with local private schools.

Attractions and Things to do in Stockton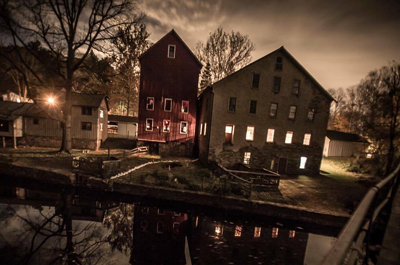 Prallsville Mills, Stockton -
On the National Register of Historic Places and is located in the D & R Canal State Park. This stone grist mill was an important commercial center during the 19th century and continued in operation until the 1950's. Today the Mill is a resource for a wide variety of cultural, arts and community activities while also providing docent tours of the Mill Complex and the recently preserved miller's house, the John Prall Jr. House

Places to Stay in Stockton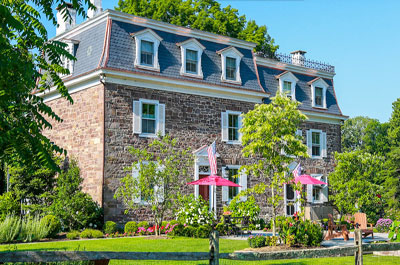 Woolverton Inn
A small romantic B & B with hot tubs and in room fireplaces.
Reviews/Booking



Sergeantsville

Sergeantsville is a small village located near Stockton & 5 miles north of Lambertville. The area resembles Pennsylvania's Amish Country with its rolling hills, open farmland, and the State's last pre-20th century covered bridge, and an old fashioned general store.

Things to Do in Sergeantsville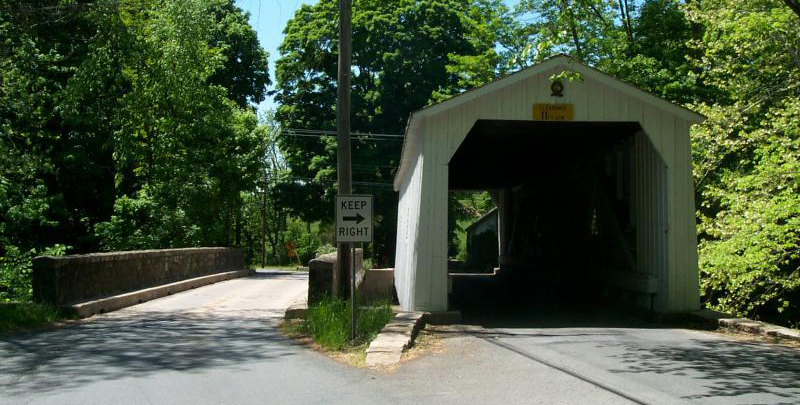 Drive through the
Green Seargeant's covered bridge
, (located on Rosemont Ringoes Road), the last covered bridge in the state of New Jersey, it is listed on the National Register of Historic Places in New Jersey. Although the masonry was built in 1750, the Green Sergeants Bridge was built in 1872
Learn more
---