The Best New Jersey Fireworks Displays
2017 Year Round Fireworks celebrations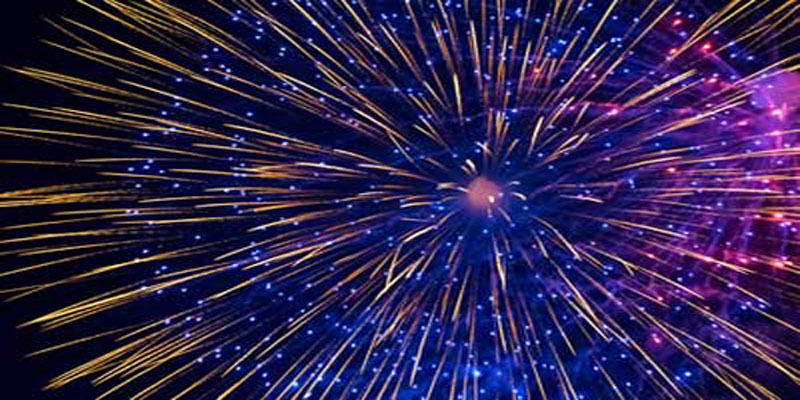 Year round Fireworks displays in NJ cover a range of awesome displays and rank with the best in the world.

While pyrotechnic displays are often associated with Independence Day - July 4th celebrations, and New Years Eve, many of the fireworks displays accompany a popular event to either kick it off, such as the beginning of the New Year, or as a finale such as a festival, or a minor league baseball game.
Note: This information is provided by event sponsors as a free service to our viewers. Sometimes conditions require cancellations or changes of dates, times and location which are not reflected in the original schedule. Before planning a trip to visit one of the listed events, it is suggested that you call the event sponsor to confirm the event schedule or for additional information on the event.
Stay tuned --- we will be updating this list as the event sponsors confirm this year's event

2017 North Jersey Fireworks Events

Multi-date Fireworks Events
New Jersey Jackals
1 Hall Drive
Yogi Berra Stadium
Little Falls, NJ, 07424
(973) 746-7434
Website
June 10, 24, July 8, 22, August 5, 12, 2017


Somerset Patriots
TD Bank Ballpark
1 Patriots Park
Bridgewater
908-252-0700
Website
Post-game Fireworks Nights at the Ball park
Friday, April 21, Friday, May 5, Thursday, May 18, Saturday, May 27, Saturday, June 3, Friday, June 16, Saturday, June 17, Friday, June 23, Thursday, June 29, Friday, July 7, Wednesday, July 12 (Atlantic League All-Star Game), Saturday, July 22, Thursday, July 27, Saturday, August 5, Wednesday, August 9, Thursday, August 17, Friday, August 25, Thursday, August 31, Saturday, September 9 and Thursday, September 14, 2017
Sussex County Minors

Skylands Stadium
94 Championship Place
Augusta, NJ
(973) 383-7644
Website
Post-game Fireworks Nights at the Ball park
May 19, 27, 29, June 10, 17, July 1, 4, 8, 29, August 19, and September 2, 2017
June 2017 North Jersey Fireworks Events
Tri-County Fair
June 15-18, 2017
Christ Church
140 Green Pond Road
Rockaway, NJ
Exit 37 off of RT-80
Website
- Discount tickets are availble when you purchase advance sale ride vouchers online at a 33% off discount!
This family event event features carnival attractions, rides, games, music, and more.Come out and enjoy spectacular rides such as Delusion or the Zipper, classics rides like the Ferris Wheel, kiddie rides, games of chance, gourmet waffles, handmade zeppoles, fried Oreo's, po'boy sandwiches, delicious homemade lemonade and much more! The Tri-County Fair will also feature free family entertainment such as; family friendly music, a spectacular fireworks show on Friday @ 9:30pm, a complimentary musical showcase where local bands will display their talents and entertain fair-goers an old time car show complete with 50's music and all new for 2016 a BMX Super Stunt Show and much more!
State Fair Meadowlands
Thursday, June 22 until Sunday, July 9. 2017
102 NJ State Highway 120
East Rutherford NJ
Next to MetLife Stadium

Website
(Check Schedule)
This very popular family event features quality rides, plenty of free entertainment, games and prizes, and a variety foods. There are a variety of activities to interest all ages.
All Tickets Include Free Live shows and concerts. Free Live concerts.
Fireworks shows take place on the evenings of Monday, July 3 & Tuesday, July 4th.
Essex County Free Summer Music Concert & Fireworks
June 30, 2017; 7:30pm - 10pm
Weequahic Park
Elizabeth Ave. & Meeker Ave
Newark, NJ
Website
973-268-3500
The event will feature a free concert followed by the fireworks display @ dusk. Bring a blanket, enjoy the cool evening breeze, and the sounds of summer.
Note: In case of rain, the concert will be held in the Cathedral Basilica of Newark and the fireworks display will be rescheduled
July 2017 North Jersey Fireworks Events

Brookdale Park Free Summer Music & Fireworks

July 3, 2017; 7:30pm - 10pm
Brookdale Park
Watchung and Bellevue Avenues
Bloomfield, NJ
973-268-3500
Website
The event will feature a free concert wita a diverse lineup of performers who will take center stage throughout our historic Parks System. Pack a blanket, enjoy the cool evening breeze, and dance to the sounds of summer.A fireworks celebration will follow the concert at 9:15pm.
Califon Fire Company 97th annual Carnival
July 3rd- July 8th, 2017
39 Academy Street (Behind the Municipal Bldg)
Califon, NJ
Website
The family event features rides, games, and food.
Fireworks July 5th & 7th
One price ride all night July 3rd & 6th
Mount Olive Carnival
July 12 - 16, 2017; (Rain Date: July 16th)
Turkey Brook Park
Flanders, New Jersey
Website
Thus very popular carnival draws over 20,000 visitors. Find a spot on the Great lawn while viewing an awesome aerial display of
Fireworks on Saturday, July 8t
h @ Dusk
The Feast of Mt Carmel - Berkeley Heights

July 12-15, 2017; with
Family night fireworks show on July 14th & the Fireworks Extravaganza on July 15th
Mt. Carmel Field
Springfield Avenue & 56 River Road
Berkeley Heights, New Jersey
Website
908- 419-2255
Tickets and wristbands for rides will be available for purchase onsite only!
On-line ticket purchase
Four days packed full of delicious food, wine and brew, non-stop entertainment, great crowds, amusements, games, and fun for the whole family. For adults, a beer and wine garden will be available.
Over 100 years ago, founders from Berkeley Heights created the Mt. Carmel Society. A society of men carrying on the traditions of their forefathers brought over from Italy.
Fairgrounds open at 6 pm. All parking is off site
August 2017 North Jersey Fireworks Events
Assumption Festival

August 12, 2017: 6:00 PM - 11:30 PM
Arbolino Park
Allen St
Netcong, New Jersey 07857
Contact Name: Joe Amendola
Phone: 917-612-4808, Email: brojoeis@gmail.com
Event Cost: $4 Children under 12 FREE
This family festival features a night filled of fun with food, drinks, live music, fireworks, kids activities, a 50/50 and more.
While you're enjoying all the fabulous food, beverages, playing games, and socializing, you will be enjoying the music of "Tropical Storm" playing classic & alternative rock with a mix of R&B.
A highlight of the evening is the awesome fireworks display at dusk.
Group discounts available for summer camps, schools or other organizations.
The Assumption Society is a non-profit organization. Proceeds from this event will help support many local community programs.


Canal Day Festival
August 19, 2017 (Rain or Shine)
Hugh Force Canal Park
170 West Central Ave.
Wharton, NJ

Website
An old time country fair that celebrates the Morris Canal and its contributions to the development of the communities along its banks. Come to a day of free family fun featuring a craft show, great food, educational events and enjoy a day of listening to a wide variety of musical entertainers. Musical performances from New Jersey's best artists will feature Rock, Blues, Country, Classical as well as traditional and contemporary Irish Folk Music. performing on two stages.
Fireworks festivities & display at Robert Street Park beginning at 7:00 PM. Admission is Free

More  2017 New Jersey Fireworks Events

---