Hunterdon County, New Jersey - A Visitors Guide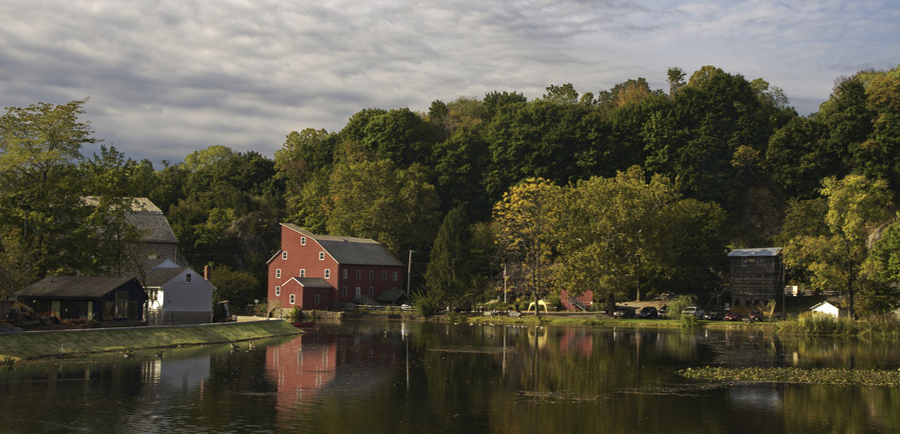 Hunterdon County with it's bucholic scenic country side, rural farms, historic sites, charming villages, wineries, and recreational activities, is a tourist's delight.

Located in central, western new jersey, an hour drive from both New York City and Philadelphia, it is a popular destination for visitors living in the tri-state area who are looking a short vacation, weekend getaway, or day trip, that has a wide variety of year round attractions, things to do, charming B&B's, and overnight accomodations, to keep a visitor entertained, or relaxed.
The most visited destinations and overnight home bases in Hunterdon county include .the towns of Clinton, Frenchtown, Lambertville, Sergeantsville, and Stockton. All are small charming towns with surrounding rural scenic beauty that easily be seen in a weekend.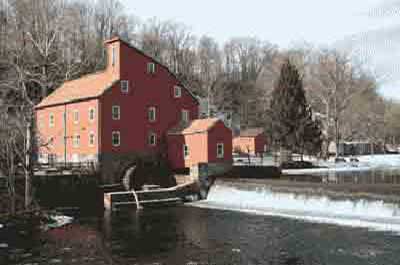 Clinton, NJ
Clinton is nestled in the hills, is a classic American small town that has attracted photographers, movie makers, and visitors here for its scenic and historic beauty. It's a charming historic village with shops and cherry tree lined streets, a river with a 200 foot wide waterfall winding through it, and lined with old grist mills. It's certainly a popular favorite as one of the best weekend getaways in NJ.
Popular attractions include the Hunterdon Art Museum, and the Red Mill Museum Village.
For the more active traveler, the Clinton area has some good hiking at the Lockwood Gorge Wildlife Management Area, and the The Landsdown Trail.
Learn more

---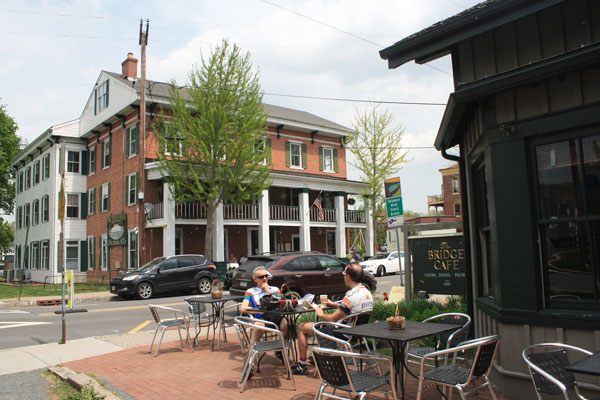 Frenchtown, NJ
Frenchtown is an undiscovered secret that is attracting visitors with its many three story multi-colored Victorian homes, art galleries, antique shops, clothing boutiques, and restaurants, all surrounded by rural scenic rolling hills, a river and historic sites, is another great selection as one of the best weekend getaways.

If you chose to make Frenchtown your overnight base for exploring Hunterdon County, rent a bike at Freeman's bike shop and ride south along the D & R Canal towpath, stopping in at Stockton, then continue on to Lambertville. Return to Frenchtown by way of Route 29. Check out Alexandria Balloon Flights - 908-479-4878. View Frenchtown's romantic sunsets from a hot air balloon. See fantastic views of the river, the riverbanks, and the rolling hills. If its summer, rent an inner tube at Delaware Tubing, 908-996-5386, for a leisurely float along the Delaware River. Check out the Sand Castle Winery for tasting and tours

Where to Stay in Frenchtown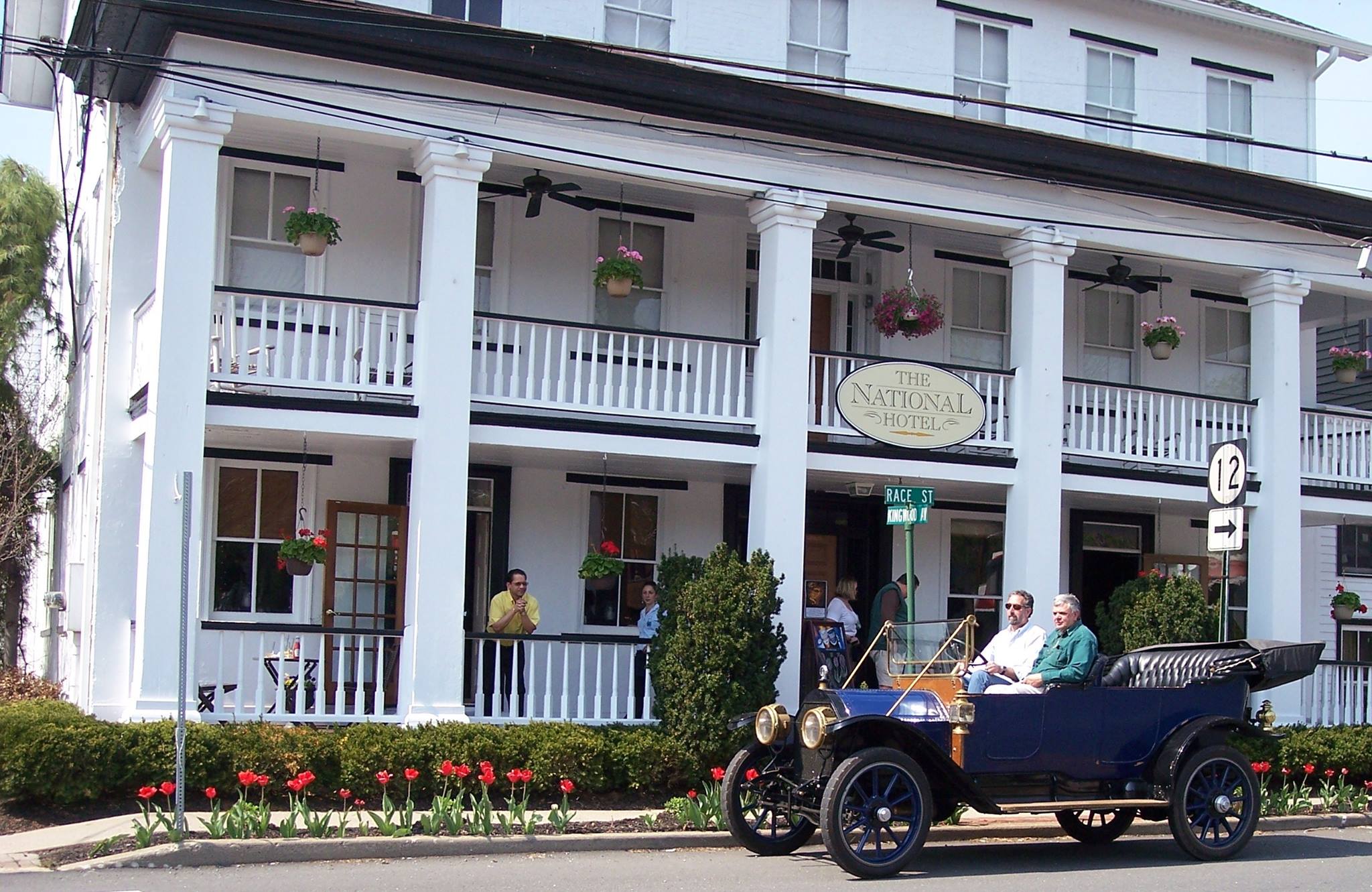 The National Hotel
A boutique hotel with guest rooms featuring a whirlpool tub,With dark wood beams, and beds draped in mosquito netting.
Reviews/Booking
---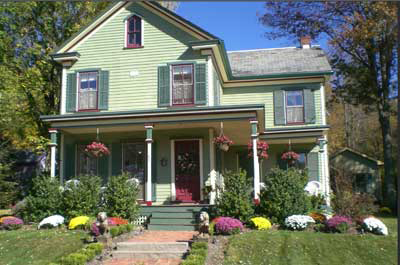 The Widow McCrea House
This charming 1878 Victorian B & B located a few minutes walk from the Delaware River and the shops and restaurants in the village of Frenchtown. A great place for a romantic getaway with working fireplaces and Jacuzzis.
Reviews/Booking
---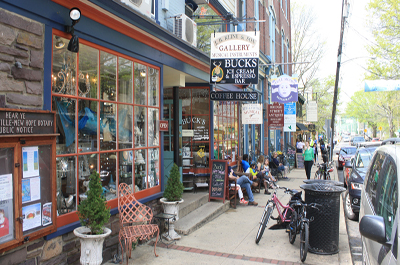 Lambertville, NJ
Lambertville is Hunterdon County's only city and is popular with visitors attracted to its quaint town with tree lined streets, Victorian homes, antique shops, clothing boutiques, art galleries, and
restaurants.
Its five block downtown area along the Delaware River attracts window shoppers and browsers.
If you chose to make Lambertville your overnight base for exploring Hunterdon County, and you have your own bike, or enjoy hiking, head North to Frenchtown on Route 29, and return south along the D & R Canal towpath, stopping in at Stockton.
Learn more
---
Sergeantsville, NJ
Sergeantsville is a small village located near Stockton & 5 miles north of Lambertville. The area resembles Pennsylvania's Amish Country with its rolling hills, open farmland, and the State's last pre-20th century covered bridge, and an old fashioned general store.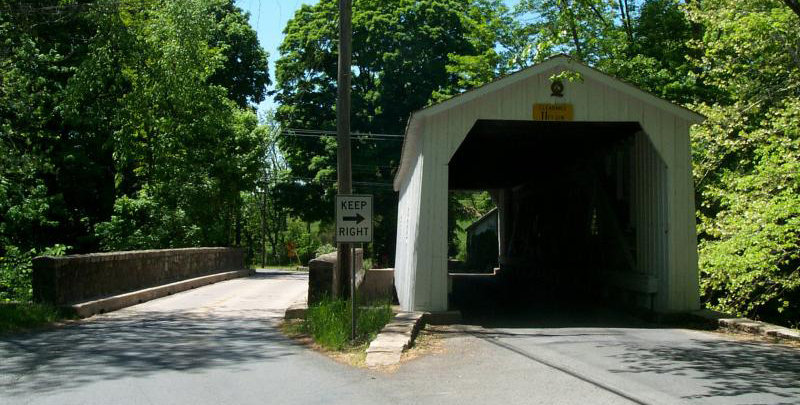 Things to Do in Sergeantsville
Drive through the
Green Seargeant's covered bridge
, (located on Rosemont Ringoes Road), the last covered bridge in the state of New Jersey, it is listed on the National Register of Historic Places in New Jersey. Although the masonry was built in 1750, the Green Sergeants Bridge was built in 1872
Learn more
---
Stockton, NJ
located along the Delaware River north of Lambertville, is a small village that has recaptured he charm that it had in the eighteenth century. It is home to the former Stockton Inn, established in 1710, and was immortalized by Richard Rodgers in the song "There's a small hotel with a wishing well", sung in the Broadway play "On Your Toes". The inn was first built as a private residence and it is believed to have been converted in 1832.
Stockton is also the home of the oldest three room school house in New Jersey. Established in 1872, it is still in operation today. Stockton School is well known for its small classes that give individual attention to each student and is compared frequently with local private schools.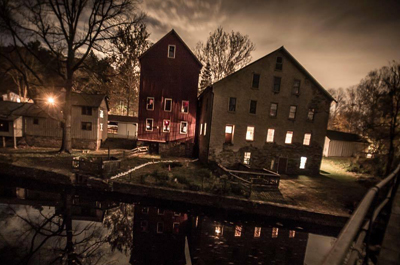 Prallsville Mills, Stockton
-
On the National Register of Historic Places and is located in the D & R Canal State Park. This stone grist mill was an important commercial center during the 19th century and continued in operation until the 1950's. Today the Mill is a resource for a wide variety of cultural, arts and community activities while also providing docent tours of the Mill Complex and the recently preserved miller's house, the John Prall Jr. House
Website
Where to Stay in Stockton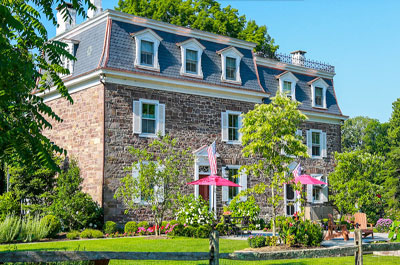 Woolverton Inn
A small romantic B & B with hot tubs and in room fireplaces.
Reviews/Booking