The Best New Jersey State Parks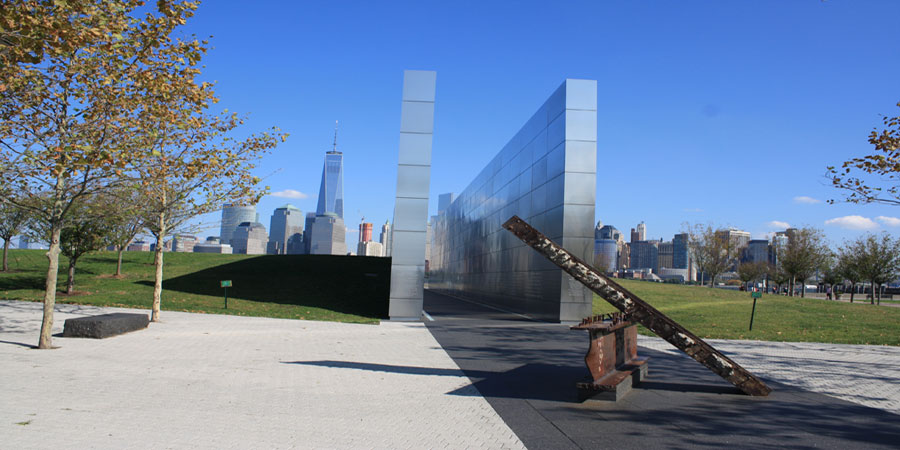 The "Empty Sky" 9/11 Memorial - Liberty State Park

A visit to New Jersey State Parks is a journey that encompasses hundreds of thousands of acres of forests, recreation areas, education centers, and historic sites that offer visitors a vast variety of outdoor activities.

New Jersey parks offer many diverse public settings to experience the the outdoors with it's a variety of landscapes including; hiking trails, lakes, mountain climbing, biking, wildlife and camping facilities, and a variety of other less adventuresome experiences that include museums, historic sites, and educational journeys.

The State parks listed are operated by the New Jersey Division of Parks and Forestry
The Best  Northern New Jersey State Parks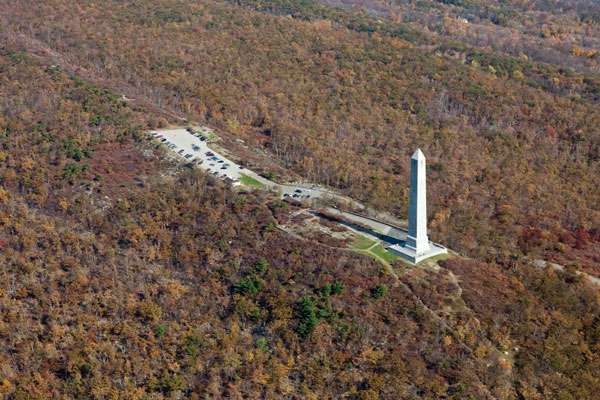 High Point State Park
GPS Coordinates 41° 18' 23.04" N 74° 40' 14.78 " W
Sussex, NJ
(973) 875-4800
Website
High Point State Park was dedicated in 1923 as the first State Park in New Jersey. With 14,218 acres of woodland on Kittatinny Mountain, it includes the state's first Natural Area, the Dryden Kuser Natural Area, the highest elevation cedar swamp of its kind in the world.
The view from High Point Monument, at 1,803 feet above sea level, is a spectacular panorama of rich farmland and forest, soft hills and lush valleys in three states. The blue line of the Delaware River divides the verdant ridges of New Jersey from those of Pennsylvania. High Point offers superb trails for hikers and skiers and quiet spots for campers and anglers.
Jenny Jump State Forest
Hope, NJ
(908) 459-4366
Website
Panoramic vistas of the Highlands and the Kitting Mountains and Valley to the west, and scenic views of the Great Meadows in the east dramatically greet the visitor who climbs the narrow path leading to the top of Jenny Jump Mountain.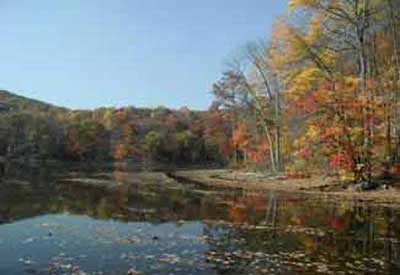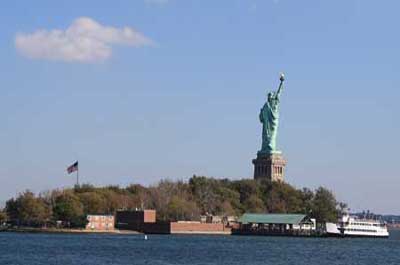 Liberty State Park
200 Morris Pesin Drive,
Jersey City, NJ
(201) 915-3403 or 3404
This is the crown jewel of urban northeast New Jersey's parks. With a huge variety of outdoor activities and world class scenic views of the Manhattan skyline, the Statue of Liberty, and Ellis Island, Liberty State Park is one of the state's most treasured recreational parks.
In addition to awesome scenic views, there are a lot of things to see and do including: Ferry Service to the Statue of Liberty and Ells Island. The "Empty Sky" 9/11 Memorial, The Liberty Science Center, hiking, biking, picnicking, and more.
Learn more
Ringwood State Park
GPS Coordinates 41° 08' 10.52" N 74° 15' 21.99" W
Ringwood, NJ
(973) 962-7031
Website
In view of the Ramapo Mountains, the state park features New Jersey State Botanical Garden, the mid-19 century, Ringwood Manor was owned by Abram S. Hewitt, America's foremost iron master, and the spring-fed 74-acre Shepherd Lake recreation area.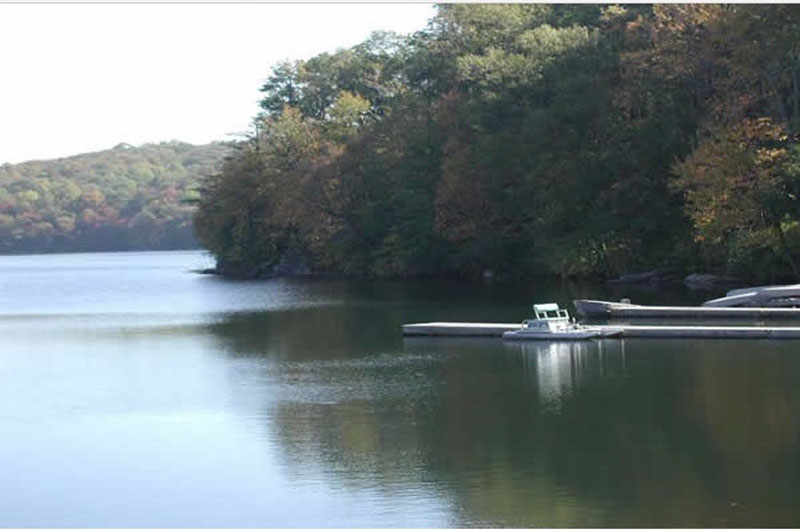 The Best Central New Jersey State Parks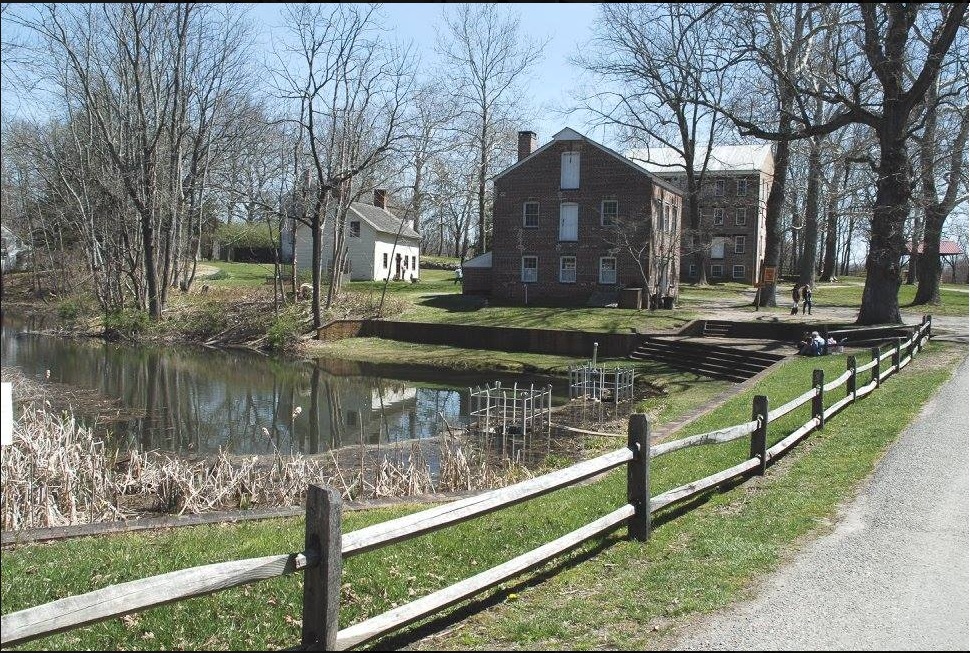 Allaire State Park
GPS Coordinates 40° 09' 43.60" N 74° 07' 53.62" W
Farmingdale, NJ 07727
(732) 938-2371
Website
An historic 19th-century iron making town, Allaire Village, and its antique steam trains on the Pine Creek Railroad. The Manasquan River, which winds through the park, attracts canoeists and fishermen. The river's floodplain provides habitat for over 200 species of wildflowers, trees and plants as well as habitat for birds and other wildlife. Hikers, mountain bikers and horseback riders enjoy the many trails in the park.
Cheesequake State Park

300 Gordon Road
Matawan, NJ 07747
(732) 566-2161
GPS Coordinates 40 ° 26' 5.118" N 74° 15' 49.2372" W
Website
This park is uninique in that it lies in a transitional zone between two different ecosystems. Open fields, saltwater and freshwater marshes, a white cedar swamp, Pine Barrens, and a northeastern hardwood forest are the main characteristics of the park.
Recreational activities include swimming in Hooks Creek Lake, canoeing, kayaking, fishing, picknicking, hiking, and camping.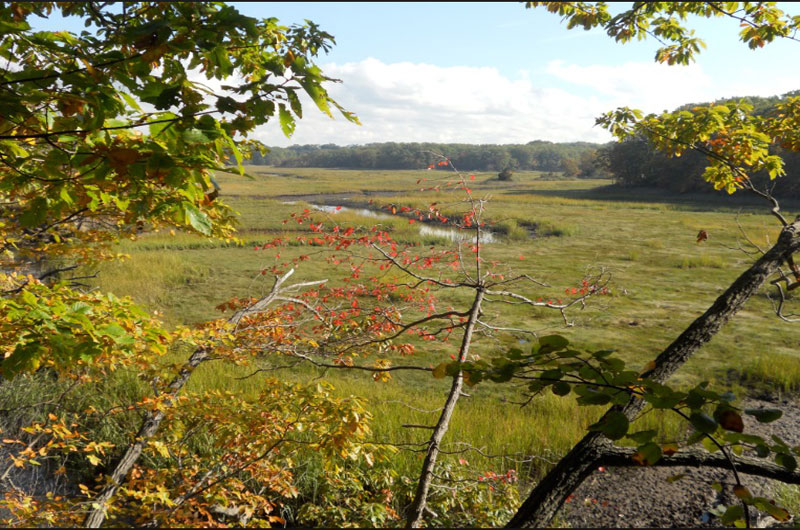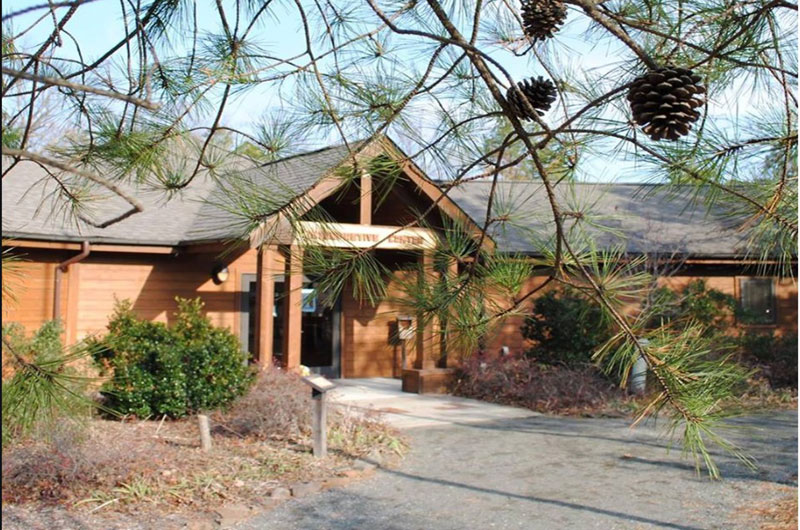 Forest Resource Education Center 

495 Don Connor Boulevard
Jackson, NJ 08527
Website
This facility consists of eight miles of trails with learning stations with informational kiosks on environmental topics. Some kiosks have "talking trees." At these kiosks, the visitor can push a button and hear more about the featured topic. The visitor, with the trail booklet as a guide, can stop at stations along the trail to look at features and identify plants. trees. Bikes and horses are only permitted on sand roads and trails.
Island Beach State Park
GPS Coordinates
39° 54' 18.98" N 74° 04' 53.15" W
Seaside Park, NJ 08752
(732) 793-0506
Website
This park is located on a narrow barrier island stretching for 10 miles between the Atlantic Ocean and Barnegat Bay. Island Beach is one of New Jersey's last significant remnants of a barrier island ecosystem that once existed along much of the coast and is also one of the few remaining undeveloped barrier beaches on the north Atlantic coast. Over 3,000 acres and 10 miles of coastal dunes remain almost untouched since Henry Hudson first described New Jersey's coast from the ship, the Half Moon, in 1609.
Recreational activities include biking, hiking, fishing, swimming, sunbathing, picknicking, and horseback riding.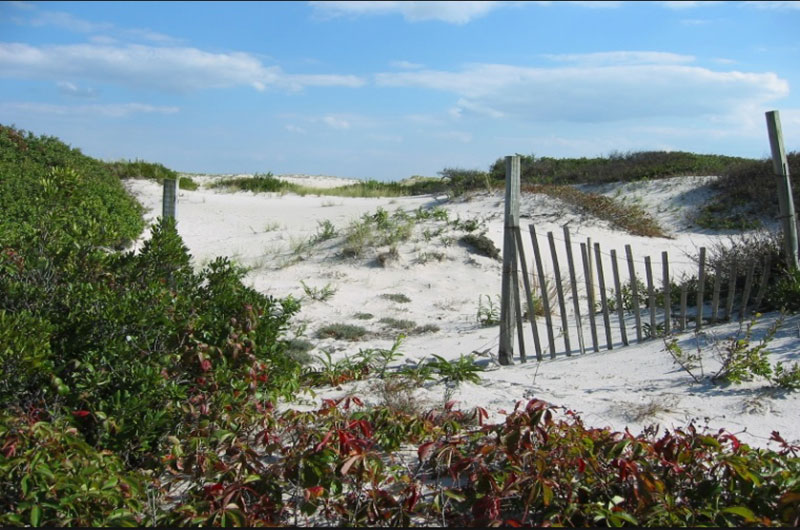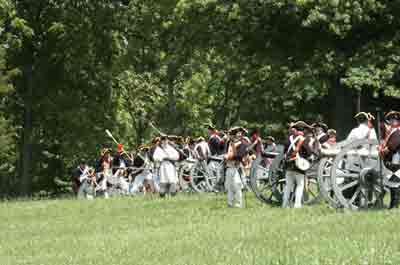 Monmouth Battlefied State Park
16 Business Route 33
Manalapan, NJ 07726
Website
The site of one of the largest battles of the American Revolution took place here.  A reenactment of the June 1778 battle is held every year with authentically dressed troops camped out in the park and situated in the fields for fighting. The park preserves a splendid rural 18th-century landscape of hilly farmland and hedgerows that encompasses miles of hiking and horseback riding trails, picnic areas, a restored Revolutionary War farmhouse and a visitors center.
Washington Crossing State Park
355 Washington Crossing-Pennington Road
GPS Coordinates 40° 18' 17.76" N 74° 51' 24.82" W
Titusville, NJ 08560-1517
(609) 737-0623
Website
This location provided the setting for one of the pivotal events of the American Revolution. The Continental Army had little to celebrate that Christmas and seemed beat by hunger and cold. After crossing the rough winter river at night, General George Washington and the Continental Army landed at Johnson's Ferry, at the site now known as Washington Crossing State Park.
Originally preserved for its historical significance, the park is also well known for its trails and wildlife habitat. The park also is popular for picnicking, camping, hiking, and in the winter, for cross-country skiing on existing hiking trails. There are also a number of buildings to tour including Washington Crossing Open Air Theatre, Washington Crossing Visitor Center Museum, Swan Historical Foundation Collection, Johnson Ferry House, Nature Center. and the Observatory.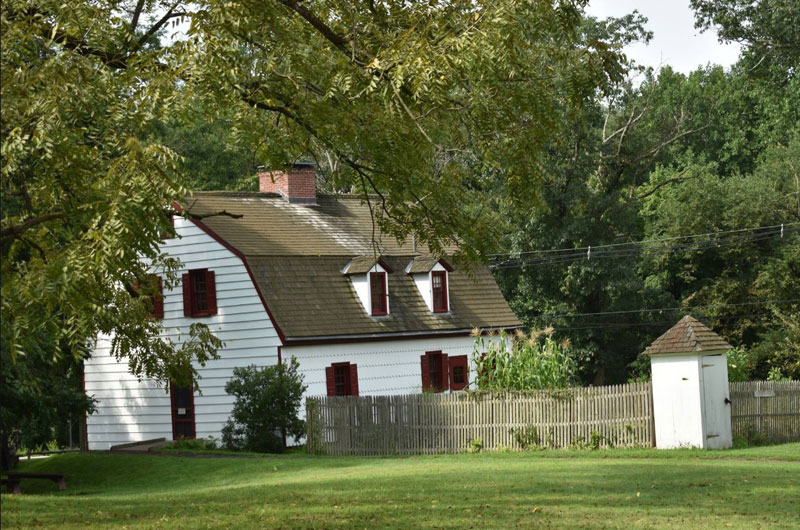 The Best Southern New Jersey State Parks
Barnegat Lighthouse State Park
208 Broadway Barnegat Light, NJ 08006
(at the northern most end of Long Beacjh Island)
(609) 494-2016
Website
The 31.8-acre park is also popular for nature observation, including a wide variety of birds during spring and fall migrations. Nesting birds are protected, and birds such as piping plovers, least terns, black skimmers, and others can be observed and photographed.
A short self-guided loop trail provides an opportunity to explore one of the last remaining maritime forests on Long Beach Island. Visitors can also enjoy their picnicking facilities. Near the the Barnegat Bay there there is a paved area with numerous picnic tables and barbeque grilles. Two picnic shelters are also available for public use..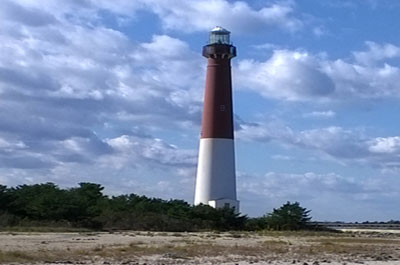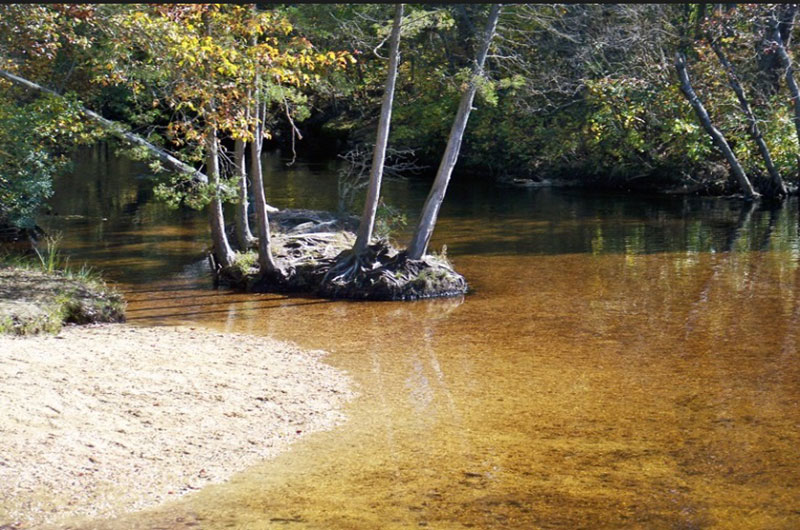 Double Trouble State Park
581 Pinewald Keswick Road
GPS Coordinates 39° 53' 52.36" N 74° 13' 16.65" W
Bayville, NJ 08721
Website
This state park is located on the eastern edge of the Pine Barrens ecosystem. The park provides the protection and interpretation of over 8000 acres of significant natural, cultural, and recreational resources representative of the Pinelands National Reserve. Its location and resource base afford an opportunity to introduce visitors to southern New Jersey's natural and cultural heritage. Both the natural environment, consisting of a high quality Pine Barrens watershed, and an extremely well preserved historic village associated with New Jersey cranberry agriculture and Atlantic White Cedar logging and milling industries are available to visitors at Double Trouble State Park.
Attractions and activities include the Historic Village Interpretive Center Museum , hiking trails, fishing, hunting, canoeing/kayaking, biking, horseback riding , and an active cranberry farm,
Fort Mott State Park
454 Fort Mott Rd
Pennsville, NJ
856) 935-3218
 Fort Mott is located at Finns Point in Salem County on the bank of the Delaware River. It is listed as a historic site on the New Jersey Coastal Heritage Trail. In the 1800's, Fort Mott was established as a part of a coastal defense system designed for the Delaware River. In addition to getting to see this historic attract, visitors can stroll the nature trail, enjoy picnicking, visit Finn's Point National Cemetery, Finn's Point Rear Range Light, and more.
Learn more