New Jersey Ski Areas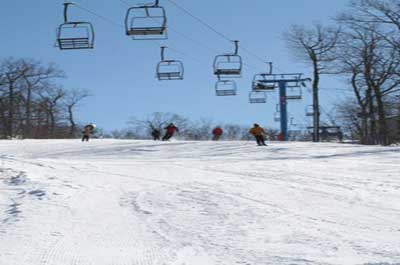 NJ ski areas:
Downhill skiing, cross-country skiing, snowboarding,
and snow tubing.
Visiting one of the New Jersey ski areas is a great way for a family to get outdoors and enjoy a healthy, exciting, and scenic adventure.
NJ ski areas offer a variety of winter sports activities including, downhill skiing, cross country skiing, snow boarding, and snow tubing. These areas are primarily geared to families with kids and beginning to intermediate skiers.
Night skiing is very popular for those busy families who are looking to get in a few trips downhill before the day ends.
Most resorts recommend waiting until your child is at least four years old. Children younger than four years old are typically not physically or emotionally ready for the demands of skiing and boarding.
Haven't gone skiing before? All of the NJ ski areas offer rental equipment and lessons geared to beginning kids and families.
Most of the NJ ski areas and have excellent snow making equipment, and as long as the temperature stays cold, skiing can be enjoyed from December 1st to March 31st.
New Jersey Ski Areas - Places to go Skiing, Snowboarding, and Snow tubing
Campgaw Mountain
A small mountain ideally suited for families with kids and beginners with an interest in skiing, tubing and snow boarding. The prices are reasonable with activities for kids of all ages. More advanced skiers will not find it challenging. Learn more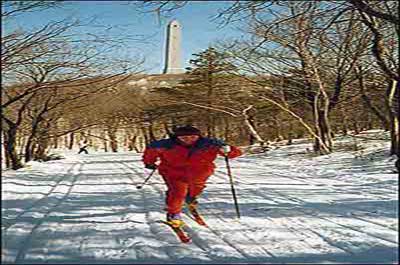 High Point XC Ski Center
High Point with the highest snowfall in New Jersey, offers cross country skiing and snow shoeing. This is a great area for beginners and intermediates, and for experienced cross country skiers who enjoy a scenic setting. High Point is an ideal place for newcomers to the sport who want to learn from experienced instructors and to get to experience the joy of cross-country skiing and snowshoeing, High Point is the most equipped, and best groomed cross-country ski and snowshoe area in NJ, and one of the few with equipment rentals.
Learn more
Mountain Creek Ski Resort
The largest ski resort in New Jersey and offers downhill skiing, snow boarding and snow tubing. This is a full ski resort complex with lodging, dining and nightly entertainment. This is a snow boarders paradise drawing a crowd from the NYC/NJ region. The Chevy U.S. Snow board Grand Prix was held at Mountain Creek in both 2004 and 2005, and featured their Super pipe. For the less skilled, they offer snow tubing on more than 30 lanes. it's like sledding only easier and more fun. Learn more
---
---
Comments
Have a comment about what you just read! Leave a comment in the box below.
---