High Point Ski Area: A Visitors Guide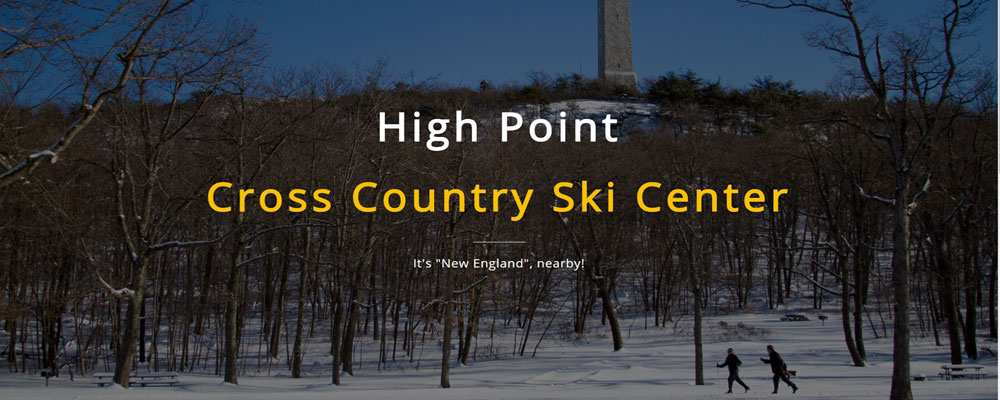 High Point XC Ski Center
1480, Rt. 23
Sussex, NJ 07461
973-702-1222
Website
Hours of Operation:
Monday - Friday 9:00am-4:00pm
Saturday - Sunday & Holidays 8:00am-4:00pm
Park is open 8:00am-4:30pm, daily

The ski season runs from December 1st to end of March, depending on weather and snow conditions. Call ahead for snow conditions and operation.

This is a great area for beginners and intermediates, and for experienced cross country skiers who enjoy a scenic setting. High Point is an ideal place for newcomers to the sport who want to learn from experienced instructors and to get to experience the joy of cross-country skiing,

High Point is the most equipped, and best groomed cross-country ski and snowshoe area in NJ, and one of the few with equipment rentals.

For those without equipment, they have cross country ski and snowshoe half day and full day rentals, priced at a reasonable rate. They also offer group and private lesson for children five years and older, adults, and seniors.

The trails are groomed with a Prinoth T2 groomer, the same machine used in the '94 Lillehammer Winter Olympics and a Skidoo Scandic wide track snowmobile pulling a roller or track setter.

Their snow making equipment covers three loops. At over 1600 feet in elevation, High Point gets the most natural snow of all the areas in Northern NJ and the NYC Metropolitan area.

If they receive a large snowfall it generally takes a day or two to get the grooming done. Check their web site for current trail conditions --- it's updated every day.

For skiers and snow shoer's who want to venture out and take in the the scenic views of High Point Park, take the Monument Trail on snowshoes or the Scenic View Trail (for more experienced skiers) to get an awesome view of all three states, NJ, PA, and NY,

At the end of a day of skiing, relax by the warm fireplace with a cup of hot chocolate from the cafeteria.

 Lift Ticket Rates
:Skiing Weekdays:
All Day $16.00 Adult, $14.00 Child* / Senior*
Half Day (1pm - 4pm) $13.00 Adult $11.00 Child* / Senior*
Season Pass: $130.00 Adult, $110.00 Child* / Senior*

Skiing Weekends:
All Day: $19.00 Adult, $17.00 Child* / Senior*
Half Day (1pm - 4pm) $16.00 Adult $14.00 Child* / Senior*
Season Pass : $160.00 Adult, $140.00 Child* / Senior*

Snowshoeing Weekdays:
All Day $11.00 Adult, $10.00 Child* / Senior*
Half Day (1pm - 4pm) $9.00 Adult, $8.00 Child* / Senior*
Season Pass: $90.00 Adult, $80.0, Child* / Senior*

Snowshoeing Weekends:
All Day $13.00 Adult $12.00 Child* / Senior*
Half Day (1pm - 4pm) $11.00 Adult, $10.00 Child* / Senior*
Season Pass: $110.00 Adult, $100.00 Child* / Senior*

*Child: 5 to12 yrs old, *Senior: 62 yrs and older

---
---