The Best Snow Sledding Hills In New Jersey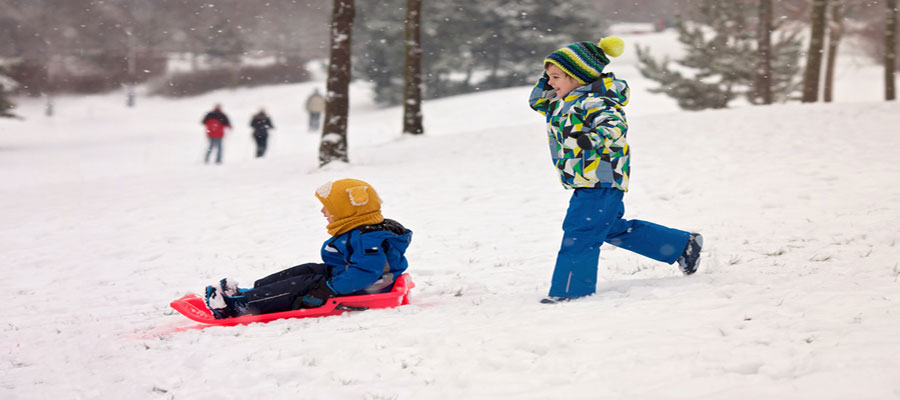 Winter in New Jersey is a great time of the year for snow sledding and for kids to enjoy the snow.
Sledding is fun, healthy, a great kids exercise, and it's also inexpensive to do.

New jersey has a large variety of gentle rolling hills that make it ideal for families with young kids looking for snow sledding. They feature sledding areas with facility amenities such as parking, rest rooms, and other features can be found at state and county parks, and golf courses.
Popular Sleds or Sledding Devices for Kids

Saucers:
They are very inexpensive, lightweight, and easy to use. They they offer little or no steering control, though because they are lightweight, are easy to carry uphill.

Toboggans:
They come in a variety of types and different costs, from the basic toboggan to the more expensive models with steering wheels. They are sleds without runners, and come in either wood or plastic models.

Classic Sleds:
These the traditional sleds like the Flexible Flyer with runners and front end steering.

Inflatable Snow Sleds and Tubes:
With a protective blanket of air, they offer a more comfortable and smoother ride. The drawback is that control of steering and speed is more difficult and can be more prone to injuries.

Tips For Safe Sledding
In recent years, some NJ Parks have shut down their sledding slopes as a result of serious injuries and lawsuits. Some of these parks have had injuries caused by teens looking to have a "scary" downhill experience. To ensure your child has a safe and fun sledding experience, follow these recommendations:

Purchase a sled with some steering control.

Have your child wear protective clothing including a bicycle helmet and protective pads, and gloves. Though helmets are not required in New Jersey for sledding, it's a good safe practice for children to wear helmets.

Closely supervise children. Be alert to other sledders. Proceed down the hill when there are no faster, more aggressive sledders right behind your child. Unsupervised children and teens are more likely to try dangerous stunts that can cause injury to themselves and others.

Where available, sledding hills have been provided with telephone numbers. It is suggested that you call ahead to verify snow conditions, facilities, access permission, and other important information.

Note: New Jersey Leisure is not responsible for trespassing and/or injury from locations listed below. Please check out with the facility for restrictions or limitations before entering, and proceed at your own risk.
Northern NJ Snow Sledding Hills
Allamuchy Mountain State Park
800 Willow Grove Street
Hackettstown, NJ
(908) 852-3790
Website
A 7,000 acre designated natural area, they are open daily from sunrise to sunset.Popular winter sports include ice skating, ice fishing, ice boating, sledding, and cross-country skiing.
Atkins Glen Park
(The Sand Pit)
Freemount Avenue (Entrance from Wortendyke Road to Glendale Road)
Park Ridge, NJ
201-573-1800
Facebook page
Campgaw Mountain
200 Campgaw Rd.
Mahwah NJ
201-327-7800
Website

Campgaw Mountain is a small mountain ideally suited for families with kids and beginners with an interest in skiing, snow tubing and snow boarding.
Snow Tubing Hours & Rates
No experience or special equipment is needed. Just hop in your tube and enjoy the ride.
Tubes are provided and a surface lift is available for you to ride up the hill.
Chubb Park
Route 24
Chester, NJ
(908) 879-5100
Website
This 85 acre facility is the Township's busiest park. It is located on Route 24, 1/2 mile West of Route 206 and has winter sledding hill
Citizens Park
N. Monroe Ave
Ridgewood, NJ
(201) 592-8118
Website
The slopes have two levels that can be fun for both beginning children and the more adventurous older kids.  Gentle two-tiered hill makes for a nice long ride.  The closest parking is limited, best parking is at the school across the street on N. Monroe.
Duke Island Park
Old York Road
Bridgewater, NJ
908-722-7779
Website
A gentle slope that runs from near Old York Road down into the park.
Echo Lake Park
Summer Arts Hill
1165 Globe Avenue
Mountainside/Westfield, NJ
908-527-4000
Website
Parking is available close by. From the road, walk up the hill, sledding is safe and slopes gently away from the road.
Flood's Hill
North Ridgewood Road, near Mead Street/Highland Road
Parking along South Ridgewood Road.
South Orange, NJ
973-378-7754
Website
Located adjacent to Meadowland Park and The Baird Community Center, it's one of the most popular sledding areas in NJ.
Can be a bit scary for small kids, especially when icy. The hill can very crowded. Less crowded around lunch time or early evening.
Hoffman Park
26 Baptist Cuurch Road
Hampton
Union Township
908-782-1158
Website
Open from 9 a.m. to sundown, pending clearing of roadways
Hopatcong State Park
Lakeside Boulevard
Landing, NJ
973-398-7010
Website
The hill is a popular sledding site for all ages! The middle of the slope is the steepest part but its sides offers a gentler ride for younger sledders.
Lewis Morris County Park
270 Mendham Road
Morristown, NJ
973-267-4351
Website
As the weather turns cold and snowy, enjoy the park with sledding, snowshoeing, and cross-country skiing.
Ringwood State Park
1304 Sloatsburg Road
Ringwood, NJ
(973) 962-7031
Website
The Ringwood Manor area is a popular sledding destination for children and adults alike. Two hills, one just west of Ringwood Manor and one near Parking Lot B, offer hours of fun.
Round Valley Recreation Area
1220 Lebanon-Stanton Road
Lebanon, NJ 08833-3115
GPS Coordinates DMS 40° 37' 21.93" N 74° 51' 18.13" W
908-236-6355
Website
There is a sledding hill located near the park office.
Samuel Nelkin County Park

Rose Street,
Wallington, NJ
(973) 778-6184
Website
Winter activities include sledding and ice skating
Schooley's Mountain Park
91 East Springtown Road
Washington Township
(973) 326-7600
Website
Winter activities include snowshoeing, cross-country skiing, and sledding.
South Mountain Reservation
Brookside Dr.
West Orange/Millburn, NJ
973-857-8530
Website
This is a big park with a lot of hills to sled. The hill along Brookside Drive is very popular. Parking is available on Brookside Drive.
Suicide Hill
Ridgefield Park High School:
1 Ozzie Nelson Drive
Ridgefield Park
Long, wide with a few small moles,. Just be careful to avoid the trees that are on the hill.

Sussex County Community College
One College Hill Road
Newton, NJ
Website

Tourne County Park
1 Old Denville Road
Boonton, NJ
(973)326-7631
Website
Winter activities include snowshoeing, cross-country skiing and sledding. A portion of the park road may be closed on snowy days and designates it an official sledding hill.

Van Saun County Park
216 Forest Avenue
River Edge, NJ
201-261-7312
Website
Winter activities are limited to snow sledding.

Vorhees State Park
251 County Road
Glenn Gardner, NJ
(908) 638-8572
Website
Winter activities include snow sledding and cross-country skiing





Central NJ Snow Sledding Hills
Aldrich Elementary School

615 Aldrich Rd
Howell, NJ 07731
Website
One of the best sledding hills in Howell
,
The hill is located by the elementary school in and is a perfect spot for the kidds to go sledding.

Belle Mountain

Valley Rd. of Rt. 29 south of Lambertville
Lambertville, NJ
Website
Located next to the Howell Living History Farm, the slopes are on Mercer County park land. This hill used to operate as a small ski resort
Cemetery Hill
108 Monmouth Rd
Behind Aldi on Rt. 36
West Long Branch, NJ
Facebook page
Located near Glenwood Cemetery. Park in the Aldi lot and climb up the hill right in back of the store.
Cheesequake State Park
300 Gordon Road
Matawan, NJ
732-566-2161
Website
Sledding is permitted on the hill adjacent to the Hooks Creek Lake parking area.
Donaldson Park
Second Avenue
Highland Park
Website
The sledding hill is at the end of South 2nd Avenue.
Holmdel Park
44 Longstreet Road
Holmdel, NJ
732-946-9562
Website
One of the best places for kids snow sledding in Monmouth County and the Jersey Shore. The park is open for sledding when there is two or more inches of snow on the ground. Park hours are from 8am-7pm, Sunday through Thursday, and from 8am-9pm Friday and Saturday.
Monmouth Battlefield State Park
16 Business Route 33
Manalapan, NJ
732-462-9616
Website
Open daily from 8 am to 4:30 pm. Bath rooms are inside the visitor center
Oak Glen Park
275 Old Tavern Rd.
Howell, NJ 07731
Website
The hil for sledding is between the library and the police station
.
Thompson Park
Forsgate Drive
Jamesburg
Monroe Township
(732) 745-3995
Website
Has a very long run down a gentle slope.  The sled hill is on the former ski hill near the Grove 4 picnic area.
Southern NJ Snow Sledding Hills

Chestnut Branch Park
Main St. & Center St.
Mantua Township, NJ
856-415-9999
Website
Rest rooms are located in the building near the pavilion.
Fort Mott State Park
454 Fort Mott Road
Pennsville, NJ
856-935-3218
Website
Sledding is permitted in designated areas of the park throughout the winter months.
Holy Angels Elementary School
211 Cooper Street
Woodbury, NJ
Website
Not crowded with plenty of parking available.
Bunker Hill Road
GPS: N 39° 52.860 W 074° 59.302 18S E 500994 N 4414549
Woodcrest
Cherry Hill, NJ
Parking is available in front of the entrance.
A gentle hill, great for kids under 13 years of age. The sledding area is in a basin and can be accessed anywhere around the "bowl".

Waltham Park
City Park Drive
Millville, NJ 08332
Website