Big SNOW - American Dream Ski Area: A Visitors Guide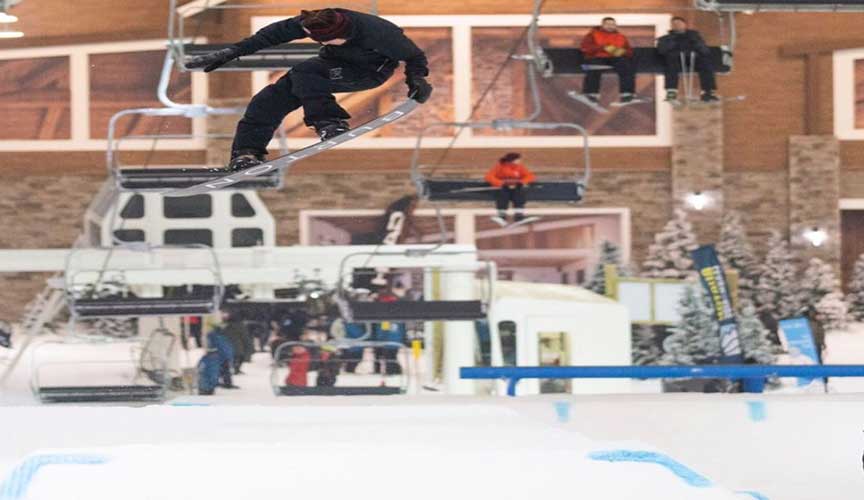 Big SNOW, located in New Jersey's  American Dream indoor entertainment & shopping mall, is USA's first indoor, year round ski area.
Big SNOW - American Dream

1 American Dream Way - East
E Rutherford, NJ
Phone: 973-864-6600
Website
Big SNOW is an ideal snow mountain for beginners and novices to learn and/or practice their ski or snowboard skills in an indoor, temperature-controlled, mountain with real snow.

The controlled environment allows you to learn from the guided terrain instead of getting overwhelmed and freaked out by the hill that you don't want to slide on because you don't know how to stop, but you can't learn how to stop without learning how to slide.

The 4-acre facility is covered with 5,500 tons of snow, packed to a depth of 2 feet.
There are three trails: a beginner trail called "Lil' Dipper", a difficult trail called "Switchback", and an advanced-difficulty trail called "Northern Lights".
The trails are served by four lifts: two carpet lifts serving the Lil Dipper, a quad lift serving Northern Lights and Switchback, and a Poma-manufactured chairlift serving Northern Lights.

The 160-foot high slope features a graduated incline. At the top, the slope has a 26-degree incline, designed to mirror an intermediate ski run, it starts noticeably steep but drops off to a more gradual incline as it progresses downhill.

The slope has a 26 percent maximum, 3 percent minimum grade. It provides 4 acres of skiable terrain, and the air temperature is kept at a consistent 28 degrees Fahrenheit.

Big SNOW uses the Terrain Based Learning system to make learning to ski or snowboard easier and more fun. By using specifically shaped snow features to naturally control your speed and body position Terrain Based Learning removes the traditional fears and anxieties associated with your first time sliding on snow, allowing you to focus purely on the fun!our first paragraph ...
Important Things to know:

Big Snow is open year round, seven/days/week.

They offer snack and drink services onsite at Joe C's Café. You may also bring your own snacks in and store them in your locker. If you're looking for more substantial food, American Dream offers several food halls, restaurants and cafeterias onsite.

The slope is two escalator rides up from a parking lot. Wristband scanners are used to usher guests through the locker rooms, onto the slope and to the ski lift.

Slope Access Tickets
They also offer Snow Day packages for beginners with no equipment which includes slope access, equipment rentals, and lessons. Their Snow Day package includes: snow pants, snow jacket and helmet. They also have gloves, socks, hats, face masks, and anything else you could need available for purchase at their retail store.

And a Camp Big 3 Hour Children's Lesson Program for kids ages 3-7 & 8-13 that Includes: Ski or Snowboard Equipment Rental, Helmet Outerwear (Pants and Jacket), 3 Hour Slope Access Ticket, and Continuous supervision with instruction