Top Southern NJ Restaurants with Private Dining Rooms
Private dining rooms for banquets and special occasions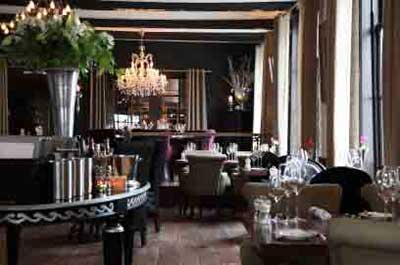 The top Southern NJ restaurants with private dining rooms are selected for their popularity and in being able to accommodate both small and large groups for a variety of banquets, special events, and occasions including: birthday parties, anniversaries, holiday parties, baby or wedding shower, rehearsal dinners, retirement dinners, bar and bat mitzvah's, corporate functions, and funeral luncheons.
These restaurants are also given consideration for the value they offer or for their unique services and/or ambiance in meeting a hosts needs for accommodating a private party.
Bobby Flay Steak house
Atlantic City
Expensive, upscale - Private dining rooms can seat 20-75 guests with several rooms on a raised platform with either the main dining room or casino floor as a backdrop.
The Gables Inn
Beach Haven
Expensive, upscale. When utilizing the entire Inn, they can accommodate up to 100 for a sit-down reception dinner. For smaller groups, their parlor and two other dining rooms can be used.
Nunzio Ristorante Rustico
Collingswood
Moderate, casual. Offers a private dining room that accommodates 50 guests.
Old Homestead Steak house
Atlantic City
Very Expensive, upscale. - Offers three private party rooms for small and large groups
read review

The Palm
Atlantic City
Very Expensive, upscale - Four private party dining rooms that can accommodate 16 - 105 guests
Ram's Head Inn
Galloway
Expensive, elegant.- They offer several private party dining rooms to accommodate both small and large groups.
Renault Winery Gourmet Restaurant
Egg Harbor
Website
Expensive, upscale. - They offer a unique vineyard ambiance for private parties that can accommodate groups from 25 to 250 guests in any one of four dining rooms or grand ballrooms
Smithville Inn
Smithville
Website
Moderate, casual. - They have many private room dining options that can accommodate groups from 10 to 200 people
Other New Jersey Private Dining Resources