The Pop Shop Cafe and Creamery:
A NJ Restaurant Review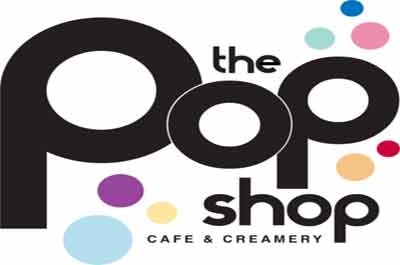 The Pop Shop Cafe and Creamery
Two NJ Locations:
729 Haddon Avenue
Collingswood, NJ
856-869-0111
1 Bank Street
Medford, New Jersey
609-975-6888
Website
Restaurant Highlights

Fare:  American Comfort Food

Price:  In-expensive


A great place for families with young kids


Menu has vegan, vegetarian, and gluten free options.


During busy times, they tend to get behind on cleaning tables and removing dishes


Unusually loud with lots of boisterous kids

Value:  Excellent

Noise Level:  Very Loud

Dress:  Very casual

Recommended For: Families with young kids looking for a restaurant with a good selection of comfort food and an atmosphere that keeps the kids from getting restless

Not Recommended For:  Diners who prefer a diner or restaurant with a quieter, less quirky atmosphere.

Restaurant Review

The Pop Shop is an ideal place if you have young kids and looking for an "out - of - the - ordinary", kid friendly place for breakfast, lunch or dinner.

Owned and operated by Connie Correia and her husband Bill "Stink" Fisher, from Collingsword, this couple has achieved great success in creating a quirky, retro malt shop from the 50's having tremendous appeal with families with young kids ( and adults at heart ).

The huge menu, printed on newspaper, about the size of a small town newspaper, offers an unusually large number of breakfast, lunch and dinner items,. The front page headline starts with "Order Breakfast Anytime of the Day". As an example of their huge number of items, they offer 31 different kinds of grilled cheese, 18 kinds of omelette's and scramblers, and 12 kinds of pancakes that are available for all day breakfasts.

They also serve a variety of build your own burgers, hot and cold sandwiches, appetizers, great salads, blue plate specials, ice cream treats, real milk shakes and specialty fountain beverages. The Menu also has vegan, vegetarian, and gluten free options.

Of course being Kids friendly, they offer a huge selection of Kids menu items.

The retro soda fountain offers old-fashioned ice cream sodas that come in 12 different ice cream flavors, with options for sugar-free and vegan soy ice cream.

The quality of food is very good and is served in large portions.

The interior of the 80 seat 50's retro malt shop interior has 1950's style leather booths, faux wood and metal tables, and a 1940's soda fountain with authentic counters from an old dinette in Ohio. There are a number of vintage clocks and a 1954 Seeburg jukebox.

Be forewarned, the Pop Shop gets very loud with lots of kids exercising their lungs.

They tend to look for quirky ways to make customers happy. For example, on Father's Day, fathers who wear full pajama outfits get free meals.

Expect very long waits on weekends.

The Pop Shop is open seven days/week: Monday through Thursday, from 8am to 9pm; Friday from 8am to 10pm; Saturday from 7:30am to 10pm; & Sunday from 7:30am to 8pm

(updated: September, 2016)

How Do We Review (analyze) Restaurants?
New Jersey Leisure Guide strives to provide analytic restaurant reviews.
The methodology used is research, analysis driven --- as opposed to that of a single restaurant critic or a social media platform, viewer comment posting board.