Chimney Rock Inn, Flemington, NJ:
A Restaurant Review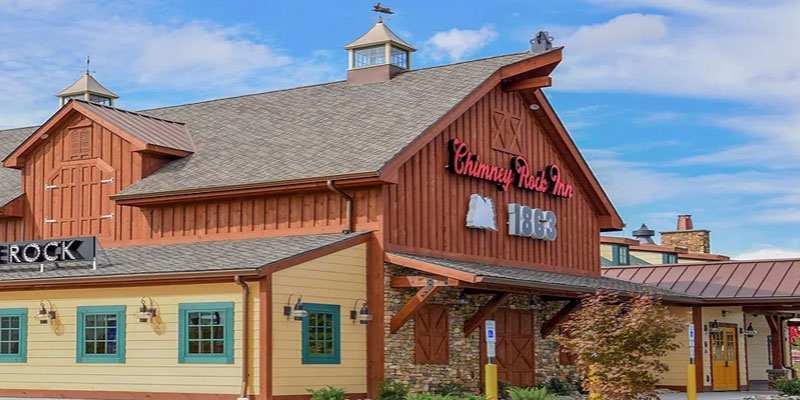 Photo Courtesy: Chimney Rock Inn - Flemington

Chimney Rock Inn

Three locations:
800 Thompson Avenue
Bound Brook, NJ
732-469-4600 ​ ​
342 Valley Road
Gillette, NJ
908-580-1100 ​ ​
41 NJ-31
Flemington, NJ
908-788-8800
Website
Chimney Rock Inn: Restaurant Highlights


Fare: American - Italian (Tavern style menu)

Price: inexpensive - Moderate

Food Quality: Ordinary, nothing special, except thin crusted pizza.

Decor/Ambiance: Rustic, barn, country, with a vibrant sports bar

Service: Friendly, attentive

Liquor: Bar service with a broad selection of craft beers, cocktails, and wines.
Noise Level: Moderate - Loud

Recommended For: Family diners who enjoy an affordable casual family restaurant with bar service and a good kid's menu.

Not Recommended For: Diners who prefer a high-end, upscale setting with an eclectic menu.

Recommended dishes: When available, The Legendary (since 1955) homemade thin-crust Chimney Rock Pizza; The Big Kahuna Burger, A teriyaki burger w/ grilled pineapple rings, crispy bacon, crunchy cabbage, pepper jack cheese & spicy mayo; and The House Smoked Chimney Rack Ribs - house-smoked, sweet, tangy & tender BBQ baby back ribs, w/ French fries & Carolina slaw.
Restaurant Review

The Chimney Rock Inn is a popular restaurant for families (and large groups with kids) who are looking for an affordable casual family restaurant with bar service, and a good kid's menu.

The original "Rock," located in Bound Brook, dates to 1863 when the Chimney Rock Hotel was established. In 1954, the original Chimney Rock Hotel was torn down, and The Chimney Rock Inn was built on the lot next to it. Just a year later, the famous Chimney Rock pizza debuted. The restaurant uses the same thin-crust pizza recipe today. Current owner Alan Frank purchased the Bound Brook location in 1995.

The second location in Gillette, NJ opened in 2004. This review is for the third location, in Flemington, NJ opened in 1918.

The atmosphere and decor of the Inn is rustic barn, country, eclectic.

There are two dining areas with the bar area located in the center. The bar area has a rustic barn vibe with soft lighting and TV screens, resembling a sports bar. Tables and booths are set around the bar, and in the two larger dining rooms. Music is piped in throughout the building.

They serve a wide selection of food including comfort food, salads, soups, handhelds, tacos, burgers, steaks, pasta, thin crust pizza, and desserts. If you are a thin crust pizza enthusiast, their legendary Chimney Rock pizza is excellent. They also have a special gluten free and vegan (dairy & egg free) menus with a large variety of dishes.

The menu is printed in "dated newspaper" format, and grouped together (Starters, Drinks, Pizza, Entrees, desserts, etc.) and includes some curious and interesting history of the establishment.

Outdoor dining is available weather permitting.

They also host special events, accommodating private parties with seating for groups of 20-100 people.

Chimney Rock Inn is open seven Days/Week for Lunch & Dinner: 12PM – 10PM

Updated March 2022

How Do We Review (analyze) Restaurants?
New Jersey Leisure Guide strives to provide analytic restaurant reviews.
The methodology used is research, analysis driven --- as opposed to that of a single restaurant critic or a social media platform, viewer comment posting board.