The Pirates Den Restaurant
A Brigantine, NJ Dining Review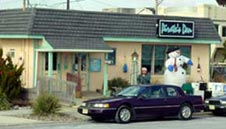 Pirates Den
1219 E. Brigantine Ave
Brigantine, NJ
609-266-1927
(note: Currently for sale)
Fare: American
Price: In Expensive
No Rating : N/A - A casual dining eatery, not rated as a fine, high end dining restaurant.
Note: Four star Rating System from no stars = poor to Four stars
= Best in Class
---
The menu is affordably priced with generous portions
Good for family style dining.
 Parking is a bit difficult during the summer season
Does not take reservations. Can be a long wait on summer weekends --- suggest calling ahead for wait times.
Value: Good
Noise Level: Moderate
Dress: Very Casual

Recommended For: Diners who enjoy inexpensive meals with a Jersey Shore vibe.
Not Recommended For: Diners who prefer more fine dining amenities
Recommended dishes: When available,The BLT Omelet (Bacon, Lobster & Tomato)
Liquor: BYOB
Restaurant Review


(note: as of January, 2015, up for sale)
The Pirates Den, located cross from the seawall at the north end of the island, is a great place for families and locals looking for an inexpensive restaurant for breakfast, lunch, or dinner.
In addition to the traditional American dishes, they also have Italian items.
They are especially noted for the omelets, with a choice of lox, crab, and fresh vegetables. Try the awesome pumpkin and walnut pancakes!
The decor and ambiance is definitely Jersey Shore with many wall decorations.
Get there early before the crowds. They do not take reservations, but you can call for wait times.
They are child friendly with a kids menu with crayons and coloring books.
The service at the Pirated Den is friendly and attentive.
(updated: January 2015)
How Do We Rate and Review Restaurants?
New Jersey Leisure Guide contains the largest source of extensive and unbiased New Jersey restaurant reviews. Data is gathered from our viewers e-mail restaurant comments, Internet and print research, and professional restaurant critics. The data is analyzed and a review created. Staff personal visits are sometimes made to corroborate and/or tweak results.

Other New Jersey Resources