Iberia Tavern
A Newark, NJ Restaurant Review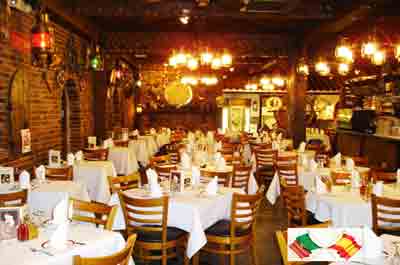 Iberia Tavern
80-84 Ferry St.
Newark, NJ
973-344-7603
Website
Fare: Spanish-Portuguese
Price: Moderate
Food Quality:
Service:
Decor:
Overall Rating:
Note: Four star Rating System from no stars = poor to Four stars
= Best in Class
---
Wait staff attentive & friendly
Family, kid friendly
On site, secure parking
Food below par compared to other Ironbound Spanish-Portuguese Restaurants
Value: Excellent
Noise Level: Moderate - High
Dress: Casual

Recommended For: Budget conscious diners who enjoy reasonably priced, Spanish-Portuguese food served in huge portions.
Not Recommended For: Diners who prefer more fine dining amenities in a cozy, quieter setting
Recommended dishes: When available, The Parrilhada de mariscos , a seafood combination for two: The Rabo de lagosta, a lobster tail; and The Rodizio
Liquor: Full Service Bar with a good selection of Spanish & Portuguese Wines and value priced Sangria.
Restaurant Review
Iberia Tavern and Restaurant is a Spanish-Portuguese restaurant popular with tourists who come to the Prudential Center and with locals having a private party in one of their banquet rooms..
The restaurant is spacious with a main level dining room and two large banquet rooms above and below the main restaurant for private parties.
The decor is a bit dated --- old school  with cathedral ceilings, brick walls decorated with nautical decorative knick knacks, large barbecue pits, and a stainless steel topped bar.
The quality of food at Iberia Tavern and Restaurant fails to rise above the other nearby Spanish-Portuguese Ironbound restaurants, though they offer a very large menu served in huge portions at attractive prices.

Iberia Tavern and Restaurant features ten menu items of Rodizio, a fixed price, all-you-can-eat menu item, containing meats grilled and served on a skewer where waiters bring the meat to your table several times throughout the meal.
Parking is secure and convenient in their 500 car parking lot. Cost is $10, at the end of your meal just give them your parking ticket and they will deduct the cost from the bill.
The service is inconsistent and can vary from being very attentive and friendly, to just adequate.
(updated: June, 2015)
How Do We Rate and Review Restaurants?
New Jersey Leisure Guide contains the largest source of extensive and unbiased New Jersey restaurant reviews. Data is gathered from our viewers e-mail restaurant comments, Internet and print research, and professional restaurant critics. The data is analyzed and a review created. Staff personal visits are sometimes made to corroborate and/or tweak results.

You might be also interested in ....