Krug's Tavern, Newark, NJ: A Restaurant Review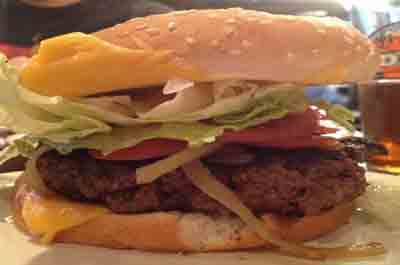 Krug's Tavern
118 Wilson Ave.
Newark, NJ
973-465-9795
Website
---
Krug's Tavern: Restaurant Highlights

Fare:  American Tavern

Price: Inexpensive - Moderate



Makes on of the best burgers in Newark


Offers on -site, free parking

Recommended For: Diners who enjoy an excellent burger in a tavern setting

Not Recommended For:  Diners who prefer more upscale dining with a large menu.

Recommended dishes:  When available, The 12 oz. Bacon Cheeseburger, served on a soft sesame seed bun; The Shrimp Scampi, breaded shrimp fried and served with their homemade garlic scampi sauce; and The Rib eye Cheese steak with peppers, onions and cheese on a long Italian roll.

Liquor: Full Service Bar

Restaurant Review

Located in the historical Ironbound section of Newark, Krug's Tavern has become known as having created one of the the best burgers in Newark with low key, old - time neighborhood bar ambiance.
The crowd is diverse with business professionals, construction workers, and neighborhood locals all mixing together in a friendly setting. A good place to meet up with friends for a beer and a burger.
A family run bar since it originally was opened by Frank Krug in 1938, the bar is now run by descendants of Frank Krug, the LaMotta family (related to Jake LaMotta, the middleweight champion boxer of the 50's and Raging Bull movie fame) --- with Ellen LaMotta, her brother-in-law Frank and her sister-in-law Susan.
Standard American tavern fare is served in addition to the famous burgers, they offer a variety of stuffed sandwiches, sea food entrees, appetizers, bar (pizza) pies, fries and onion rings.
Their 3/4 pound burgers are carefully prepared when ordered and cooked for about twenty minutes on the grill in the bar area right in front of you --- custom made to your liking in five different options. They come out thick, greasy, and exceptionally tasty.
The scene is a no-frills --- an energetic bar, with good conversation by people from all walks in life.
Krug's Tavern offer free off street parking.
They are open six days/week for Lunch and dinner. Closwed on Monday's
(updated: November, 2023)
How Do We Review (analyze) Restaurants?
New Jersey Leisure Guide strives to provide analytic restaurant reviews.
The methodology used is research, analysis driven --- as opposed to that of a single restaurant critic or a social media platform, viewer comment posting board.