Nico Kitchen & Bar, Newark, NJ:
A Restaurant Review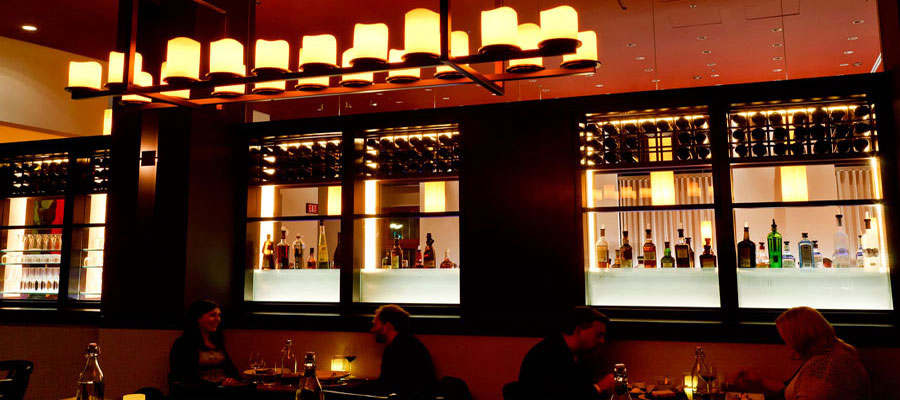 Nico Kitchen & Bar
One Center Street
New Jersey Performing Arts Center
Newark, NJ 07102
(973) 642-1226
Website
---
Restaurant Highlights

Fare:  New American with Italian Influences

Price:  Moderate - Expensive

Food Quality:  2 1/2 Stars

Service:  1 1/2 Stars

Decor:  3 Stars

Overall Rating:  2 1/2 Stars

Note: Four star Rating System from 1/2 Star = Poor to Four stars = Best in Class


A very convenient place to meet in Newark for drinks and dinner. Especially convenient If you have NJPAC tickets and don't want to park twice. Also short walk to rail service from Newark Penn Station.


Large crowds when there is a performance at the NJPAC. During this busy period, expect lapses in service

Value:  Good

Noise Level:  Moderate

Dress:  Upscale casual

Recommended For:  Diners who enjoy good, eclectic food in a trendy downtown setting.

Not Recommended For:  Diners who prefer simpler food in a more family oriented casual setting with large portion sizes.

Recommended dishes:  When available, Pan Roasted Lamb Loin; Duck Confit; and the Pan Roasted Scallops

Liquor:  Full service Bar with 21 wines by the glass, classic cocktails and artisan al beers. Bar scene is vibrant. Happy Hour Monday through Friday, 4PM-7PM

Restaurant Review

Nico Kitchen & Bar, located next door to the New Jersey Performing Arts Center, is a popular fine dining restaurant for diners attending a performance at the NJPAC, for a power lunch during week days, for a high energy happy hour during the week days, and for celebrating a special occasion.

The restaurant is owned and operated by Culinaire, a Dallas-based company that specializes in restaurants in cultural centers with Christopher Keys serving as the General Manager.

The kitchen staff is guided by consulting chef Ryan DePersio who is also asocitated with Fascino restaurant in Montclair, and two other Jersey City restaurants, Battello and Kitchen Step. He also has made appearances as a guest on NBC's Today Show, the Food Network and with Tony Tantilo's CBS morning segment.

Chef DePersio is a graduate of the New York Restaurant School and honed his culinary skills under the famed David Bouley in NYC, Bill Telepan of the Judson Grill, NYC, Jean-George Vongerichten at Vong & Jean-George, NYC, with short stints in some of the kitchens in France and Italy.

Chef DePersio sets out an eclectic Italian menu with an Italian accent. His "Italian Without Borders" menu is a creative and inspiring shared plates (tapas) concept with many contemporary American and Italian dishes.

They offer Prix fixe menu on nights where there are events New Jersey Performing Arts Center

Nico's decor and ambiance is decidedly modern, upscale and trendy. The interior is very spacious with seating near 250 diners. The main dining area is beautifully done up with high ceilings, warm gold & brown tones, floor-to-ceiling windows, a 12 candle-lit chandelier, and a rectangular communal table with oak planks, a wrought-iron, scaffold-like base and high seating. Burnished bronze and folding panels can be configured to change the shape of the room to fit the setting for an intimate or large event.

The bar area is attractive and inviting with soft lighting and 3 flat-screen TV's.

Preferred seating is at a booth in the front room where you'll get to enjoy dramatic pendant lights and upscale high ceilings.

The service is friendly, though on event nights at the NJPAC, expect slower service

During the warmer summer months dining is available on the outdoor patio.

(updated: December, 2016)


How Do We Review (analyze) Restaurants?
New Jersey Leisure Guide strives to provide analytic restaurant reviews .
The methodology used is research, analysis driven --- as opposed to that of a single restaurant critic or a viewer comment posting board.

Data is gathered from our viewers e-mail restaurant comments, Internet research, and professional restaurant critics. The data is sorted, (weeding out the obvious biased, "bone to pick",  and out of consensus comments), analyzed, and the review is created.

Learn More
---