New Jersey Spring FAQ (Frequently Asked Questions)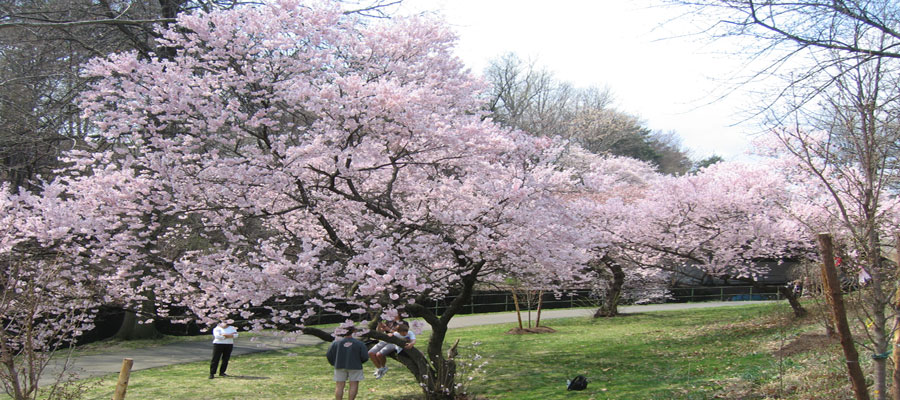 Frequently Asked Questions about
leisure attractions and places to visit

The arrival of Spring comes into full bloom with the greening of trees, the emergence of flowers and the resurgence of many outdoor activities.

The more adventurous can get out to enjoy the outdoors with hiking, biking, canoing, and some early spring camping. As the weather warms up and Memorial Day arrives

It is also the unofficial beginning of summer when visitors will head out by the thousands to the Jersey shore to hit the beaches and the boardwalk amusement parks.
Frequently Asked Questions (FAQ) about things to do
during the Spring season

Question:
I'm taking my family for a side trip in NJ on the way home from a cousin's wedding, and I just wanted to know if it's worthwhile. I will be spending two days during the last Sunday & Monday in March, and I'm thinking of staying in Ocean City, or possibly Wildwood and AC as well. I don't expect things to be in full swing, but just how much would I be missing? Is there a particular boardwalk that is more lively this time of year than the others? Is it even worth it to come at this time of year?
Answer:
Just to walk the "boards" and enjoy the fresh air? Any Shore town with a boardwalk will do.. For fun, rides, and family entertainment, the three towns you are considering have boardwalks in peak season from May through October. November through April is considered off season, though they tend to have some holiday special events, especially just prior to the beginning and near the end of the peak season. Typically, Easter weekend, which can fall anywhere from the last weekend in March to the 3rd weekend in April, is the beginning of boardwalk activity coming to life. For the last weekend in March and the following Monday, Atlantic City would have more to offer for families. The Atlantic City Aquarium, The Marine Mammal Stranding Center, Placade Amusements, Ripley's Believe It or Not, and the Tropicana Family Fun Station are some of the family attractions open year round.
Visit here for a list of
Popular AC Kids Activities
---
Question:
With the long dreary winter behind us, can you recommend an outdoor festival that best represents the arrival of Spring in New Jersey:
Answer:
A great Spring event is the annual
Cherry Blossom Festival
in Branch Brook Park, Newark, NJ. It is held in April. The Dates and information can be found on their
Website
This is the largest Cherry Blossom display in the United States with the National Cherry Blossom display in Washington, DC being the largest and usually occurs about two weeks earlier. This blossoms peak in the second and third weeks of April. There are over 3,000 cherry trees. The blossoms can be best enjoyed by a casual walk or picnic in the park. This is a week long festival with many events including a 10K race, trolley bus tours, and family Day with Japanese cultural activities, including demonstrations on origami, bonsai, ikebana, and martial arts.
---
Question:
Looking for quiet, family friendly beach house rental.
We have rented in the past on the Outer Banks and would be interesting in decreasing our travel time and would like to know what area of New Jersey to research for quiet, family friendly beach house rentals.
Answer:
No need for NJ & Pennsylvania residents to venture far away for a family friendly beach rental. The Jersey Shore is loaded with a variety of beach rentals. While you can expect to pay a bit more for a beach rental in NJ compared to the Outer Banks, the additional cost is offset by the convenience of reduced travel time, fuel & toll costs, and a savings of 12-14 hours round-trip travel hours that can be spent on the beach relaxing. For help with finding the right rental for you as well as booking assistance, visit The
Trip Advisor Vacation rental page t
o learn more.
---
Question
: A Place to hold an Inexpensive Group Picnic
.
What is a great, but inexpensive spot for a group picnic (about 40 people)?
Answer:
I would suggest contacting your local county parks department as a good source of having sites for inexpensive picnics. Most county parks charge a small fee but they usually offer a pavilion, grills and some recreational facilities. Or visit
Top New Jersey County Parks
---
Question:
We are planning a family reunion for about 75 people at either an indoor or outdoor facility, We want to keep costs down and were thinking of doing it at a barn or farm, where we can bring in our own food, alcohol and music. Can you recommend some places?
Answer:
With alcohol involved, your best options as you indicated would be at a rustic private party venue such as a barn, farm, and possibly a private campground. Please visit
Rustic Private Party Venues
for a list of suggestions.
Bear in mind that do it yourself event planning at a " bare bones" venue has many additional requirements that the venue may require:
If you plan to uses a caterer they may need to submit proof of license & insurance. Some venues will allow you to bring in your own homemade foods
When you are permitted to provide your own alcohol, you may be required to use a Licensed Bartender.
Insurance --- You made need to obtain special events insurance. You can obtain a rider on your homeowners or renters insurance. You may also obtain a stand-alone policy from your insurance agent. If your caterer is serving alcoholic beverages, the caterer may need to submit a Certificate of Liability Insurance naming the venue as additional insured.



Question: Planning a company picnic. My company is planning a company picnic and we are looking for a place that can provide food, entertainment and recreational facilities. Any Suggestions?

Answer: Holding a group picnic with food provided along with entertainment and recreational facilities is usually found at a private picnic area. Here are some suggestions in each part of the state:
Fountain Springs Country Club, Ringwood, NJ, 973-831-9000 - Specializes in providing custom catering and facilities for picnics for large-scale corporate picnics, school field-days, and family reunions for groups ranging from 50 to 2,000.
Black Bear Lake, Millstone Township, (609)259-6934 - They offer a complete package that includes; Private dining at your pavilion, use of all facilities including 3 Olympic size heated swimming pools, five acre lake for boating, swimming, and fishing, and all sports fields with complimentary equipment. They can package entertainment, food and beverages with a five-hour menu.
Bamboo Gardens, Vincetown, NJ, (609) 859 2842 - A tropical paradise specializing in accommodating large groups for summertime picnics, corporate functions, family reunions and more. Features a white multi-tier beach, spring fed lagoon,Tiki hut, shady tents & pavilions, horseshoe pits, volleyball, badminton, a brick terrace with tables & umbrellas, a waterfall and more Complete packages include food & music.
Visit here for a listing of the Top NJ Picnic areas


---
Answer:
The ordinances allowing dogs on beaches and boardwalks in NJ are very restrictive, with very few locations that allow dogs on the beach during the summer from April 1st until October 1st.
Visit here for information on the
Top dog friendly beaches along the Jersey Shore
---
Question:
Ocean Temperature in New Jersey. What is the average ocean temperature in May and June?
Answer:
The average ocean temperature in New Jersey in May ranges from 55 degrees in Sandy Hook to 62 degrees in Cape May; and in June from 60 degrees in Sandy Hook to 69 degrees in Cape May. For more detailed information about the ocean temperatures in New Jersey, visit
the NJ Ocean Temperature page
---