Porto by Antonio

A North Bergen, NJ Restaurant Review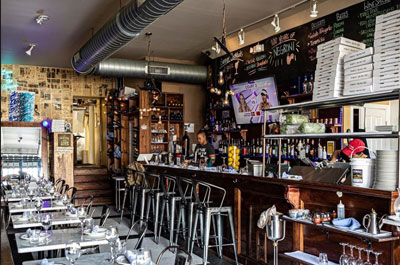 Porto by Antonio
8921 Old River Road
North Bergen, NJ
(201) 941-7107
Website




Restaurant Highlights

Fare: Pizza/Italian
Price:  Moderate


One of the best pizza restaurants in Northern Jersey.


Charges a pricey fee for BYOB corking.


Value:  Excellent
Noise Level: Moderate
Dress: Very casual

Recommended For: Pizza enthusiasts who enjoy Neapolitan thin crusted Pizza with fresh ingredients.

Not Recommended For: Families with kids who prefer pizzas made with packaged sweet toppings at lower prices.

Recommended dishes: When available, The Regina Margherita with fresh tomato sauce, imported Mozzarella di bufala, grape tomatoes, basil, Sicilian sea salt, and olive oil; and The Pappadelle Bolognese with braised veal, beef, and pork in a fresh tomato sauce

Liquor:  Full Bar Service

Restaurant Review

Porto by Antonio, a small casual Italian restaurant,  serves  some of the best (authentic) thin crusted
Neapolitan Pizza in Northern NJ.

Owned and operated by  Antonio Dinis, who acquired his pizza making skills traveling different regions in Italy where he developed an understanding of authentic Italian wood burning pizzas.

Chef Dinis honed his pizza making skills working at some authentic Neapolitan Pizza restaurants including two acclaimed NYC pizza restaurants, Keste Pizza & Vino, and Don Antonio by Starita, and Amano in Ridgewood, NJ.
Chef Dinis  makes his own dough from delicate flour imported from Naples and slowly ferments it for a deep flavor. Pizza pies are cooked in a 900 degree wood burning domed turquoise oven, also imported from Naples
Their mozzarella and dinnertime pastas are homemade and  made fresh daily. Vegetables are organic.
The interior has a NYC/Brooklyn feel to it.
During the warmer months there is outdoor sidewalk dining.
---