Best Cross Country Skiing Trails In New Jersey
aka, Nordic skiing, x-country skiing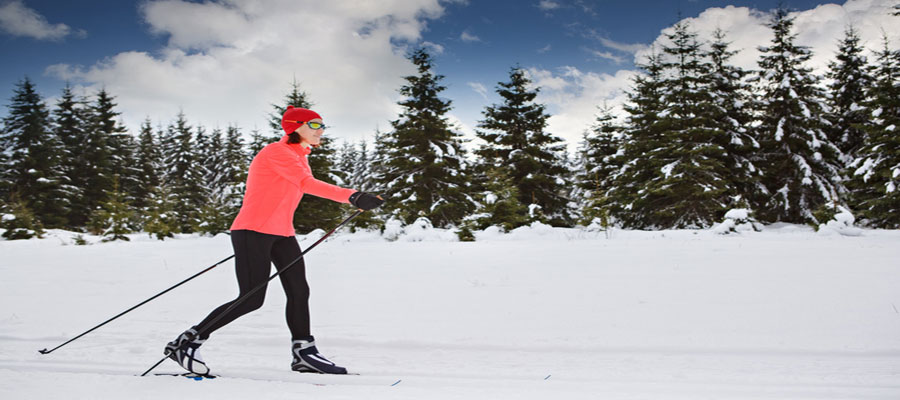 This is a sport that requires little in the way of athletic skills --- just a desire the get outdoors in the winter to enjoy nature with a beautiful snowy landscape, and for a healthy aerobic exercise.

In comparison to downhill skiing cross-country is safer and much less expensive. Lift tickets are not needed and the equipment is less expensive.

Compared to the few downhill ski resorts in New Jersey, cross-country skiing is readily available in your neighborhood or at least in one of your local county and state parks.
Ideal Conditions.
Ideal conditions for cross country skiing occur after a series snowfalls with an accumulated base of 12 inches or more when most rocks, logs and stumps are covered. Long periods of below freezing temperatures are ideal for freezing over of streams and lakes for easy and uninterrupted runs.

Dress in layers
Dress in several lighter layers which can be removed or added as needed. As you warm up, you will feel the need to shed some layers. On the outside, a parka, jacket, or windbreaker are for protection from the cold wind. Underneath, wear a layer or more of insulated clothing such as a wool sweater, fleece jacket, or a fleece vest.

How to Get Started
The best way to learn how to cross-country ski is to take a lesson from a qualified instructor and then practice your new skills on groomed trails. Many of the locations listed below have arrangements with on-site ski instructors. As you gain experience and confidence you can venture off to more challenging trails.

Northern New Jersey Cross Country Skiing
The Blue Mountain Lakes
Delaware Water Gap National Recreation Area
Flatbrook-Stillwater Road atop the Kittatinny Ridge
Sussex, NJ
Website
10 miles of maintained ski trails marked with directional signs, and interpretive signs will help you identify tracks made by wildlife.
Columbia Trail
79 Main Street
High Bridge, NJ
Website
(908) 782-1158
This 7-mile trail offers nice flat ground from High Bridge to the northern county line. Scenery varies from the town to forests.


High Point XC Ski Center
1480, Rt. 23
Sussex, NJ  07461
973-702-1222
This is the best area for cross country skiing in New Jersey The resort is New Jersey's only full service center dedicated to Cross country skiing with trails groomed for skate and classic skiing. Their snow making equipment covers three loops. At over 1600 feet in elevation, High Point gets the most natural snow of all the areas in Northern NJ and the NYC Metropolitan area. For those without equipment, they have cross country ski and snowshoe half day and full day rentals. They also offer group and private lesson for children five years and older, adults, and seniors.
The ski season is from December 1st to April 1st, depending on weather and snow conditions.
Learn More
Palisades Interstate Park -- NJ Section
State Line Lookout
Alpine, NJ
The Lookout has its own (unnumbered) exit from the Palisades Interstate Parkway in Alpine, New Jersey, about 2 miles north of Exit 2 
Website
201-768-1360
The Palisades Interstate Park, a long narrow park averaging less than an eighth of a mile wide, offers awesome scenic views of Manhattan and the Hudson River, There five cross-country ski trails marked A through E, at State Line Lookout  Begin at Lookout Inn and go to the ski trail entrance at the northwest corner of the parking area. The ski trails are marked.
South Mountain Reservation
West Orange, NJ
Website
973-268-3500
Offers nineteen miles of ski-able carriage roads and trails.
Directions: From westbound on I-78: Take exit 50 B "Millburn" "Maplewood". At the end of the ramp, you must go right onto Vauxhall. Slight left at 4th light (Millburn Ave.). Drive to the second traffic light (the road makes a turn to the right and becomes a one way street called Essex Ave.) Turn right onto Lackawanna Place, past train station lot, to Glen Ave. Across the street and a little to the right is a drive way entering the park with a sign "Locust Grove".
Voorhees State Park
251 County Road Route 513
Glen Gardner, NJ
Website
(908) 638-8572
Cross Country skiing trails are available on 5 multi-use trails except on the Cross Park Trail and the Parcourse Circuit footpath trails.
Wawayanda State Park
Bearfort Ridge
885 Warwick Turnpike
Hewitt, NJ
Website
973-853-4462
At an elevation of 1,140 feet above sea level, Wawayanda State Park is an area with one of the highest snowfall accumulations in NJ. The eastern part of the park. The woods roads are fairly level and excellent for seasonal cross-country skiing.
For Beginners: Take snow covered bike path off the main road, towards the Ranger station parking lot, then right onto Old Wawayanda Road., then onto the Hofferlin Trail and back to the Ranger Station.
For more experienced skiers: Begin at the interior beach parking lot, proceed east along the perimeter of the lake. Ski past the boat house to the main dam. Veer right to the Wing Dam trail over the second dam and waterfall. Continue on until you come to a steep hill that can be taken by traversing up the trail. At the top of the hill, stay on the left. this is a a short strip that is best taken by experts. Head down to the Laurel Pond Trail, making a left turn for a gentle downhill ski. Turn left at the old furnace to head back to the beach parking lot. Before venturing out, contact the park office for trail conditions and access points.
Central New Jersey Cross Country Skiing
Duke Farms
1112 Duke Parkway West
Hillsborough, N.J
(908) 722-3700
Website
Winter Hours: November 1 - April 1: Thursday to Tuesday 8:30 am - 4:30 pm. Closed Wednesdays.
Admission is Free.
This is a great way to spend a day doing some cross country skiing and visiting the park's attractions. In addition to the over 6 miles of trails for x-country skiing, there are a number of activities and attractions open including the Orientation Center, The Cafe (for food), restrooms, the Orchid Range, and more.
Thompson Park
805 Newman Springs Road, (Route 520)
Lincroft, NJ
732-842-4000
Website
Thompson Park offers more than 12 miles of multi-use trails through woods, meadows, and waterfront areas. In addition they offer cross country rentals and lessons at the Ski Hut.
Washington Crossing State Park
355 Washington Crossing-Pennington Rd.,
Titusville, NJ
609-737-0623
Website
In the winter cross-country skiing is available on 15 miles of existing hiking trails.
Southern New Jersey Cross Country Skiing
The Batona Trail
Brendan T. Byrne State Forest
Highway Route 72 East
Woodland Township, NJ
Website
(609) 726-1191
Cross country skiing is available over the 50 mile multi use Batona trail that links Brendan T. Byrne, Wharton, and Bass River State Forests.
The best access points are at the Brendan T. Byrne State Forest headquarters and the Batsto Visitor Center.
Palmyra Cove Nature Park    
1335 Rte 73
Palmyra, NJ
(856) 829-1900
Website
Cross country skiing available over along the 9.5 miles of multi-use trails.