Conte's Bar and Restaurant,  Princeton, NJ; A Dining Review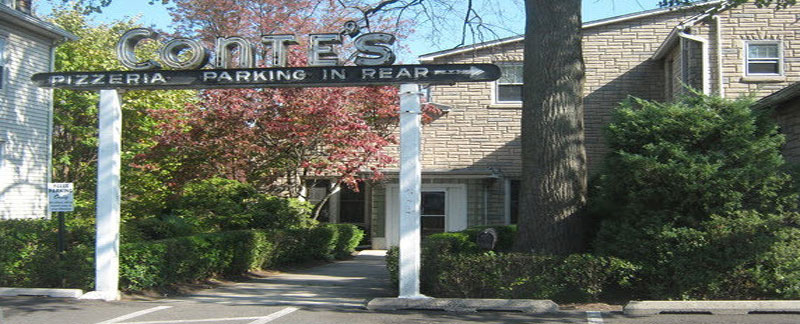 Conte's Bar and Restaurant: Discover One of The Best Central Jersey Tavern's For Excellent Pizza and Meeting Up With Friends For Drinks, or For A Family Dinner

Conte's Bar and Restaurant
339 Witherspoon St
Princeton, NJ 08542-3470
609- 921-8041
Website/Blog
Contes Bar: Restaurant Highlights
Fare: Pizza/Tavern

Price: Moderate

Food Quality: Excellent, Thin crusted pizza, crispy, slightly charred, and chewy. The toppings use fresh ingredients of good quality.

Service: Friendly and attentive, Expect your wait saff to have been there for what seems like generations.

Ambiance: Old school tavern charm with outdated decor.

Dress: Very casual

Recommended For: Diners who enjoy good pizza and meeting up with friends for drinks, or for a family dinner

Not Recommended For: Diners who may prefer upscale, trendy ambiance with more complex or eclectic food preparations.

Recommended dishes: When available,Thin Crusted Pizzas; Penne w/ meatball or sausage; Steak Sandwich.

Liquor: Good selection of reasonably beers and wines. Bar scene is vibrant.

Restaurant Review

Conte's is a Princeton institution with a lively ambiance, a dated tavern decor, and patrons from all walks of life. On any night you are apt to find a mixed crowd of professors, students, bowlers, little leaguer's, and families with kids.

They serve some of the best pizza in central Jersey.

The interior is very large with an enormous bar, and it tends to fill up fast. If you come after 7 pm, you are likely to wait for a table, just pull up to the bar and enjoy a beer.

When the restaurant's crowded, you may be asked as soon as you are seated for your order to speed up the flow and to free up tables quickly.

They serve up thin crusted pizza that is bread-like and tasty. It's crispy, slightly charred, and chewy. The toppings use fresh ingredients of good quality.

They also offer gluten free pizza and pasta.

While they have a menu with other dishes of Italian food, the pizza is what you come for.

Most people enter Contes from the back door where you can park on the premises or on the safe side street.

(updated: March, 2020)

How Do We Review (analyze) Restaurants?
New Jersey Leisure Guide strives to provide analytic restaurant reviews.
The methodology used is research, analysis driven --- as opposed to that of a single restaurant critic or a social media platform, viewer comment posting board.