White House Subs, Atlantic City, NJ:
A Restaurant review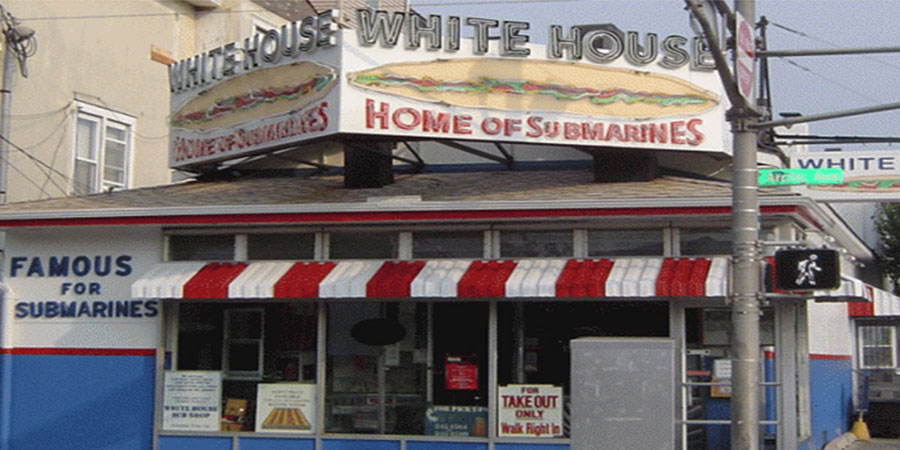 White House Subs
2301 Arctic Ave
Atlantic City, NJ
609-345-1564
Website
---
Restaurant Highlights

Fare: Subs, Hoagie - Sandwiches

Price:  In Expensive


One of the best hoagie/sub shops in South Jersey

All subs are made with bread that contains no fat, no sugar, all natural ingredients

Limited Street parking, There is a pay lot a block away.

Value:  Excellent

Noise Level:  Moderate

Recommended For:  Diners who enjoy good Italian hoagies/subs made with fresh ingredients

Not Recommended For:  Diners who prefer a larger setting with more fine dining amenities.

Recommended dishes:  When available, The White House Special (with Extra Salami.-Provolone, Ham & Capricola); The Steak Submarine with 91./% Fat Free U.S.D.A. Choice Lean Top Round Steak Cut Fresh Daily; and The Cheese Steak Submarine


Restaurant Review

This White House on Arctic Ave is the original!  An Atlantic City landmark since 1946. This is a must visit for any one who comes to Atlantic City looking for that special sub or hoagie, or whatever part of the country you call your favorite sandwich.

The cheese steaks are the best in New Jersey. All subs are made with bread that contains no fat, no sugar, all natural ingredients. The bread is oven fresh with up to 12 deliveries each day from a local bakery as the demand changes.

The hoagies are prepared in large volumes with lunch meat or minute steak, cheeses, onions and tomatoes, wrapped in a butcher paper pack, as hordes people stand in line.

The place is like going back to the forties. Mostly take out, but there is seating for about 50, always crowded, but worth the wait.

Since 1946, they have been visited by many celebrities who came to Atlantic City, especially during the early years of their existence.. There's no decor here except photos of the mostly past famous including Frank Sinatra and Joe DiMaggio, have come here to experience.

The current day patrons of this famed sub/hoagie shop are from all walks of life.

Be prepared for a line that can extend outside and for service that can be abrupt.

Parking available at the Fairmount Avenue Surface Parking Lot at 2313 Fairmount Avenue on the corner of Fairmount and Mississippi Avenues.

(updated: June, 2018)

How Do We Review (analyze) Restaurants?
New Jersey Leisure Guide strives to provide analytic restaurant reviews.
The methodology used is research, analysis driven --- as opposed to that of a single restaurant critic or a social media platform, viewer comment posting board.