Three B's Bar and Bistro, Lakehurst, NJ:
A Restaurant Review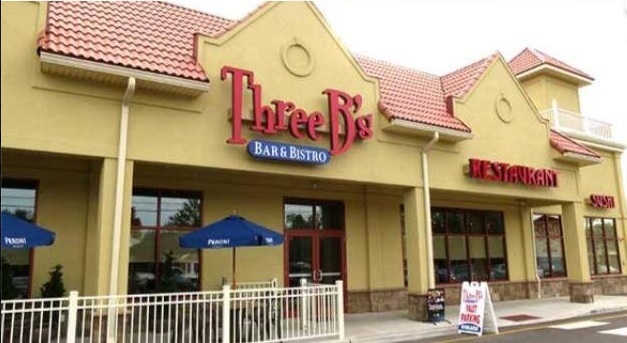 Three B's Bar and Bistro

314 Route 70
Lakehurst, NJ
(732) 657-4113
Website


Restaurant Highlights
Fare: Sushi, American, Italian, and German.

Price: In expensive - Moderate

Food Quality: 2 Stars

Service: 1 1/2 Stars

Decor: 2 1/2 Stars

Overall Rating: 2 Stars

Note: Four star Rating System from 1/2 Star = poor to Four stars = Best in Class


Trendy decor, atractivey priced menu


Limited on site parking during peak evening hours.

Value: Excellent

Noise Level: Moderate to very loud

Dress: Casual

Recommended For: Cost conscious diners who enjoy an energetic, trendy bar scene, and a huge attractively priced food menu

Not Recommended For: Diners who prefer high end, gourmet dining in a low key setting

Recommended dishes: When available, The Traditional Yankee Pot Roast,    Slow Cooked Chuck Roast Strew with Fresh Garden Vegetables, and The Chicken & Shrimp Baltimore,    Grilled Chicken & White Gulf Shrimp in a Baltimore Cream Sauce with Jumbo Lump Crab Meat, with homemade linguini; and The Korean Teriyaki Beef Rice Bowl, with Omaha Top Sirloin, Sliced Thin, Drizzled in mandarin Teriyaki Glaze & Spicy Mayo, Topped with Sesame Seeds & Fresh Avocado Sliced & Served over Sushi Rice

Liquor: Good selection of reasonably priced beers, wines, and specialty cocktails. Bar scene is vibrant.

Restaurant Review

Located off the beaten track in Lakehurst, Three B's Bar and Bistro is the best restaurant ihe Lakehurst area and a popular spot for local, cost conscious diners from the nearby adult communities of Manchester and Jackson, and the Joint Base MDL.

Three B's features an energetic trendy bar scene with a huge variety of attractively priced menu. options

Three B's is owned and operated by Boemio family members, Chef Carlo Boemio and sons Angelo, Mario and Carlo Jr.

The kitchen is run by Chef Carlo Boemio who was formerly the Executive Chef at Villa Amalfi in Toms River. He has successfully tapped into an under served market of locals who are attracted an eatery with menu offering a wide variety of attractively priced, ethnic and American options. The servings includes Sushi, American, Italian, German, and a variety of comfort foods

While the food is priced very attractively, and is highly reguarded by the locals as the "Go To Restaurant" in the area, the quality of the food and service. is just a notch above "Diner" quality,

Chef Carlo is adept at using his culinary skills to create tasty, heavy sauces to enhance the flavor of meals prepared with less than stellar key ingredients

Three B's is not a fine dining restaurant with all the amenities of a high end gourmet restaurant. You will not find a menu specializing superior grade USDA Prime beef, wild caught seafood, and fresh, farm-to-table ingredient, and with professional servers that drive up the cost of the dining experience. But then, most diners don't have the need, or taste, or budget for this level of dining.

Save room for dessert! The dessert menu is a plus. Most of the pastries and pies are homemade on the premises.

The decor varies with each room, and is done up in a blend of American style with European, Asian and Jersey shore accents. All of the rooms, including the bar area are attractively done up in modern trendy decor --- except in the dining room to the far left, which is plainly decorated, brightly lit, and used as their banquet room and as an overflow room.
The sushi bar is located in a corner of the bar the area with wooden boats on shelves and carved statues hanging high on the wall giving it an Asian atmosphere. There are nine additional seats at the sushi bar where customers can view fresh fish and vegetables and watch the chef create their dish.
The bar seats approx 40 people, and the booths and bar tables seat an extra 50. The bar area is energetic with large screen TV's and decorated with framed photographs of historic Lakehurst, including the Hindenberg airship, Lake Horicon and the Pine Tree Inn. The main dining room seat up to 125 people.

The wait staff is very friendly, though less than professional, with a limited knowledge of the menu..

During the warmer months there is outside dining along the front of the building facing the street.

Three B's is open seven days/week for Lunch & Dinner beginning at 11:00 am

Reservations are accepted for parties of 6 or more. Arrive early before or after peak times otherwise the wait for a table can be extensive.

(updated December, 2017)


How Do We Review (analyze) Restaurants?
New Jersey Leisure Guide strives to provide analytic restaurant reviews .
The methodology used is research, analysis driven --- as opposed to that of a single restaurant critic or a viewer comment posting board.

Data is gathered from our viewers e-mail restaurant comments, Internet research, and professional restaurant critics. The data is sorted, (weeding out the obvious biased, "bone to pick",  and out of consensus comments), analyzed, and the review is created.

Learn More
---