The Wine Bar, Atlantic Highlands, NJ:
A Restaurant Review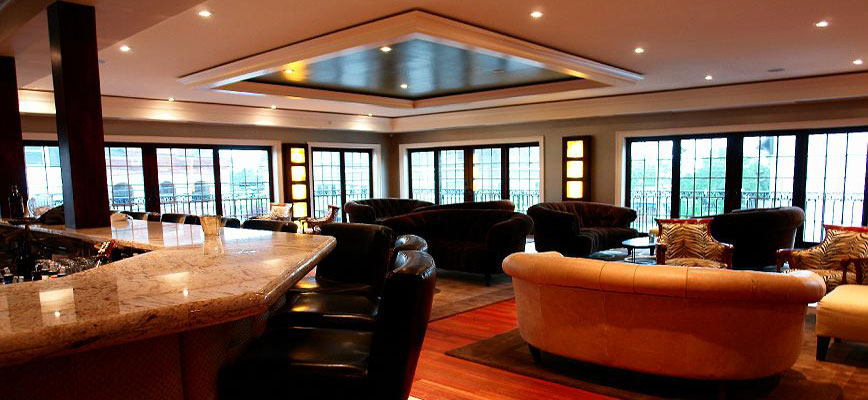 The Wine Bar
40 1st Avenue
Atlantic Highlnds, NJ
(732) 291-1377
Website
---
Restaurant Highlights

Fare:  Mediterranean

Price: Expensive

Value: Good

Noise Level: Moderate - High

Dress: Casual

Food Quality: 2 Stars

Service: 2 Stars

Decor: 3 1/2 Stars

Overall Rating: 2.5 Stars

Note: Four star Rating System from 1/2 Star = Poor to Four stars = Best in Class

An great opportunity to sample a large variety of wines by the glass with attractive ambiance and a Vibrant bar scene

Recommended For: For diners who enjoy a sophisticated wine bar to hang out with friends.

Not Recommended For: Diners who enjoy a fine dining restaurant in a quiet low key setting, or for families with kids.

Recommended dishes: When available, for tapas (or appetizers), The Seared Coriander and Pepper Tuna with mesculin and frisce wrap with ginger cognac dressing; The Risotto Flight Lobster with crab & mushroom, and shrimp & spinach

For dinner entrees, The Porcini Dusted Scallops with crab and mushroom risotto, snow peas, truffle oil and a beurre rouge sauce; The Lobster Orchichette with sauteed mushrooms, proscuitto, lobster meat, edamame, and peas in a roasted tomato lobster sauce, over orchichette pasta; and The Boneless Prime Short Ribs and Colossal Shrimp with herb grilled shrimp, sweet potato hash, julian parsnips and demi glaze.

Liquor: Full Bar Service with a wine list with over 120 labels and 24 wines by the glass, and a good specialty cocktail selection.

Restaurant Review

Owned and operated by Courtney and Michael Rosa, The Wine Bar, located upstairs from their Harborside Grill, is an upscale, casual restaurant and wine bar.

It's a popular spot for 40+ affluent diners looking for an attractive setting for good food and wine to enjoy with friends and for celebrating a romantic occasion.

The centerpiece is an attractive open lounge with a long Indian marble bar surrounded by comfortable leather upholstered bar stools. The lounge seating area has soft overstuffed sofas and animal print armchairs arranged in conversation style.

Separating the lounge from the dining room is a baby grand piano where singers and pianists perform.

There are semi-private dining areas including an enclosed banquette.

The dining area has a romantic ambiance with dark wood tones and soft verdant carpeting. along with wines racked in a handsome wine closet running along the back wall in view of 60 seats and well-spaced tables. The setting makes for good conversation and a low noise level.

The Wine Bar offers a seasonal menu where the food is cooked downstairs in the same kitchen as Harborside.

Their hours of operation are limited to dinners served on Thursday - Saturday, 6:00pm - close.

They are also available for private parties on Sunday through Wednesday, as well as Saturday afternoons, of up to 130 people.

The Wine Bar is located just one block from the Sea Streak Ferry Terminal.

Not recommended for children.

Updated: February, 2019

How Do We Review (analyze) Restaurants?
New Jersey Leisure Guide strives to provide analytic restaurant reviews.
The methodology used is research, analysis driven --- as opposed to that of a single restaurant critic or a social media platform, viewer comment posting board.